The City Council of Lakewood, Washington may decide soon to permit marijuana retail despite wide-spread opposition.
Ironically, the Council just this past February 20 was presented with 151 pages (pp.070-221) in the way of recommendation to join what is generally called the "Big Pharma" lawsuit.
According to Heidi Wachter, Lakewood City Attorney, compelling evidence for addiction of certain pharmaceuticals was underrepresented but the product extensively marketed nevertheless by what is now viewed as the unscrupulous practices of drug manufacturers resulting in a "problem at epidemic proportions" impacting local jurisdictions in the form of, among other issues, homelessness.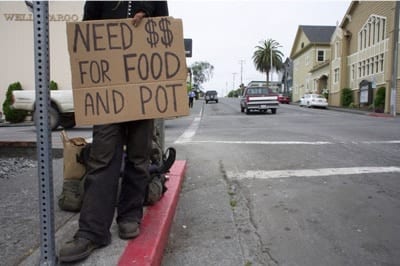 To benefit from any award in damages, Lakewood must "prepare support for the impact the opioid epidemic has had on the City," homelessness cited as an example.
Connect these dots.
The trend in unsheltered homelessness shows a steady increase over the last five years.
The last Friday in January of each year, Pierce County conducts its Point-in-Time (PIT) Count where over 200 volunteers in the wee hours of the morning, 1 – 5 A.M., seek out "homeless individuals both sheltered (emergency shelters or transitional housing) and unsheltered individuals (those sleeping outside or living in places that are not meant for human habitation)."
"The PIT count is an annual event required by the U.S. Department of Housing and Urban Development (HUD) and the State of Washington Department of Commerce to survey individuals experiencing homelessness across the nation. The results from the PIT are reported to create a trend analysis in the mission to end homelessness in America."
The results of the January 26, 2018 PIT Count will be available in April but the five-year trend of those in Pierce County found sleeping in cars, below bridges, along-the-road-but-in-the-woods tented-or-tarped, is up, significantly, from 120 in 2013 to 504 in 2017.
It is undeniable Lakewood has a problem with, and a responsibility to, the homeless.
In fact, two years ago this last December, the Lakewood City Council received "an entry-level primer" on homelessness. Key among the presenters was the Rescue Mission with a PowerPoint study entitled, "What if we could address the causes of homelessness and not just the systems?"
That's a good question, one to which Paul Pastor, Pierce County Sheriff, turns to those in the know for the answer: "Experts tell us that over 70% of these people who we call homeless, have problems with mental health, with substance abuse or both."
Opioid epidemic. Homelessness. Substance abuse.
Among the charges enumerated in the "Big Pharma" lawsuit, is this: "Obscured from the marketing was the fact that prescription opioids are not much different than heroin — indeed on a molecular level, they are virtually indistinguishable" (p.081).
And what have we heard about heroin?
In an opinion piece for The New York Times, entitled "Marijuana Has Proven to Be a Gateway Drug," Robert L. DuPont, president of the Institute for Behavior and Health and the first director of the National Institute on Drug Abuse, wrote in his opening statement, "It should come as no surprise that the vast majority of heroin users have used marijuana (and many other drugs) not only long before they used heroin but while they are using heroin."
Opioid epidemic. Homelessness. Substance abuse. Heroin. Marijuana.
But what are we hearing in Lakewood from those who want to set up shop to sell marijuana?
In the same packet of information concerning the opioid epidemic, is a statement by Cynthia Macklin "who holds a state issued marijuana business license" in Lakewood.
Said Macklin, "there is no evidence that marijuana is a gateway drug and that since legalization by Washington State, opiate use within the state has decreased" (p.60).
This presents a rather obvious set of questions for amusement – a conundrum – or questions that would be amusing except for how serious a matter this is.
If Macklin is right, then Lakewood would be wrong in joining the "Big Pharma" lawsuit.
If in fact "opiate use has decreased" as Macklin alleges and Lakewood, to be successful in this class-action lawsuit, must show "sufficiently detailed documentation for the impact the opioid epidemic has had on the City," then why head down a road that Macklin practically says is a dead end?
If Macklin is right, then the statistics are wrong.
"Between 1997 and 2011, prescriptions and sales of opioids in Washington rose more than 500 percent. In 2015, the number of overdose deaths in Washington exceeded the number of deaths from car accidents and firearms. Homelessness and crime are also associated with opiate addiction."
Opioid epidemic. Homelessness. Substance abuse. Heroin. Marijuana. Deadly car accidents.
Are they related? Even just those last two?
"Since pot legalization, driving under influence has steadily risen," according to Washington State officials.
In a January 16, 2018 Q13 article by Tatevik Aprikyan, "statistics show you are twice as likely to kill yourself or someone else while under influence of marijuana," said WSP Trooper Brooke Bova.
If Deputy Prosecutors in the Pierce County Office of the Prosecuting Attorney and members of the Keller Rohrbach law firm cannot show that Lakewood, among many others, is feeling the impact of what they say is "the worst man-made epidemic in modern medical history," because opioid use is up, not down as Macklin claims, then Lakewood would be foolish to embark on a fool's errand.
If more than 300,000 Americans have not lost their lives to an opioid overdose, as the lawsuit claims, "more than five times as many American lives as were lost in the entire Vietnam War"; if on any given day, 145 people will not in fact die from opioid overdoses in the United States as the lawsuit states; if opioid overdose is not "the leading cause of death for Americans between the ages of 25 and 60," then pursuing such litigation is completely absurd, hopelessly pointless and a useless and fruitless mission.
Of course, on the other hand, if Macklin is wrong and the aforementioned DuPont is right, let alone all the entities nationally – including Lakewood – that want to hold irresponsible and reckless the promoters of a product believed to be responsible for such societal ills – and all while these unscrupulous marketers "deliberately downplay the significant risks of addiction" – then this begs a question of a far timelier nature.
"Like nearly all people with substance abuse problems, most heroin users initiated their drug use early in their teens, usually beginning with alcohol and marijuana," writes DuPont.
"There is ample evidence that early initiation of drug use primes the brain for enhanced later responses to other drugs. These facts underscore the need for effective prevention to reduce adolescent use of alcohol, tobacco and marijuana in order to turn back the heroin and opioid epidemic and to reduce burdens addiction in this country."
Here, then, is that question, one that the Clover Park School District board has already answered (unanimous); as has the Lakewood Planning Commission in a vote of 4 to 2 just this February 21; as have hundreds of Lakewood residents in submitting their signatures to the Planning Commission in opposition to marijuana retail locally:
When will the Lakewood City Council connect the dots and come to the same conclusion?
Picture Source: Homeless for Hemp, an honestly-connected article