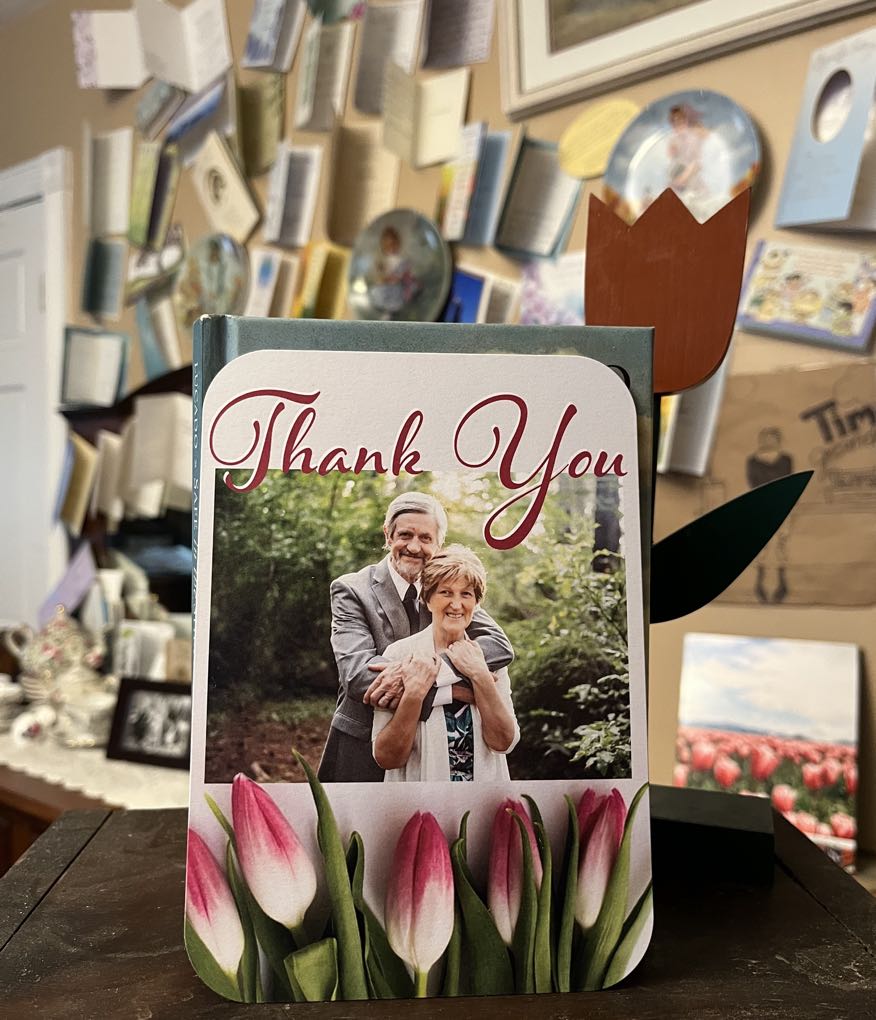 I've seen them emerge from the Marriage Licensing office, prized manilla envelope in one hand, a greater by far precious possession gripped in the other.
I've seen them at the fair. Especially sweet was an elderly couple, strawberry scone in one hand, the other hand clasped in that of their loved one, smiling, strolling toward the exit.
Recently I wrote that the thought had crossed my mind – as I sat there alone on the park bench and observed couples hand-in-hand, or as I scooched deeper into my raincoat even as a couple approached from the opposite direction, huddled together, their fingers intertwined over the umbrella's handle – that I, a total stranger, should approach them, and thank them.
For holding hands.
But I feared tears would get in my way.
Readers, however, have encouraged me otherwise.
So, I've decided to give it a try.
The cards I had created – to thank all the many people who have for so many years surrounded our family with love and especially just seven months ago when I lost my wife of 50 years to cancer; to thank those who sent flowers and so many cards they adorn the wall like wallpaper where they are taped reaching even to the ceiling – these thank you cards I will instead write to people I don't know, but who I observe holding hands.
Because I know how much it meant to me, in those final months, then weeks, and then days, to hold her hand as we walked the halls of the hospital.
There probably won't be much in the way of follow up here on this page as to reactions. I'll simply give them the card with the handwritten message you'll read below, and then I'll disappear into the crowd, or pull up the hood on my raincoat and turn away to hide my tears.
I saw you holding hands today,
And though a total stranger I wanted to say,
Thank you.
Thank you for reminding me,
Of how precious is touch, and time, both passing quickly.
Having lost my wife of 50 years to cancer I just wanted you to know,
That simply holding hands is one so very important way to show,
To others, to me,
How very special love should be.
Thank you.