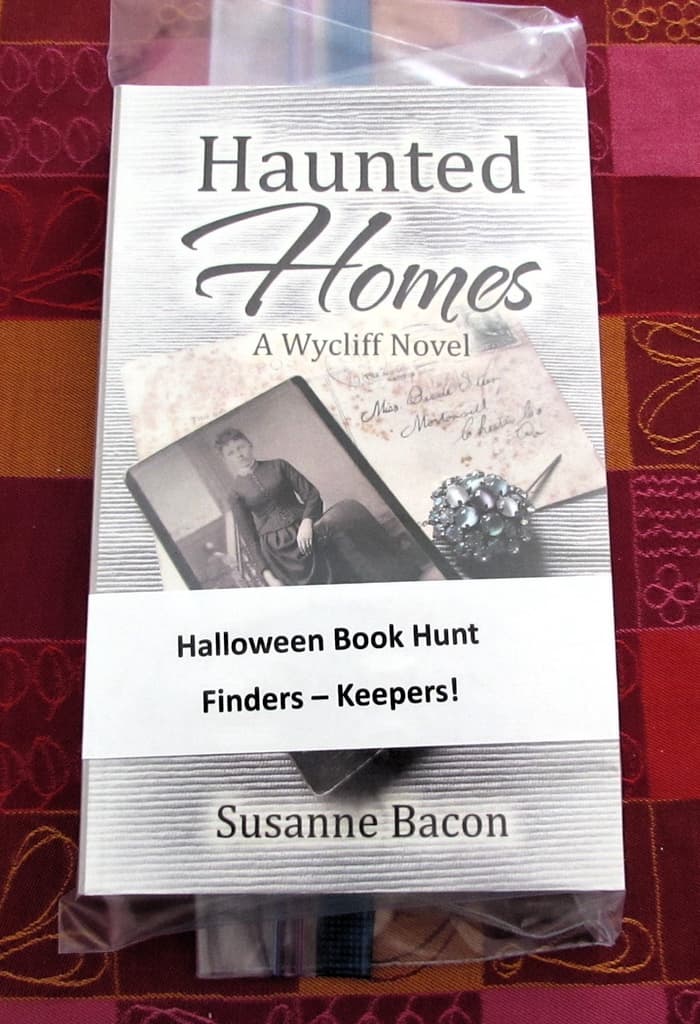 There are a lot of things to do in Steilacoom any time of the year. Halloween is probably one of the busiest times for those who love to be active, and this activity here will be for bookworms and/or friends of bookworms (think gifts …) – because the reward is one of 10 signed copies of my Wycliff novel "Haunted Homes" hidden all over Steilacoom. Finders-keepers-style. No worries, they will be ziplocked, so they should withstand some humidity … And Steilacoom's Mayor Dick Muri most kindly permitted me to create this "havoc".
Here are the clues where you might find a signed copy:
1. This house of wisdom kindly hosts
The thoughts of countless writing ghosts.
2. Where many meet in friendly spirit,
No ghost will ever venture near it.
3. This female spirit's caring spark
Is reminisced by a nice park.
4. This place reminds us of a road
That settlers used in escape mode.
5. It is an end and a beginning,
But only when the wheels are spinning.
6. This is a place that one might choose
To share events and other news.
7. There's benches at this park-like alley
If you like views and time to dally.
8. This place is known for trees of fruit
And vistas of the Sound to boot.
9. This is the home of the town's spirit,
Of weddings, and of bravest merit.
10. This ghost's initials spell a NO,
But Halloween it's at full go.
The Halloween Book Hunt in Steilacoom starts on Saturday, October 28 after dawn and will last until Halloween.
For easiest approach, print the list of hints or have it available on your smartphone to figure where to find one of ten signed copies of the Wycliff novel "Haunted Homes". If you come across a copy but don't want it because you are not out on the book hunt or already have one book, please, leave it in place. If any of the books won't get found, I'll gather copies not taken on November 1, so Steilacoom doesn't have to bother with remnants of the activity.
For now, I hope you have fun with the book hunt – and maybe with a book. Best of luck!