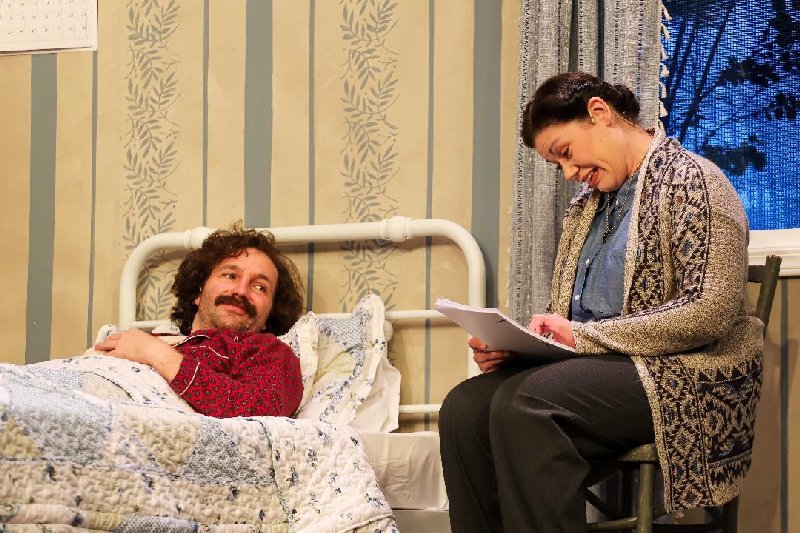 The film version of Misery starred James Caan and Kathy Bates. "The film was released in the United States on November 30, 1990, by Columbia Pictures. It received highly positive reviews and was a box office success. Bates' performance drew widespread praise from critics and won her the Academy Award for Best Actress at the 63rd Academy Awards, making Misery the only film based on a Stephen King novel to win an Oscar. King himself has stated that Misery is one of his top ten favorite film adaptations." – Wikipedia
Cemetery Dance Online said this about the stage production vs. the film. "The play is much more contained, the entirety of it taking place at Annie's home, and between she and Paul."
The stage version offered up Bruce Willis and Laurie Metcalf. I would have loved seeing Metcalf on Broadway. I loved her as the neighbor in Uncle Buck, and as Jackie Harris on Roseann. She does comedy well . . . and apparently drama even better.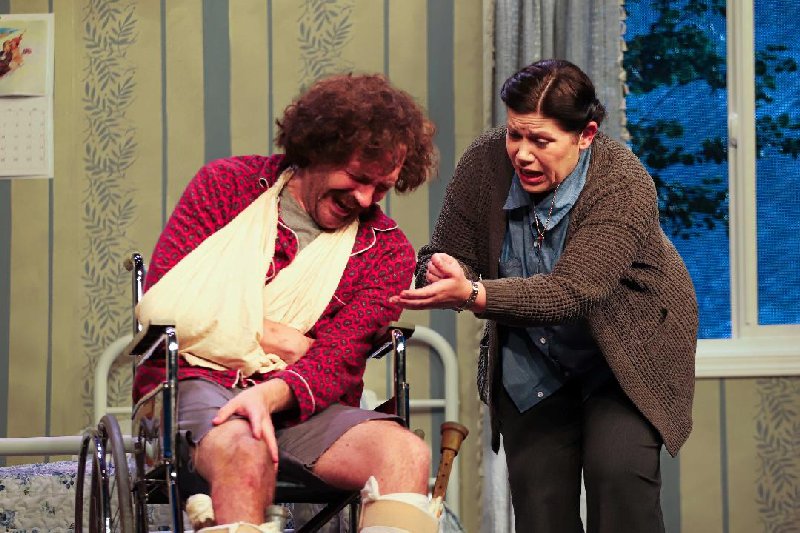 The storyline: Romance novelist Paul Sheldon (Dylan Twiner) is rescued from a car crash by Annie Wilkes (Deya Ozburn), and wakes up captive. While Paul is healing Annie reads the manuscript of his newest novel and flips out when she sees that Paul has killed off her favorite character. Annie demands a new "Misery" novel. Soon Paul is writing as if his life depends on it.
A word of warning: "The iconic scene in which a maddened Annie takes a sledgehammer to Paul's healed legs is included in the play." The play is not for young children or for the squeamish. There is a little emotional remove for the audience because of the distance from them. Nonetheless, the tension is taught as Paul writes and Annie judges his writing.
Tacoma Little Theatre's production of Misery features Deya Ozburn as Annie Wilkes, Dylan Twiner as Paul Sheldon, and Andrew Fry as Buster. We saw Ozburn as Mrs. White in the excellent TLT production of "Clue" On Stage. I don't recall seeing Dylan before but he has performed in a number of productions as well as improv with Muh Grog Zoo. We have seen Andrew in a number of performances, his last was J.D. in "Escape to Margaritaville" at Tacoma Musical Playhouse.
Though out the play we are pulling for Buster (Andrew Fry – left) to rescue Paul and contain the mad Annie (Deya Ozburn – right).
Misery runs Friday, October 20, through Sunday, November 5, 2023, for a total of 10 performances. Friday and Saturday showings are at 7:30 pm and Sundays at 2:00 pm.
There will be a special "Pay What You Can" performance on Thursday, November 2, 2023, at 7:30 pm. Tickets for that performance are available now online, in person, or over the phone.
The performance on Sunday, November 5, 2023, at 2:00 pm will be an ASL interpreted performance.
Tickets are available on-line: https://tacomalittletheatre.csstix.com/event-details.php?e=459