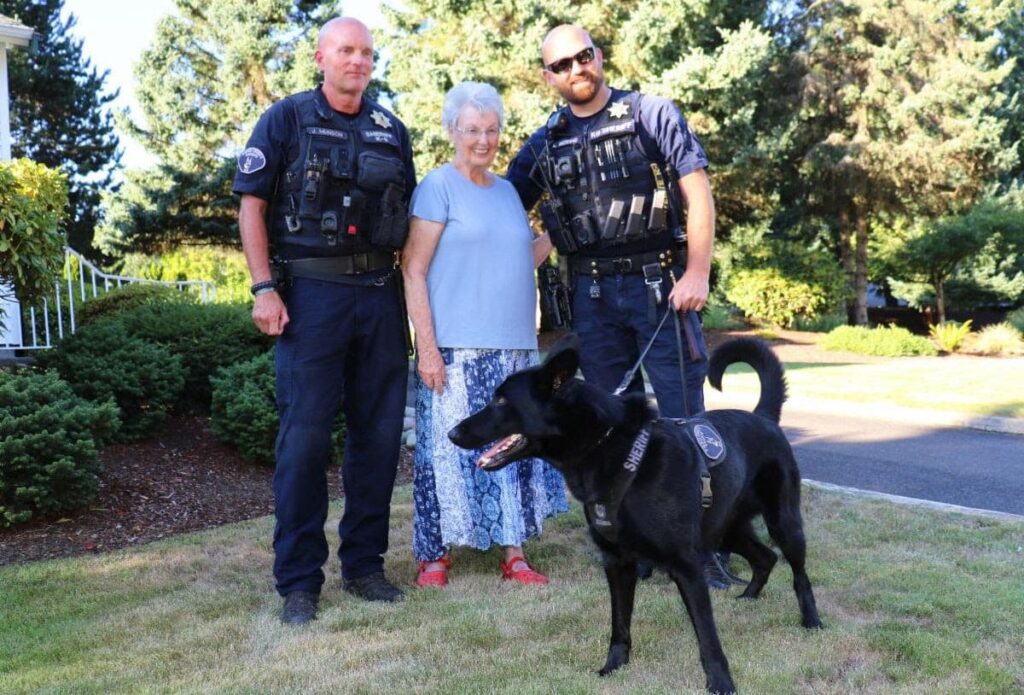 When Don Cooper, a valued and dedicated volunteer with the University Place Police Department (UPPD), passed away in 2021, his wife Barbara generously donated $10,000 to help purchase a new K9 dog for the Pierce County Sheriff's Department (PCSD), of which UPPD is a contract agency.
During the National Night Out festivities in August, Deputy John Munson, who runs the K9 program for Pierce County, and Deputy Levi Redding, a K-9 handler, surprised Barbara with her first introduction to Coda Rainier, the newest member of the PCSD K-9 unit that her gift made possible.
"It was a total surprise," Barbara recalled. "I had to compose myself when I saw him. He is so beautiful." Indeed, the jet-black German Shepherd (who celebrated his first birthday on the day he and Barbara met) is sure to stop people in their tracks—if not by his good looks, then by his training in suspect apprehension.
Coda Rainier is named after Don's love of the mountain he scaled three times during his lifetime. So Barbara found herself particularly moved when Deputy Redding sent her a picture of Coda Rainier in front of a PCSD K-9 unit, with Mount Rainier in the background.
During the coming year, Barbara will also pay for Coda Rainier's custom vest that he will need once he completes all his training.
"I'm so happy to be able to do this," Barbara said, knowing her husband's love of Rainier as well as his commitment to the UPPD. "I felt 100 percent this was the best thing I could do."