Submitted by John Falskow, Director of Instrumental Music, Tacoma Community College.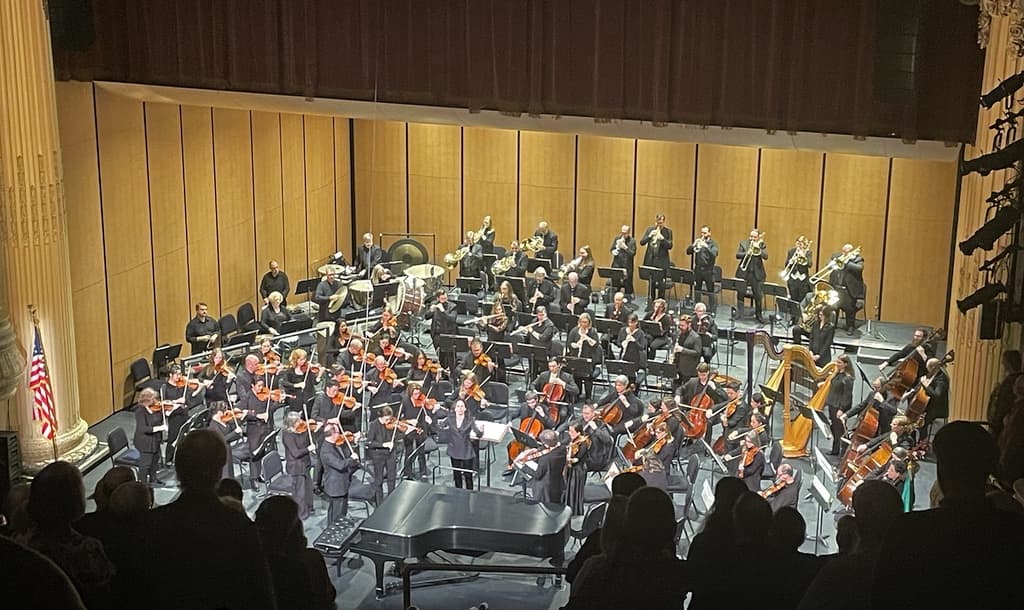 CONCERT REVIEW: On the evening of October 14, 2023, the Pantages Theater in Tacoma, Washington was the stage for an unforgettable orchestra concert, thanks to Symphony Tacoma and conductor, Sarah Ioannides. "Rhapsody!" was the first concert for Symphony Tacoma's 2023-24 season and included Mackenzie Melemed as the piano soloist. With a variety of music on the program, this concert was an impressive demonstration of the orchestra's remarkable skill and versatility.
The opening work by Lili Boulanger, D'un Matin du Printemps (Of a Spring Morning), was a colorful and vivid orchestral tone poem. The piece has crafty fast passages, where the woodwind section soloists played with nimble skill. Other places in this piece were slower and poetic and featured beautifully lyric string soloists. Under Ioannides the orchestra played with precision and grace. This was a brilliant beginning to the concert, and to the Symphony Tacoma season.
Perhaps the most memorable part of the evening's program was Mackenzie Melemed's performance of Rachmaninoff's Rhapsody on a Theme of Paganini. It was simply extraordinary. Melemed's technique is dazzling, his tone rich and warm, and his musical savvy was on full display. Especially impressive was his volume control, and ability to contrast the power and intimacy of the piano. The loud sections roared with muscular strength, and the softer sections were dainty and clear. At times the piano pedaling allowed the instrument to resound with shimmering clarity throughout the Pantages walls. Melemed's artistry was obvious from the first notes played, and kept the audience captivated throughout the performance.
One of the most famous sections of the Rhapsody is variation eighteen. This variation is slow and lyric, and grows into a large, almost cinematic, sweeping blend of piano and orchestra. Melemed played with incredible clarity of phrase, and a rich poetic sound. The orchestra was all-in, and kept the listeners spellbound with their musical intent and sincerity. This section of Rachmaninoff's composition, with its sweeping romantic phrases, full of passion and intensity, was one of many highlights in the evening.
Melemed's performance of Rachmaninoff's Rhapsody on a Theme of Paganini was breathtaking. His hands danced across the keyboard with an astonishing blend of power and finesse, effortlessly capturing the many nuances of Rachmaninoff's intricate composition. At times the piano and orchestra roared with power, but other places were simple and pure. Melemed consistently projected a rich and warm tone from the piano.
Symphony Tacoma, under the direction of Music Director Sarah Ioannides, also deserves high praise for their role in the Rachmaninoff. The orchestra provided a lush and dynamic backdrop for Melemed's performance. The interplay of roles between the orchestra and piano solo were clear and convincing. Melemed was the focus of attention, and the orchestra never overstepped it's role.
Melemed's encore, the last movement of Weber's Piano Sonata No. 1, was a delightful surprise. This piece showcased his versatility, transitioning from the grandeur of Rachmaninoff to the elegance of Weber with ease. The Weber is a flurry of dancing notes, in a perpetual motion rondo. Melemed played with virtuosity and seeming ease – as an endless string of notes flew out of the piano. Noticeably, orchestra members watched and smiled in awe. This crafty and gymnastic performance was a magical end to the concert's first half.
The concert's second half was an interesting contrast of waltzes, Ravel's La Valse, and Strauss; Suite from Der Rosenkavalier. Two very different compositions inspired by the European waltz tradition, but with very different and contrasting musical impacts.
As Ioannides explained from the stage, La Valse is kind of a mash-up of several waltzes. The waltzes ricochet off each other and build into a frenzied finale. It is exciting and elegant, but by the end becomes grotesque and obnoxious. There is suave sophistication in the music, but also anxious angular gestures. La Valse is a unique orchestral work, with a unique emotional impact. Symphony Tacoma was impressive with their navigating the tricky turns of phrases, and demanding technical playing required in La Valse. The whirlwind ending was full of crazy energy. This performance was a wonderful spectacle for Tacoma to enjoy.
The Suite from Der Rosenkavalier also includes many waltz sections, but Strauss creates a lush romantic orchestral frame for his music. The harmonies emphasize much dissonance, pitches that don't quite fit in the chords – but also the movement of these "wrong" notes into stunningly beautiful resolutions. One section in Rosenkavalier was especially breathtaking. About three-quarters through the suite, there is a slow build-up that begins with solo oboe played by Selina Greso and violin played by Svend Rønning. It gradually builds, adding more instruments, growing in intensity and size. The energy briefly regroups, but then continues to grow into an absolutely massive and emotional climax – the resonance of the full orchestra filling the entire auditorium. The intensity and pacing of this passage highlighted the artistry Symphony Tacoma has developed under Sarah Ioannides leadership. This was a memorable moment for everyone.
It was a big evening, filled with big music. Mackenzie Melemed was wonderful. Sarah Ioannides and Symphony Tacoma played with remarkable skill and versatility. The audience left moved and inspired. It was an exceptional and unforgettable night of music for our community.