Submitted by John Ullis.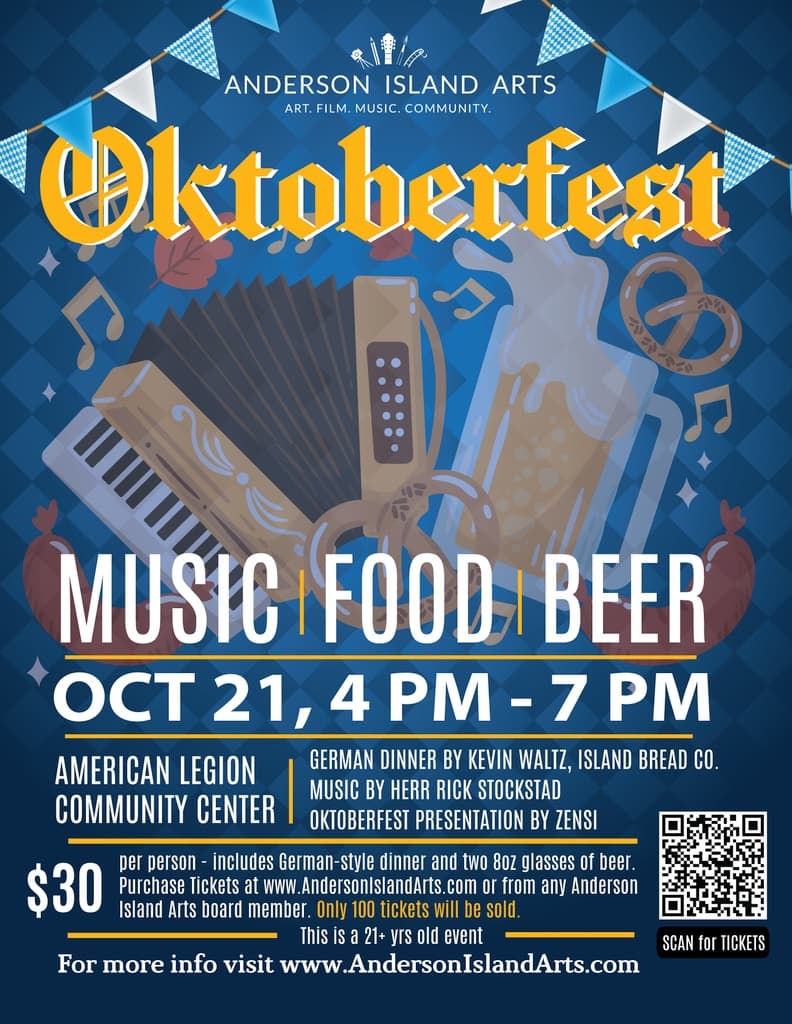 Greetings and a hearty "Guten Tag!" We're thrilled to extend a warm invitation to our upcoming Oktoberfest celebration, set to take place on Saturday, October 21, with festivities kicking off at 4 pm and running until 7 pm. This vibrant celebration will unfold at the Anderson Island Community Center, providing the perfect setting for an unforgettable evening.
Prepare your taste buds for a culinary journey like no other, as we bring you a sumptuous German-style dinner crafted by none other than the talented Kevin Waltz of Island Bread Co. that will transport you straight to the heart of Germany.
But that's not all; our event promises to be a feast for the ears as well as the palate. We've lined up Herr Rick Stockstad to provide the musical backdrop, ensuring that the atmosphere is brimming with lively melodies that capture the spirit of Oktoberfest. His tunes will have you tapping your feet and dancing the night away.
To add an educational and cultural dimension to the festivities, we're delighted to introduce Zensi, who will take you on a captivating journey through the traditions and history of Oktoberfest. Prepare to be enlightened and entertained as you gain insights into the rich tapestry of this cherished Bavarian celebration.
Now, let's talk about tickets. Your entry to this enchanting evening is just $30 per person, which is an absolute steal considering the delights that await. This ticket price includes not only the delectable dinner but also two generous 8oz glasses of beer, ensuring that you get a true taste of the Oktoberfest experience.
However, we must issue a friendly reminder: tickets are limited! To ensure an intimate and enjoyable atmosphere, we are capping attendance at 100 people. So, don't delay – secure your spot and join us for this one-of-a-kind Oktoberfest celebration.
Mark your calendars, gather your friends, and prepare for a night of delicious cuisine, lively tunes, and cultural immersion. We can't wait to raise a glass and prost to an unforgettable Oktoberfest with you. Join us for a memorable evening of camaraderie and celebration!