You probably have watched one or the other car advertisement on television, willy-nilly. Such as this one:
Therefore, you might be familiar with the two American-English Germanisms, Volkswagen (pronounce 'fawlx-vu-gn, meaning people's car) and its slogan "Fahrvergnügen" (pronounce far—vah-gnoo-gn, meaning joy of driving). Did you know that Germans abbreviate Volkswagen as VW (pronounce fow-vay)? And that VW owns the company of Porsche?
I grew up in the car building city of Stuttgart, home of Mercedes Benz and of Porsche. The home of VW is located in Wolfsburg, Lower Saxony. As a journalist working for an internationally operating publishing house, I got to drive pretty much any German brand except the super-fancy ones, such as Porsche or Maybach. Company rentals, you understand. Some of my fondest memories, though, go back to a green VW beetle. But let me dive into history with you first. For Volkswagen name once was part of a political program.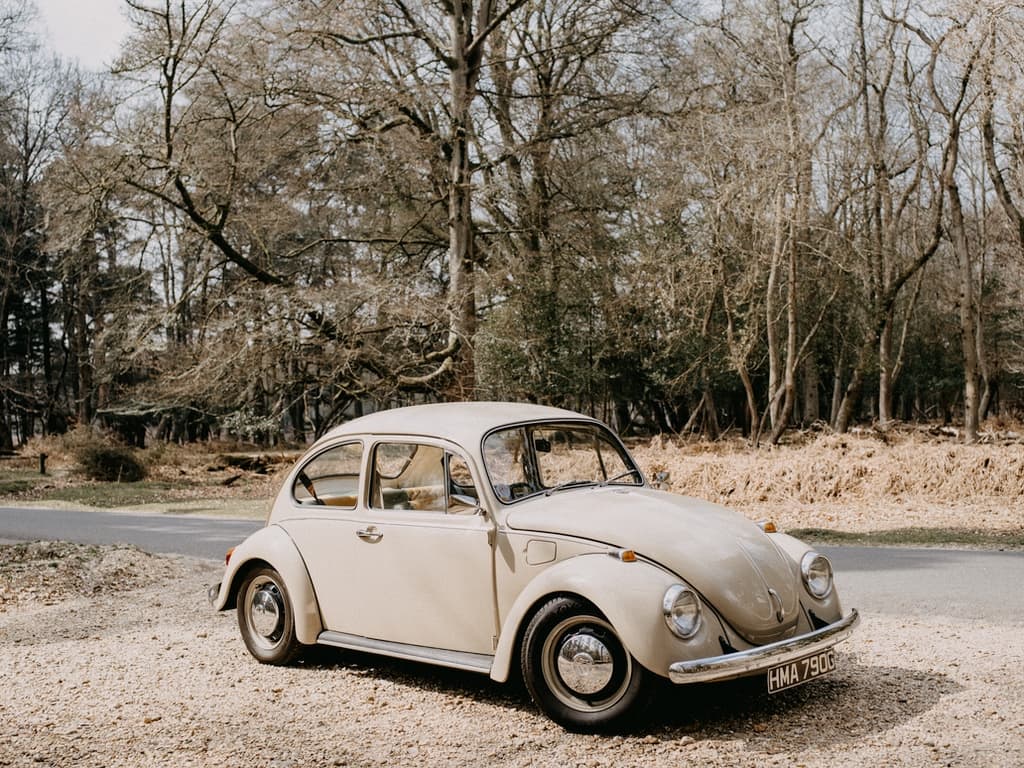 During the Third Reich, the Nazi party propagated "Kraft durch Freude" (pronounce kraft doorx 'froy-dah, meaning strength through joy). It was a leisure organization to ease the Germans into believing in the advantages of the party. It offered sports in factories, adult education programs, folklore programs, discounts on cultural events, and even subsidized vacations and cruises. Basically, it was used to control the Germans' use of leisure time while training them towards physical fitness for upcoming wars. I can only guess why the development of affordable cars became part of the KdF (pronounce kuh day eff) effort – it was probably as much to boost the beaten people's moral (WW I and the effects of the treaty of Versailles were affecting most in their standard of living) as it was an international competition in the manufacturing of automobiles.
Ferdinand Porsche designed a car that looked much like the first beetle we now know and called it a Volksauto (pronounce 'fawlx-out-oh, meaning people's car). He started looking for a manufacturer to mass-produce it; Hitler was looking for somebody to have designed a car that was none too pricy to subsidize. The result was the KdF-Wagen (pronounce kuh day eff vuh-gn). It was produced in the company town "Stadt des KdF-Wagens" (pronounce shtutt das pronounce kuh day eff vuh-gns). Wow, what an imaginative name!
The war interrupted the production of the beetle and changed to that of military vehicles. Which was why, after the war, the British who occupied the area tried to dismantle the VW works and to transport them into their own country. As this would have proven way too complex, they decided to turn it back into a civilian factory, renamed the KdF-Wagen a Volkswagen and the Stadt des KdF-Wagens Wolfsburg, and the rest is history.
When I was a student and jobbed at a furniture store as a sales assistant, a fellow sales assistant of mine, also a student, always drove me home in his green VW beetle. I will never forget the comfort of the vehicle, the countless times this nice guy saved me from a half hour's wait at the tram station and an hour's trip around Stuttgart suburbs. During these drives we listened to music of the 1930s, among them the Comedian Harmonists, and discussed art and fashion (his majoring subject) of that era. If ever he should read this, he knows his kindness has never been forgotten. Nor his green beetle and its Fahrvergnügen.