Submitted by Marianne Bull.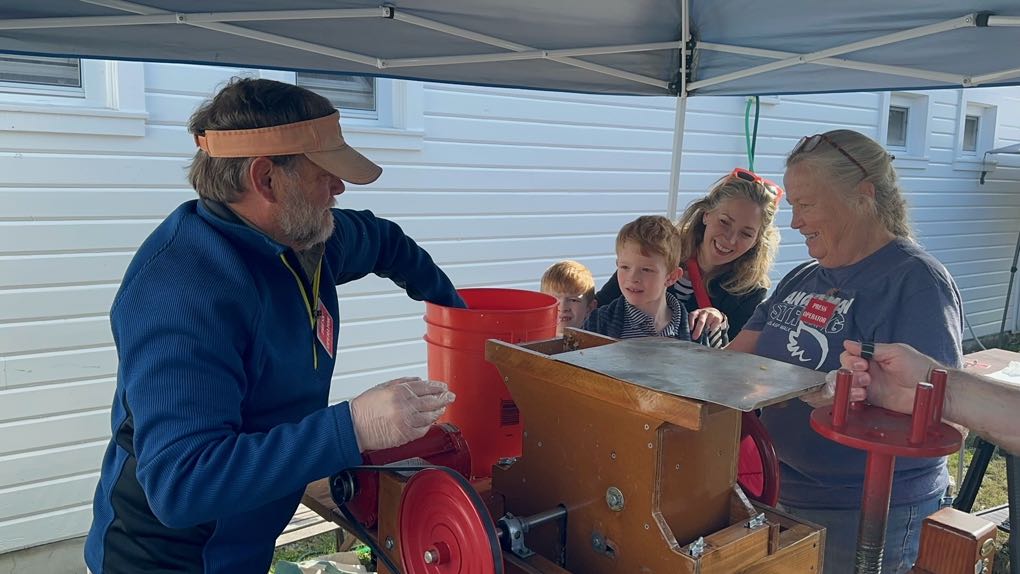 Much of the Apple Squeeze on Sunday, October 1, was perfect including the superb weather, crowds of people, quality vendors and great music! The Steilacoom Historical Museum Association, sponsor of the Squeeze does express apologies to those who were inconvenienced by the apple pressing and cider buying situations.
Due to issues beyond our control, the amount of apples available for pressing had to be greatly reduced as well as pre-squeezed gallons of cider available for purchase.
Faced with a difficult situation, our dedicated press operators pivoted to doing free demonstration pressing for many families. Children were still able to experience the wonder of apples turning into delicious cider and tasting the result of their work. Thanks to those press operators who gave of their time to educate families on the process.
A backdrop of toe-tapping music by Kristi and Steve Nebel and Country Dave & the Picking Crew, plus the many quality vendors, provided a memorable street fair filled with wares and food.
The new 2024 Steilacoom Calendar was debuted. Students from Steilacoom High School provided activities for children. Presentations by the SHS Cheer Team, the Band and the Choir
delighted the crowds. Firetrucks were provided for kids to explore by West Pierce Fire and Rescue Battalion 20. Stations 22, 23 and 24 rigs did a rotation throughout the day!

While not exactly like the usual Squeeze, those attending seemed to enjoy the beautiful fall day, a celebration of the apple and a coming together of the community in our Town on the Sound.
Thanks for the many Steilacoom Historical Museum Association volunteers and friends who made the event possible including these partners – students from the Steilacoom High School and Pioneer Middle School, the local Boy and Girl Scouts, and members of the military. We look forward to next year and all the usual traditions back in place.