Submitted by Pacific Harbors Council of the Boy Scouts of America.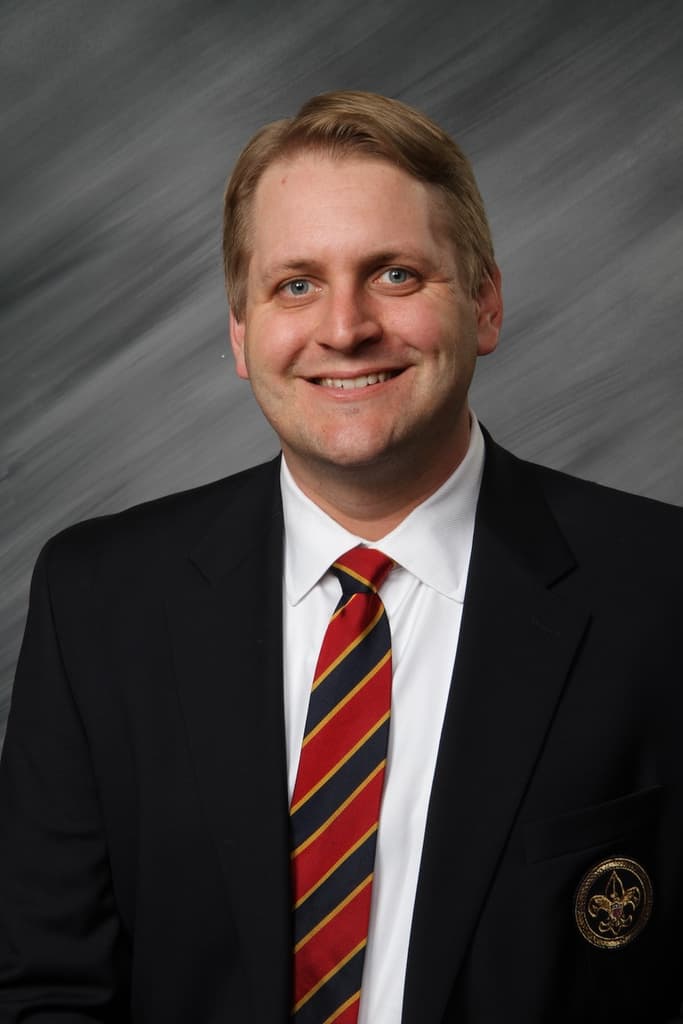 The Executive Board of the Pacific Harbors Council has selected Andrew Sisolak as the new Scout Executive and Chief Executive Officer of the Pacific Harbors Council of the Boy Scouts of America. Sisolak takes over from Karen Meier who is retiring after nineteen years as a Scouting professional. Meier is the first woman CEO of the Pacific Harbors Council in its 97-year history.
Sisolak Background
Sisolak, 37, comes to the South Sound area from the Verdugo Hills Council in Southern California where he has been the Scout Executive since 2022. He has been a commissioned Scouting professional since 2008 when he graduated from the University of California at Davis with a B.A. in History with honors. As a youth, Sisolak was a Cub Scout, Boy Scout, Venturer, a Vigil member of The Order of the Arrow (Scouting's Honor Society), as well as an Eagle Scout.
"We are excited that Andrew has accepted this leadership position supporting Scouting in the South Sound region. His experience with diverse populations and working with young people will support our ongoing mission of helping grow much needed responsible adults in these upside-down times," said Mark N. Crawford, Chairman of the Council Executive Board.
A recent survey suggest many young Americans lack confidence in government and the well-being of our communities. Many more feel depressed or hopeless according to the survey. Other research suggests today's young adults put off major life decisions because of societal uncertainties. Young people who graduate through Scouting programs fare differently.
"Scouting teaches responsible leadership, accountability and the importance of serving the community," said Crawford. "Nearly every weekend, you can see our Scouts out in the community helping with food drives, visiting senior centers, and nursing homes, or conducting environmental cleanups of our forest lands and waterways. They do this while working on leadership skills such as strategic management, fundraising, motivation and teaching younger Scouts outdoor skills of camping, orienteering or search and rescue skills. These are timeless values we teach our young people," said Crawford. Scouting has created admired Washington state leaders such as former Governor Dan Evans, Former Ambassador to China, Commerce Secretary and Governor Gary Locke and former U.S. Defense Secretaries Robert Gates and James Mattis, among others.
A Dream Come True
"Over the years, our family has visited family in the Pacific Northwest, and it's been an ongoing objective to relocate to this beautiful part of the world," said Sisolak. "The beauty of the local natural world helps people gravitate toward Scouting more easily. Not only for the kids but whole families. When you sit in the shadow of Mt. Rainier or the Olympic Mountains or the ruggedness of the Washington coast, Scouting becomes a family affair, which makes the job of being a Scout Leader that much easier. As a parent of young children Scouting is my accountability partner. I always promise that we will go camping, fishing, hiking, etc. Scouting helps me deliver on those promises," he said. 
Sisolak begins his new job on December 1, 2023.
Karen Meier
Meier caps a distinguished career in Scouting that has taken her around the world, starting in Europe and ending in Asia before coming home to Washington state. Highlights include the nine young women who were among the first Eagle Scouts in the country from local communities, the community rescue of an endangered Sea Scout ship, Cub Scout Pack 278 planting its Pack flag at the South Pole, the election of the first woman chairman of the council executive board, and the long overdue recognition of an African-American Eagle Scout. The Spokane native and Washington State University graduate says she plans to continue volunteering to support Scouting events. Meier and her husband have grown children and grandchildren living nearby.
"We are heartened that Karen and husband John-Paul (J.P.) will continue to be visible in Scouting activities in our area," said Crawford. "I'm also sure that when called upon, Karen will provide wise advice, counsel and experience to our Board and her successor," said Crawford.
Priorities
"Karen's agenda was inclusion and diversity when we most needed it and to that end, we are proud of what she's accomplished, along with youth protection which has become a program modeled by other youth organizations. Under Karen's leadership, the Pacific Harbors Council became a nationally recognized adult and youth leadership training council. With shifting demographics, Andrew's priorities will be growth and quality control over the premier youth leadership program in the world that is Scouting," said Crawford. 
About The Pacific Harbors Council of the Boy Scouts of America
The Pacific Harbors Council of the Boy Scouts of America supports Scouting Units across the South Sound from Federal Way to Centralia and from the Washington Coast to the Cascade foothills. This includes Cub Scouts, Venture Scouts, Scouts BSA, Sea Scouts, and Explorer Scouts. Nearly 3,000 young people participate in Scouting locally. The Mission of the Boy Scouts of America is to prepare young people to make ethical and moral choices over their lifetimes by instilling in them the values of the Scout Oath and Law. For more information on Scouting go to: beascout.org