Submitted by Bob Warfield.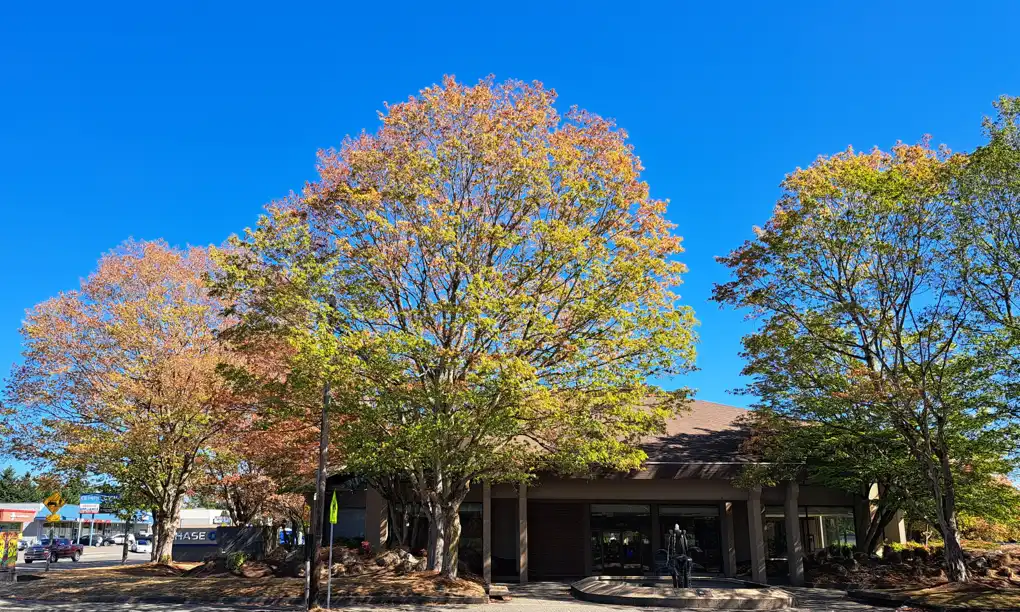 Let me say that again: The Chase Bank Maples, once glorious, are dying from shameless neglect.
Well before Lakewood became a city, I remember local community excitement as we watched this once handsome building, with its gorgeous bronze tulip fountain, rise at its centrally prominent location. To this day, it remains a valued architectural icon though beams and timber rot for want of care. Perhaps they will be repaired or replaced when patch-work sheathing and strap becomes an embarrassment for landlord or tenant. But what of the once splendid planting that show-cased the building and graced the breeze and eye of all who passed?
A courtesy visit with the manager to express concern, as others have done for more than a year, revealed numbing disinterest, a stunning absence of curiosity or concern. No one needs a degree in horticulture to spot a dead tree or plant, ones dying or missing, or the relentless march of consuming ivy. We cannot pin this on climate change or lack of water. Where does exterior neglect end and interior neglect begin? Nature doesn't care either way.
It is ironic that City of Lakewood, over the past year in deference to "nature," has adopted a set of tree preservation restrictions and canopy enhancement goals likely as ambitious as any municipal code anywhere in the country. But proof of benefit will not be found in a file drawer or hard drive. It will be proven or not by the enduring vigor of our maples, oak and fir, and by the birdsong, color of fall and blossom of spring that makes a cosmopolitan park of every sidewalk and boulevard where people stroll or gather to invest their lives with purpose. The maples of our city matter. Without them, what's the point of a bank, or the value of civic pride?