Each week, Clover Park School District (CPSD) will highlight a school or profession in our district with a #SuperSchoolShoutout where we celebrate the students and staff that make our district beam with pride.
This week, we're showing our CPSD pride with a shoutout to Tillicum Elementary School.
Tillicum lies on the south end of our district near JBLM. With a diverse population, dedicated teachers and a small student body, students and staff often feel like one big family.
Principal Jeff Miller is proud to work in such a close-knit community and has given his Tillicum Tigers the slogan, "one town, one school, one family."
"In this neighborhood, everybody looks out for everyone else," Principal Miller said. "I care about each of our kids, and I want to make sure they're happy and doing the very best they can at school."
Principal Miller and his Tillicum team are committed to creating a safe place for students of all backgrounds to come to school and feel confident in their ability to excel. This year, they are excited to introduce a new math curriculum to their students and continue the strides they've made in reading and social emotional learning.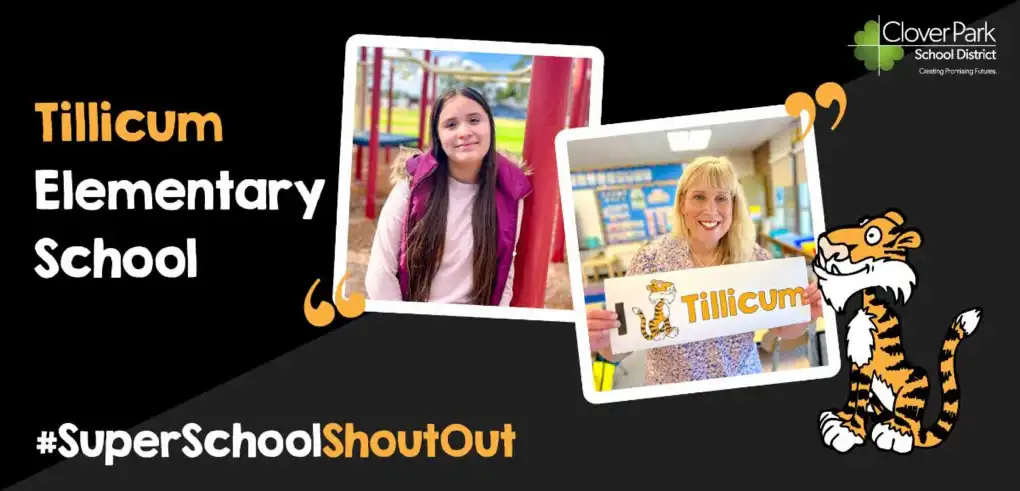 Two members of the Tillicum community who represent the true spirit of a Tillicum Tiger are first grade teacher Cherri Adams and fifth grade student Anjelique "Gigi" Valdovinos-Pantoja.
This will be Cherri's tenth year teaching at Tillicum. Before joining the CPSD team, Cherri taught many different elementary grade levels as a substitute teacher. Her subbing experience gave her the opportunity to find her niche and realize that first grade is her favorite.
Every year, Cheri is excited to reach the months of January and February, a time when her students experience a burst of academic and social growth. "First grade is magical because the students love school and have a warm sense of community where everyone is their friend," she said.
Cheri loves working at Tillicum because it's a small community where she feels like part of the family. "The job isn't always easy, but everyone is here because they want to be," she said. "It's a calling and a passion to go the extra mile for our kids and provide a high-quality education."
Gigi just began her year and is already enjoying life as a fifth grader. She has attended Tillicum since kindergarten and is trying to make memorable experiences before moving on to middle school.
"I love going to Tillicum because the teachers here are really nice, so I'm a little nervous to leave," she said. "I will miss my fourth grade teacher, Ms. Anderson."
Gigi's favorite subject is math, which has been extra exciting lately as her class has begun working on multiplication and division charts. Math is exciting, but Gigi hopes her future will be more litigious. She plans to become a judge and preside over legal disputes. If she's lucky, she might even rule on a celebrity case!
Go Tigers!