Submitted by Niagara Bottling.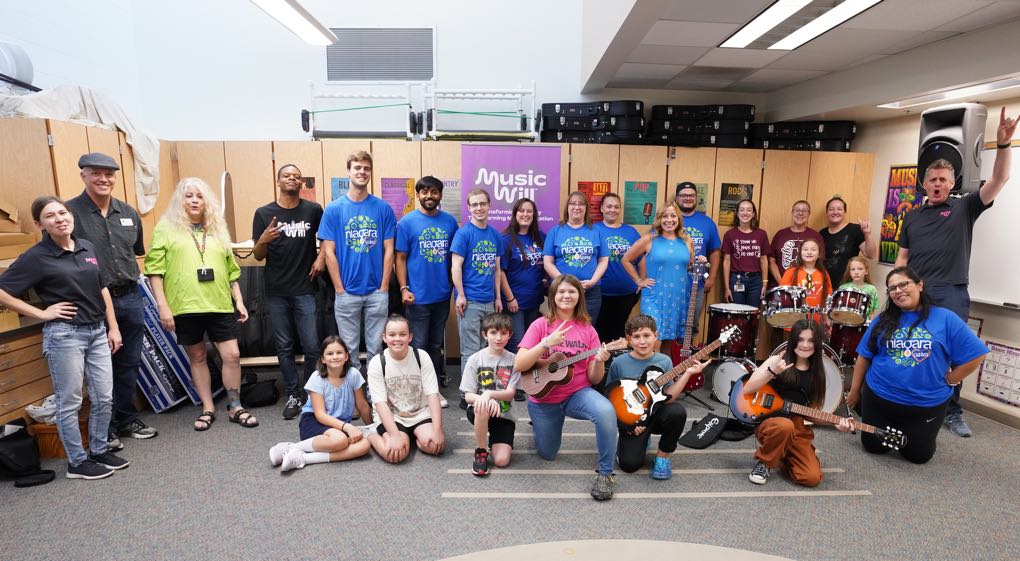 Puyallup – Today (August 28, 2023), Niagara Bottling, the family-run beverage company that has been hydrating America since 1963, in partnership with Music Will, the largest non-profit music education program for schools across the U.S., renovated a music classroom at Emma L. Carson Elementary School and delivered new instruments and equipment to students.
The day began with volunteers, including team members from the nearby Niagara plant, painting canvas murals, refreshing storage cabinets and lighting, repairing old instruments and setting up the new instruments for students to enjoy. It culminated with a schoolwide assembly with a music making activity and the big reveal of the new instruments.
"We're so thrilled to continue partnering with Music Will," said Ann Canela, director of corporate giving for Niagara. "With these music classroom makeovers, we get to touch the lives of so many young people and restore music education in school programs that often get overlooked. We're hopeful these new instruments and the refurbished classroom will provide wonderful learning opportunities for years to come."
This year, Niagara Cares, the company's charitable program, and Music Will will revamp 4 classrooms across the country, launch over 80 new modern band programs supporting over 16,000 students, provide 15 teachers with scholarships for Music Will's Modern Band Summit, donate hundreds of instruments and equipment, and are planning many more activities in the future. Since 2016, Niagara Cares has invested in Music Will's mission by supporting over 280,000 students in 400 classrooms across 15 different markets. 
The partnership between Niagara Cares and Music Will reflects the company's long-standing mission of giving back to community members, present and future. Niagara Bottling believes in nurturing the workforce of the future by supporting programs, including music education, that teach critical thinking skills, boost confidence, promote leadership qualities and inspire creativity and innovation.
Niagara Bottling, LLC has been family owned and operated since 1963. Headquartered in Diamond Bar, Calif., Niagara operates bottling facilities throughout the U.S. and Mexico. As a leading beverage manufacturer in the U.S., Niagara Bottling works closely with some of the largest beverage brands, retailers, grocers, and club and convenience stores throughout the country. Niagara produces a variety of beverages including bottled water, sparkling, vitamin and flavored water, teas, sports drinks, ready-to-drink coffee, protein drinks, and non-dairy milk products. For more information, visit niagarawater.com.
Niagara Cares is the philanthropic arm of Niagara Bottling, LLC, and is the heart of what we do and who we are. We believe in supporting the communities where we live and work through a spirit of giving back in ways both big and small. Making a meaningful difference for our Team Members, consumers and communities through volunteering, product donations, disaster relief and other actions has been our priority for over 60 years. For more information, visit niagarawater.com/niagara-cares.
Music Will runs the largest nonprofit music program in the U.S. public school system. Its teachers currently serve over 500,000 students in more than 600 cities and towns across the country. They believe that music education is a right, not a privilege, and it should reflect the cultures of the students it serves. That's why, for two decades now, their programs have taught students such popular American genres as rock, pop, R&B, Latin, rap and country—alongside styles already taught in schools, such as classical and jazz. Today, a national network of K-12 districts has adopted the Music Will program as their own. Additionally, more than 70 colleges and universities now use their approach to music education majors. Several state departments of education have partnered with Music Will to grow music education in the schools they serve. Its mission of transforming lives by transforming music education has grown into a movement.