So many awesome things in this video I found. The Stones in their prime. Brian and Charlie. John Lennon applauding in the audience. Great show. Super cool. Probably one of the best songs they wrote. You can feel that it's raw and authentic, the Stones in their essence, with the influence of Brian Jones.
Our little corner of the world in North Tacoma off N. 45th is quite a few miles from Ponders Corner, but memories prevail. My parents owned La Casa ("the home") Motel. As a teenager in the early 60s I had the upstairs apartment in our home/motel office. I listened to my favorite bands like The Beatles, The Rolling Stones, the Yardbirds, and when I felt the need I practiced the baritone Saxophone at any empty motel room that was available.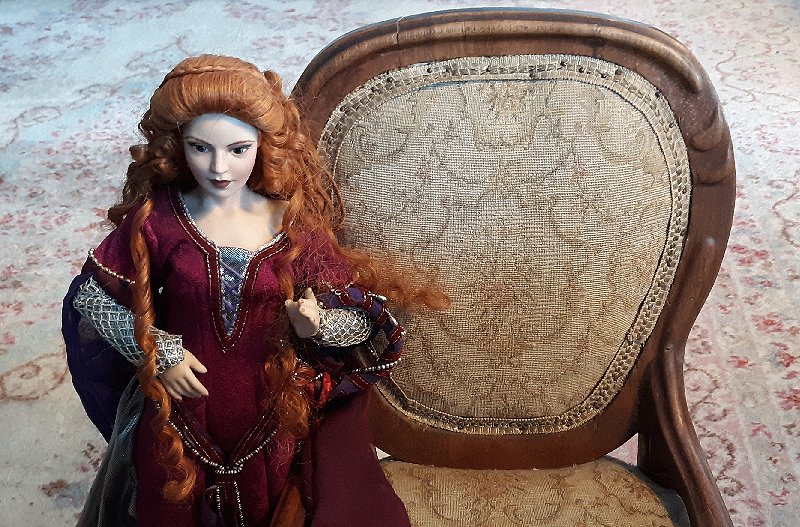 I still like the Stones and Saxophones. Earlier this year during spring, Peg and I would give busking musicians money in appreciation for their music. We met a local musician who played tenor Saxophone near the Safeway on North Pearl. We heard him several different times. We love live music.
As we planned for the yard sale in our wide driveway with other neighborhood friends, the thought struck me that it might be nice to have someone play a baritone Saxophone during our yard and garage sale. We mentioned this with our upcoming garage sale in an article. The mention brought forth people interested in performing. A local country music group fell through, a senior playing a silver alto Sax fell through, and a Tenor Sax guy was anxious to play as well until he found out that Tacoma was located in Western Washington but he was in Eastern Illinois.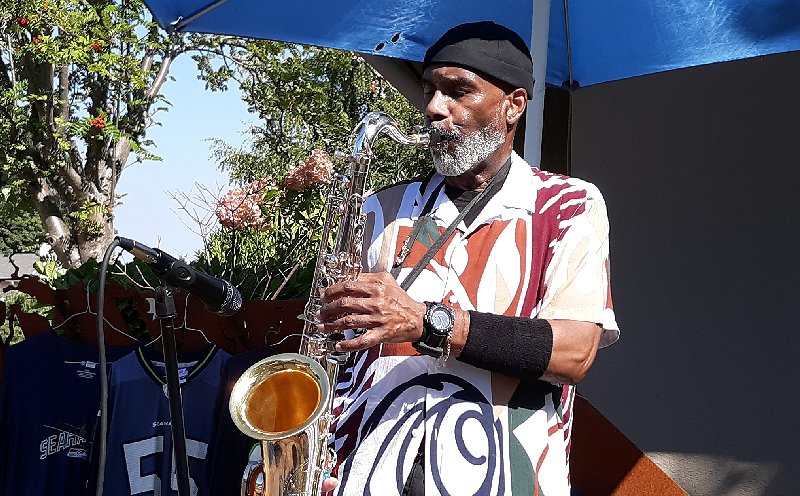 As we scavenged through the house, we found what we thought was really good stuff. We had four large beautifully framed sepia photos of the fishing and pleasure boats in Gig Harbor. No nibble. We had many paintings, hand painted vintage plates, art books, nice baskets, small chairs for a little girl's dolls, and a beautiful Franklin Heirloom Doll that we named "The Irish Princess" plus lots of other things.
We also had a church pew end. Really, the end of a heavy pew. That did sell and the young woman who bought it, brought over her car, picked it up as if it were not substantial, and loaded it all by herself! Don was readying himself to load it but he didn't have to!
Don's cousin Lavinia also took part. Lindy had many interesting things, a cow bell from the Italian Alps, beautiful kitchen items, some very nice clothes (not too much) and books, books, books. She moved to Pierce County a few years ago with her husband, who has since died. James was a drummer in a jazz band, a very well-educated man who could discuss poetry, history, good music and many other esoteric topics. His eclectic interests and education made him a well-rounded man with many interesting books and DVDs. Lindy also brought household items as well.
We didn't know if we had secured a Saxophone player until he showed up on time, just like he promised. He calls himself Bookelot Williams and lives in Kent. He had a great time at the event . . . he even loved my yakisoba. Our mail carrier said he could hear the lovely music over a block away. People really seemed to enjoy the music. We had an umbrella set up to keep the sun off the entertainer and brought him water. He had a small, but effective sound system. We had a nice tip jar prepared for him as well. He played mostly jazz, with a little rock thrown in here and there as well as a wonderful rendition of Danny Boy . . . we must all have some Irish blood in our veins when that song is played.
We didn't make a ton of money from the yard and garage sale, but we had a nice time with the neighbors and others who stopped in and listened to the music. We didn't sell enough to justify all the work – but we did have fun! I think we might do a follow up next spring. Especially if Danny Boy is played.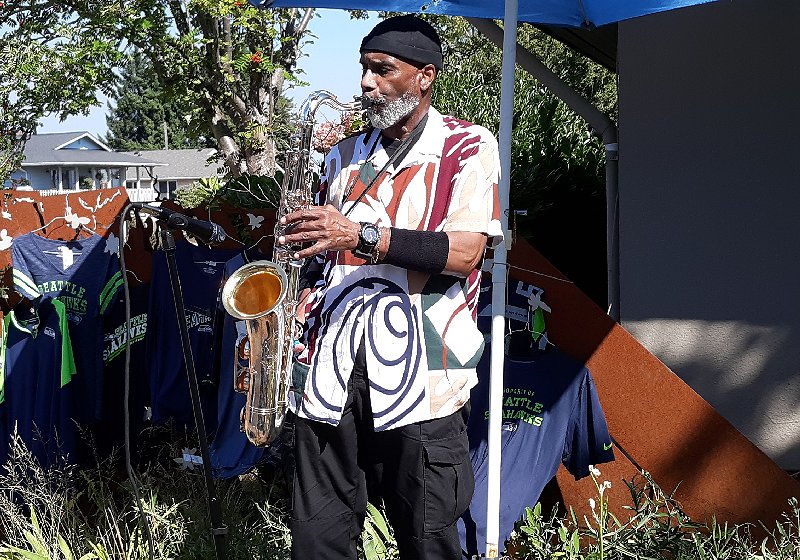 From our home we can see mountains, ships, and Puget Sound, which almost fits into the story of leaving and possibly returning to Ireland.
 "But come ye back when summers in the meadow,
Or when the valley's hushed and white with snow,
Tis I'll be here in sunshine or in shadow,
Oh, Danny Boy, oh Danny Boy, I love you so!"
You can reach Bookelot Williams at Saxysoul@gmail.com.