Submitted by Buffalo Soldiers Museum – Tacoma.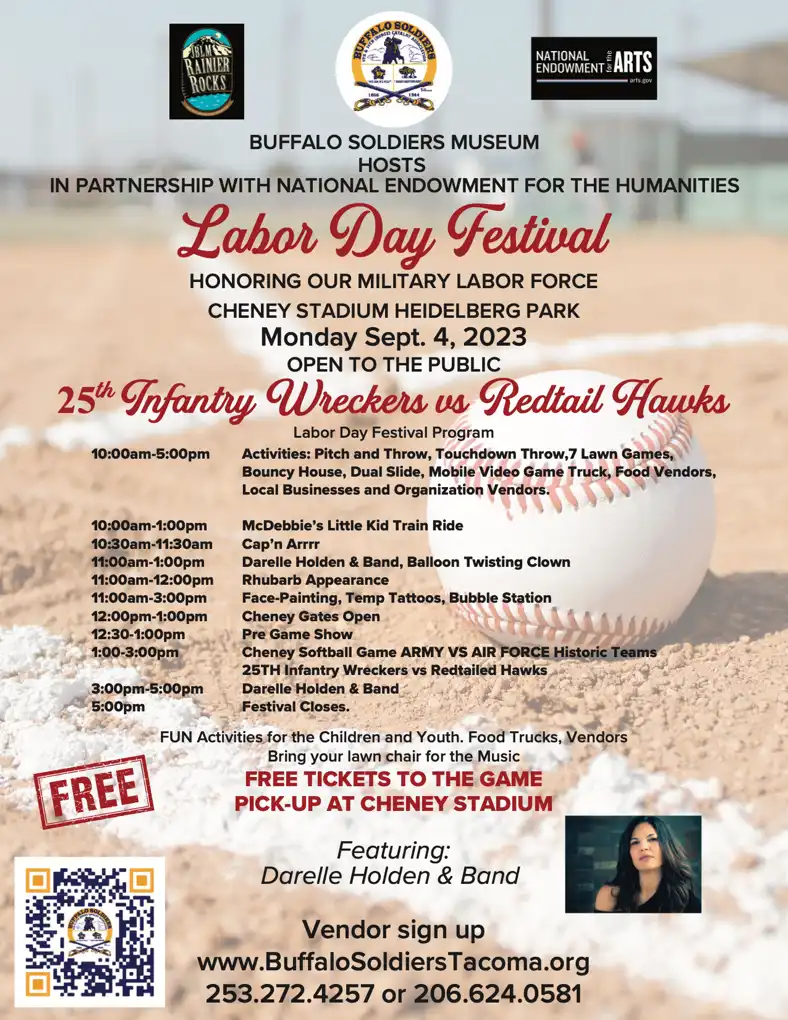 Join us at the Labor Day Festival as we honor the military, celebrate the history, and create cherished memories with the community. The event promises to be a day of fun, appreciation, and inspiration. The festival will feature food, games for children, and live music by Darelle Holden & Band.
The Buffalo Soldier Museum in partnership with the National Endowment announces the return of its highly anticipated Labor Day Festival, this time at Cheney Stadium on Monday, September 4th. This free and open event to the public promises a day filled with camaraderie, family fun, and a celebration of the rich history of the Buffalo Soldiers and the military. The highlight of the festival will be an engaging softball game, featuring the historic team 25th Infantry Wreckers against the Redtail Hawks.  Free admission tickets are available at Cheney Stadium.
A full day of activities: in coordination with The Fairy God Mother Events
Jackie Jones-Hook, the Executive Director of the Buffalo Soldier Museum, stating, "The Labor Day Festival is a time to show military appreciation while also honoring the labor force. We welcome not only military forces but also all labor forces and their families to join us for a day of festivities and bonding. It's the perfect occasion for families to come together and enjoy a fantastic outing."
"This tradition of military tournaments in Washington has deep roots dating back to 1910," . "As American patriots, we salute the military and demonstrate our military appreciation through this festive occasion."
Honoring Our Military – Events Sponsors Include
National Endowment for the Humanities
Raynier Institute & Foundation
JBLM Rocks
City of Tacoma
City of Lakewood
Veterans of Foreign War
Seahawks
Tote Maritime Alaska
Tacoma Creates
Tacoma Rainiers