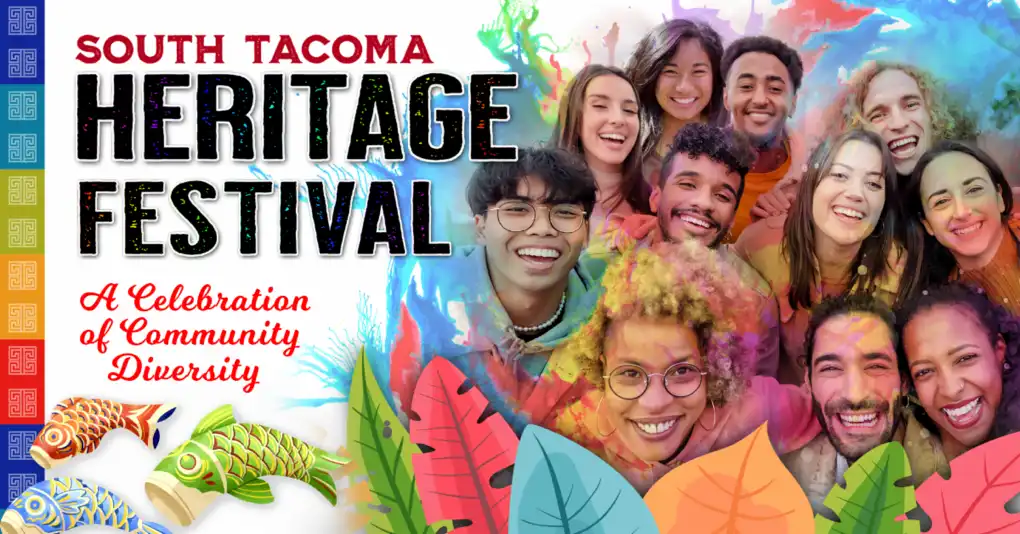 APCC and the South Tacoma community is brimming with excitement and anticipation as we prepare to embark on the journey of the South Tacoma Heritage Festival, August 12-13, 11 am to 6 pm. This eagerly awaited two-day extravaganza holds the promise of honoring our diverse community while fostering a sense of unity across cultures.
In collaboration with Tacoma Creates and The City of Tacoma, the APCC proudly takes up the mantle of orchestrating this remarkable occasion. By collaborating closely with local grassroots organizations and engaging the vibrant tapestry of South Tacoma's business landscape, we are humbled to play a role in curating this event.
The festival's itinerary boasts a rich assortment of activities, encompassing enthralling dance performances, melodic musical showcases, enlightening scientific presentations, immersive cultural displays, engaging children's activities, vibrant retail and culinary stalls, captivating demonstrations of martial arts and cultural practices, and a plethora of other captivating experiences. The APCC is committed to ensuring that the festival reverberates with the authentic spirit and aspirations of our community, fashioning an event that resonates deeply with individuals of all ages and walks of life.
Check out our event line up below!!!
SATURDAY, AUGUST 12, 2023
11:00-11:30: Welcome Introduction
11:30-12:30: Tama Ole Rosa Band
12:30-1:00: India Traditional Dance
1:00-1:30: Korea – Na Rae Performance Art
1:30-2:00: Guam Imahe
2:00-2:30: Indonesian Cultural Association
2:30-3:00: Thai Community
3:00-3:30: New Zealand
3:30-4:00: Cambodian KLACA
4:00-4:30: Folklore Mexicano Tonantzin
4:30-5:00: African Tupac
5:00-6:00: Izz Baba Melo – Afro Beats
WA Department of Health will be there to do blood sugar testing, high blood pressure checks, and Covid-19 vaccinations.
SUNDAY, AUGUST 13, 2023
11:00-11:30: Welcome Introduction
11:30-12:30: Mulioaiga Band
12:30-1:00: Hawaii – Hula Halau O'Kealaakua Naniloa Mana'Oakawai
1:00-1:30: Thai Community
1:30-2:00: Esplendor Mexicano
2:00-2:30 Korea – Na Rae Performance Art
2:30-3:00 AfricanTupac
3:00-3:30 Tahiti Sami Lanumoana
3:30-4:00 Philippines
4:00-4:30 Tonga
4:30-5:00 Samoa – Teine Tama Samoa
5:00-6:00 Adrian Milanio, Filipino-American RB Artist – Tacoma Local
SCAVENGER HUNT – WIN AN ALASKA AIRLINE ROUND-TRIP TICKET
Festival goers can choose to explore any of the businesses below to get an entry from stamped between 11:00 am and 3:45 pm. Drawing to be held at the information table at the Heritage Festival.
Scavenger Hunt participating South Tacoma Businesses including their raffle prizes.
Pastelos Finos Del Angel – donuts, cookies and more
Empanadas Luis Panes – $20, $25, $30 cash prizes
Cityscape Games – three $50 gift cards
Harbor Soul, LLC – Free tee shirt, $50 and $100 gift card
The Clean Cut Boys Club – Free haircuts (6 months), Free Membership, Free Haircuts
GlumDrop – Golden Tickets
Smash Games – Retron System, $25 Gift Card
Leash the Muttro Pups – Gift Certificate, Dog toy packs
Howdy Bagel – $10, $25, $50
Emerald City Orchids – three Orchid plants
The Fernseed – $10, $25, $50 gift cards
Opal Lounge – $25 gift card, Opal Shirt, 2 pints BBQ classic and spicy sauce
Surge South Tacoma – Day pass, Cafe Membership 1 month, Common's Membership 3 months
FOOD BOOTHS
Elotes Nathaly Mexican Food
Luna Rae
Bobaholic Cafe
Bouche's Sweet Things
FayBer Eats
Raspados Del Sur
Chillickinit
Bulgogi Hustle
La Chapparita
Sap Sap Lao Deli and Cafe
Javaboy
Manny's Kitchen
Gigi sweets
RETAIL BOOTHS
Molina Healthcare
United Healthcare
Renewal by Andersen
Mountain View Funeral Home
BNE Investments, LLC
Produce Seller
Queen Beryls Crystals
Govo Charms
Sok Saravy Hout
Designs by Tarape
Amazon – Workforce Staffing
AIDNW – Advocates for Immigrants in Detention Northwest
Navy Federal Credit Union
Lhasa Trade
Far gone and beyond
GemKnight LLC
Sand Buds
Livoi's Fashion Boutique
Left Coast Printing
Extraordinary You
Beyond The Curls
NON-PROFIT BOOTHS
Family Federation for World Peace
On the Road with PartnerCafe
Rainier Scholars-Tacoma
Front and Centered
Washington State Dept. of Licensing
Community Health Care
Tacoma Sister Cities
Tacoma for All
Tacoma Community College
SeaMar
Pierce County Human Resources
Pierce County Project Access
APCC Mental health booth –
Mount Rainier National Park
Washington National Guard
U.S. Army Recruiting Station
Department of Fish and Wildlife
UW Education
Whew !!! There you go folks – two full days of super fun activities for the whole family to enjoy … Hope to see you there!