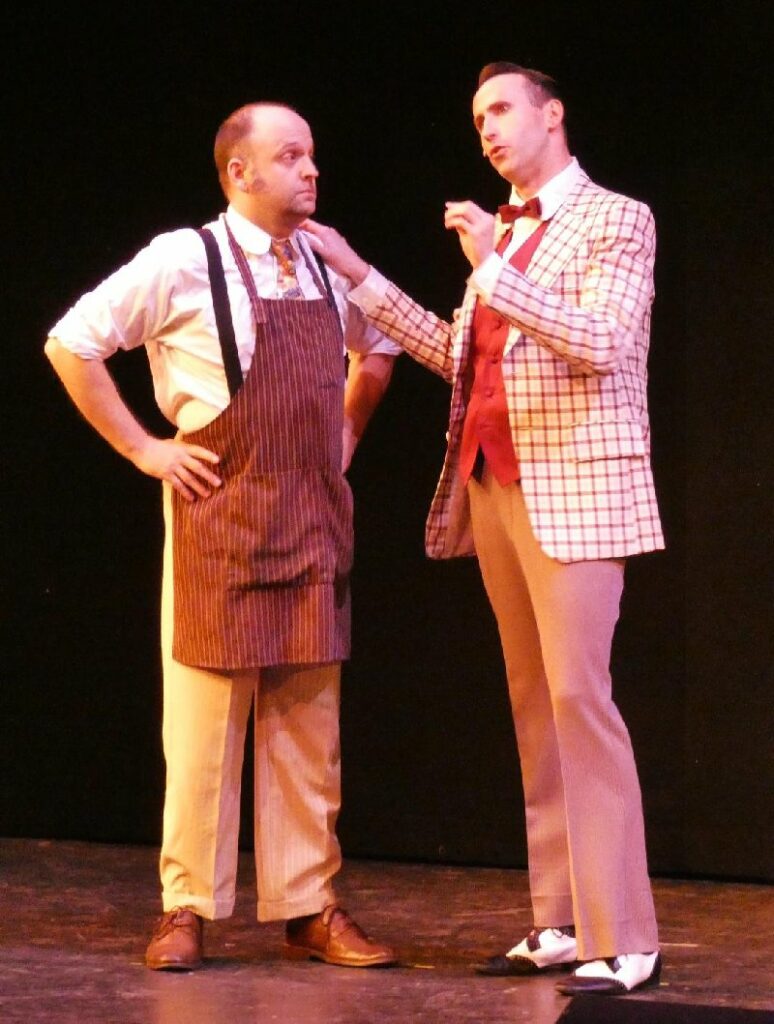 My wife Peg, my cousin Lavinia and I wrote an opening night review of The Music Man weeks ago at the Tacoma Musical Playhouse. We saw the first performance of the run and gave it a glowing recommendation.
We also enjoyed it so much that we invited a group of friends based mostly on members of the Rotary Club of Tacoma #8 to come to the last performance of the run. Four of us who bought tickets were all past-presidents of Tacoma #8. In the end we bought 21 tickets and had a picnic on our deck following the production.
A number of us bought dinners to go from Flying Sushi. My cousin, who is a stage actress and director joined us for the picnic and was kicking herself for not joining us to see the last production. She donated a marionberry pie, and an apple pie. Peg baked a huge bowl of oatmeal cookies that were filled with craisins.
Once again, the scene on the railroad, the solos of Harold Hill by Mauro Bozzo, the numbers of Marian Paroo by Meagan Castillo, the fantastic Barbershop Quartet singing, and the dancing of Mauro Bozzo with Samuel Jarius Pettit all shown like diamonds. Every seat was sold out.
Founder and Managing Artistic Director Jon Douglas Rake was on top of the world. Jon introduced Harry Turpin the director and choreographer as he sat in the back row, but couldn't introduce Mark Rabe, the music director and conductor because the theatre has now been able of go back to live music. A huge plus. The dancers and singers had perfected all their moves. Even the youngest participants were better. It was so smooth, so engaging, so romantic, so well done, we couldn't have asked for anything more. Thank you Meredeth Wilson; actors/singers/dancers and Tacoma Musical Playhouse. What a wonderful gift of entertainment.