About ten years ago Peg and I booked a room in downtown Seattle. We had heard about the resident restaurant with New Orleans French-style cooking. On a Friday evening the place was already packed. We took seats at the counter where a busy cook was preparing pizza with fresh dough and veggies, meats and cheese. At just the right time he picked up his paddle, pulled out a beautiful, aromatic pizza, put it on a plate; then with his pizza paddle he pushed in the worked dough for the next pie. What was amazing was that he knew exactly when to turn, take the pizza out and insert the next one.
We watched as we drank a few fancy New Orleans cocktails; we forgot about the French food to order a pizza. It was incredible. The crust was the delight, and the veggies and cheese were the topper that made you want to shove the pizza in your mouth and savor every bite.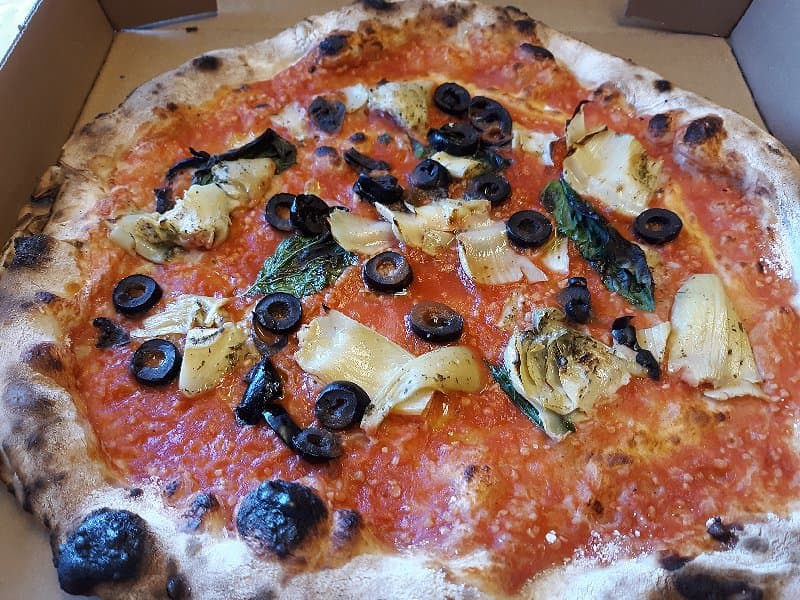 I was thinking of that wonderful Friday when I pulled into the Union 76 gas station at North 26th and Alder in Tacoma. I wasn't looking for gas. I was looking for Pizza Napoletana. I had talked for a short time via Facebook with Cristian Conversano while we were both visiting the Tacoma Northend community page. Christian was born in Naples and came to America with his parents. He grew up with good Italian food and is continuing his family traditions.
"Italy's most emblematic culinary creation, the genuine pizza Napoletana is made with just a few simple ingredients and prepared in only two variations – marinara, the basic Neapolitan pizza topped with a tomato-based sauce flavored with garlic and oregano, and margherita, which is topped with tomatoes, mozzarella, and fresh basil leaves, a delicious combination whose colors are said to represent the Italian flag.
The crust is very thin at the base, and the dough puffs up on the sides, which results in airy crust that should have typical charred 'leopard spots' if baked properly. The origins of this iconic Neapolitan dish can be traced to the early 1700s, when what we know today as pizza marinara was first described by Italian chef, writer, and philosopher Vincenzo Corrado in his treatise on the eating habits of the people of Naples."
– tasteatlas.com/pizza-napoletana
Cristian invited me to stop over and see his operation. I arrived right after the noon rush. Pizza Napoletana is a food truck. I loved looking around the surprisingly roomy cooking area inside. Christian has ample room. The back of the truck has an open door, which allows both heat and aroma to escape from the truck.
The large pizza oven was a giant version of the one Peg and I had seen in Seattle. Even though it was a hot afternoon and I was maybe twelve feet away from the oven, I wasn't hot. Christian was comfortably dressed in a loose shirt, shorts, and flip flops.
There are only eight items on the menu. There is nothing wild and weird; it's all basically healthy unless you go for extras on the pepperoni and prosciutto along with cheese.
I had the Margherita with tomato sauce, basil, olive oil, fresh mozzarella and parmesan cheese. It was yummy . . . and the crust is just like it was discussed in the tasteatlas.com description . . . chewy and wonderful.
Peg had the Vegetiana with its tomato sauce, spinach, red pepper, artichokes, mushrooms, olive oil, but asked to have the fresh mozzarella left off because she can't eat dairy. She loved it, loved it, loved it. She said the crust was chewy and tasty, and the tomato sauce and veggies were perfect. The artichokes came apart in layers and had crisp edges. Yummy!
As my mother would say, "Tastes like more."