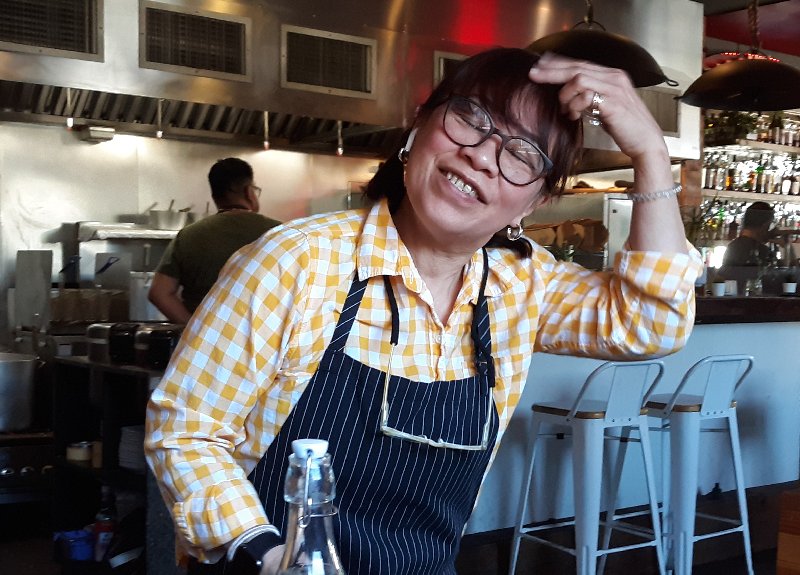 My friend Jim and I used to travel to the furthest away Husky Football game each year. We would go out to dinner, not knowing the specialties of the area or even which restaurant. We were both good eaters, but sometimes just looking at the menu slowed us down and it was easier to just order "We'll take the food on the left side of the page" . . . or the right side. I don't recall ever not getting good food.
Peg and I hadn't dined at Indo Asian (in the Stadium District of downtown Tacoma) in some time. We invited cousin Lindy to join us. The menu had changed and didn't seem to reflect what we had experienced before. When Jordan came to take our orders, I just started pointing and suggesting. Soon dishes of excellent food kept filling or table. By the time we left each of us had our favorites.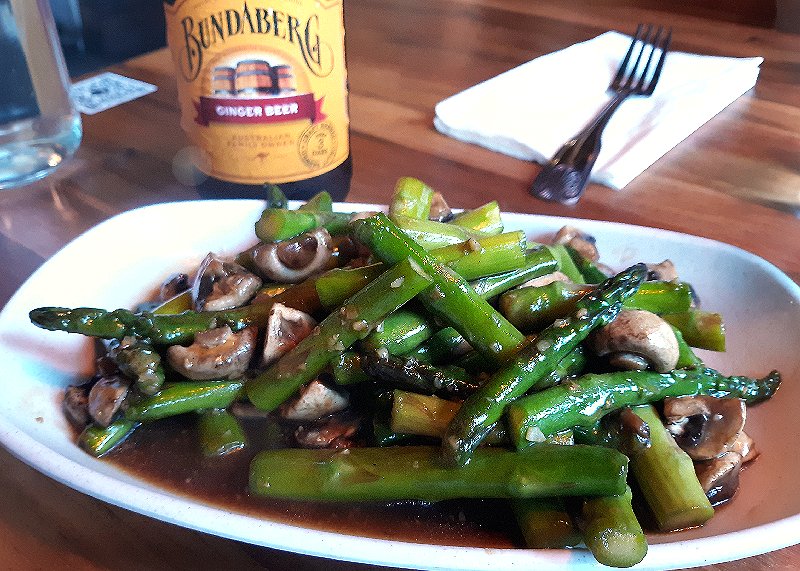 First to arrive was two bottles of Bundaberg, an excellent ginger beer from Australia; one for me and one for Lindy. This was Lindy's first sampling of ginger beer, and she loved it.
Next came the asparagus with mushrooms. The asparagus was crisp and chewy and the mushrooms tender. The Miso Glazed Salmon was worth crowing about salmon has been a favorite since childhood, cooked by Peg's dad. Needless to say, the fried calamari is exceptional. We also had Spring Rolls with shrimp. Peg got the fourth one; it's marked for a meal still to be determined.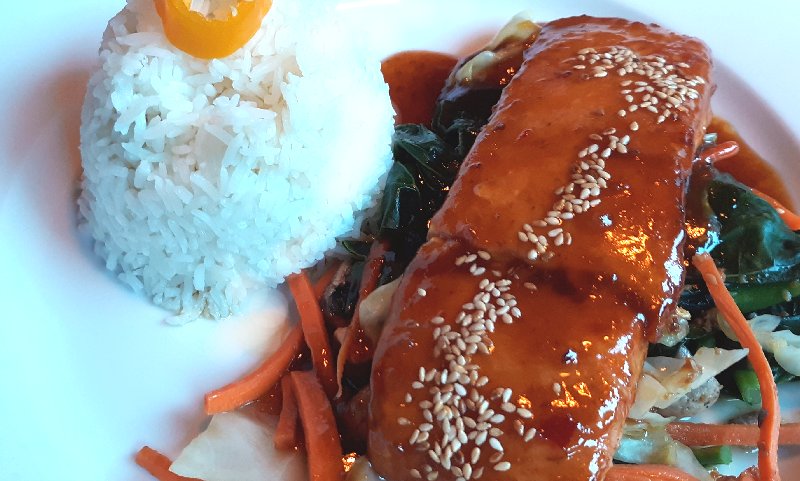 There was more food than we needed, so we all had wonderful left-overs for breakfast and lunch the next day. The service was excellent. Sarah helped us pack up everything when we were all stuffed and ready to go home. She was pixie-cheerful, friendly, amusing, and a very good reason to return to Indo Asian. She came with boxes in four sizes. Mostly we need the small ones but Lindy's Pad See Ew got a bigger box. She has enough for at least two days! But we'll see how long that lasts. Sarah wrapped up the asparagus and mushrooms over the leftover rice and put the sauce over it and put the calamari crumbs on top. Thank you, Sarah, that is a very clever idea. It was a wonderful breakfast and we still have a little more for a snack.
Visit Indo Asian and enjoy the food, the people, and the restaurant itself. indostreeteatery.com/