Submitted by Carol Saynisch.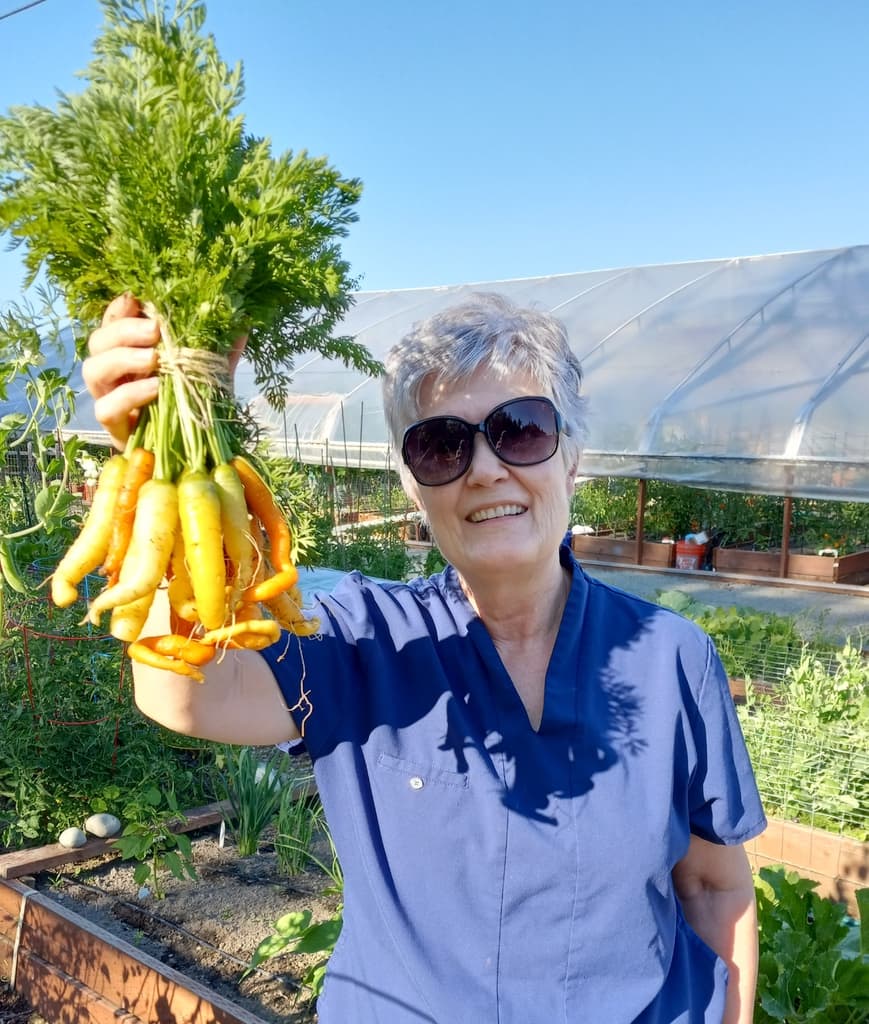 Founded in 1854 as the state's first incorporated municipality, the Town of Steilacoom has everything: sweeping Olympic Mountain and Puget Sound views, two popular beaches, a wonderful school district shared with DuPont, historic homes, breathtaking sunsets, a scenic ferry dock, and charming streets.
Everything…except a community garden.
Among all its closest Pierce County neighbors, Steilacoom is the only one without a community garden. The nearby DuPont Community Garden and its many counterparts in other cities support local food banks. The We Love Steilacoom Food Pantry had no such regular continuing source of community-grown fresh fruits and vegetables – until May 2022.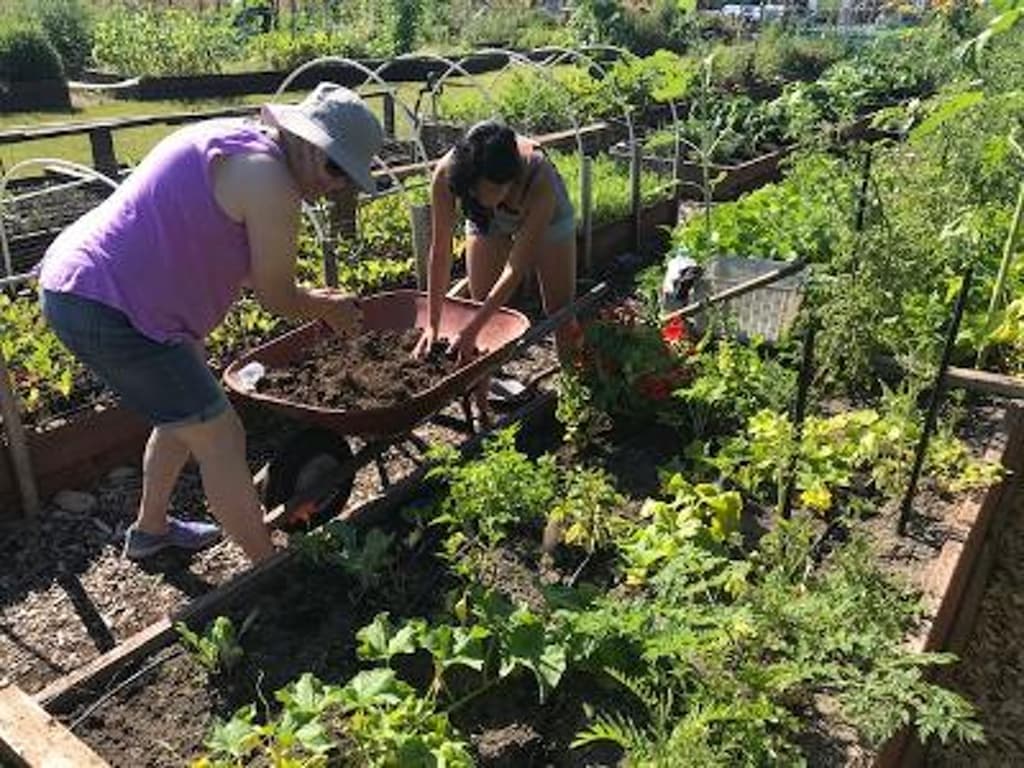 At first, we were just six people motivated to fill the shared-produce void in our wonderful "Town on the Sound" by establishing our own community garden. But Steilacoom's idyllic, picturesque setting is also our would-be garden's biggest obstacle: wedged between forests and Sound, there isn't much open land left – Town-owned property is limited, and what privately owned free space remains is priced at six-figures for a quarter of an acre.
So, with no other immediate place to turn, we visited the DuPont Community Garden seeking inspiration – but came away with a temporary solution. At the empathetic invitation of DCG leadership, we founded the proof-of-concept Steilacoom Community Garden as a "garden within a garden" just eight minutes out of Town within the DCG's welcoming arms.
We leased two DCG beds at the end of May 2022 and made our first Steilacoom food bank donation – a bunch of carrots grown by our Debbie Rivera – a few weeks later. Word got out and our mission started to attract more people interested in creating and supporting a Town-focused community garden.
To make room for everyone who wanted to garden with us, we divided each 24' by 4' bed into thirds. We finished the 2022 growing season with 13 gardeners, packaging and donating to the food bank within that short time more than 100 pounds of fresh, organic produce.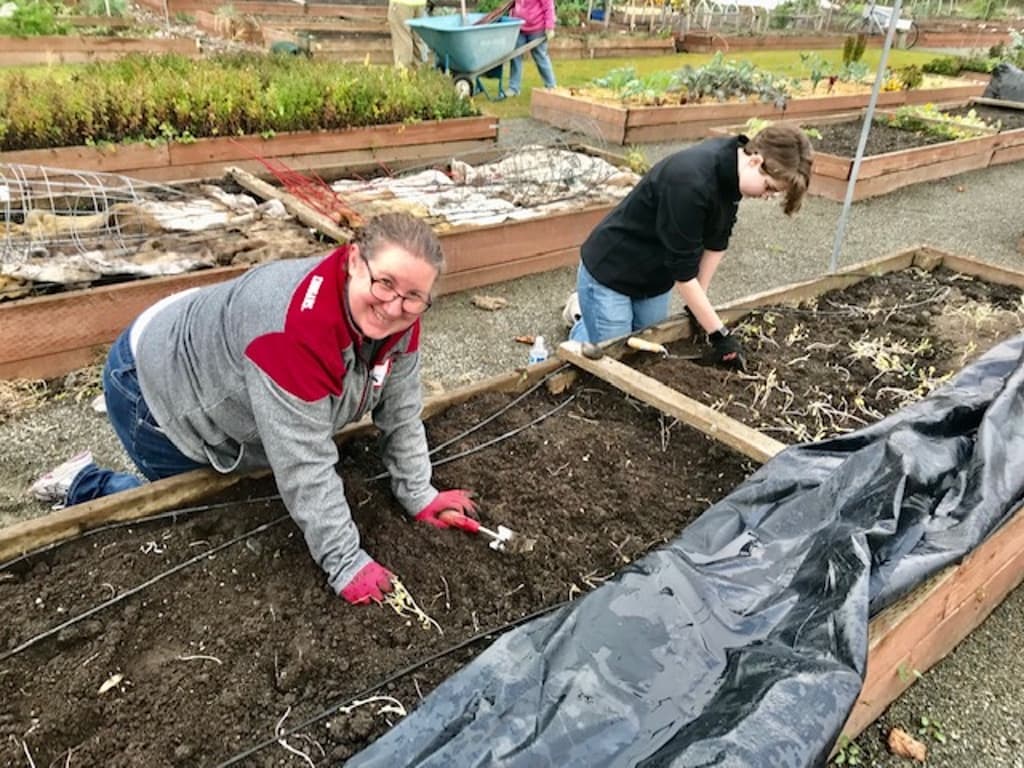 Because education and multigenerational participation is important to us, that summer we also developed an alliance with the Steilacoom Historical School District through Steilacoom High School faculty: PNW Plant and Environmental teacher Noble Hauser and Key Club Advisor Laurie Norris.
Together, we collaborated on a national Samsung STEM grant competition submission with our community garden as a focal point: "Using 21st Century STEM Technology To Grow 19th-Century Heirloom Vegetables." The grant proposal was one of six Washington state finalists, winning a $2500 grant for the high school.
In November, we changed our name to the Steilacoom Historical Community Garden to salute the town's history and our ad hoc partnership with the Steilacoom Historical School District. We also established relationships with the Fort Nisqually Museum's and Fort Vancouver's heirloom demonstration gardens. Both gardens donated free heirloom seeds to share with our gardeners and Mr. Hauser's high school students. These seeds are among the same varieties Steilacoom's earliest settlers planted in their kitchen gardens when the Town was founded in 1854.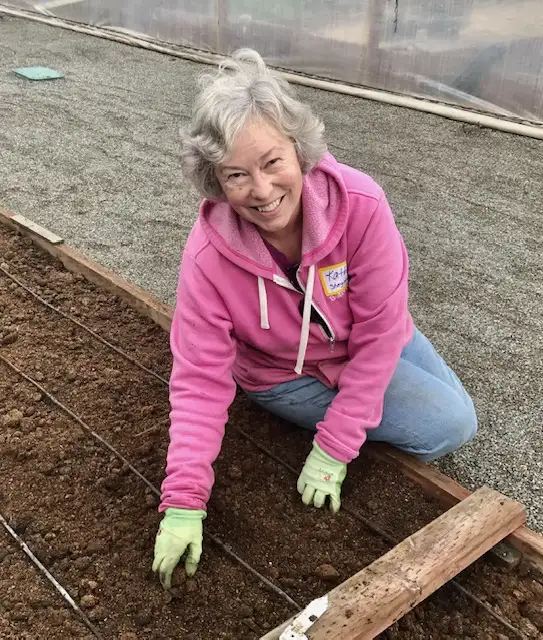 We began the 2023 new year with 25 gardeners on our roster ranging in age from 12 to 76 – and a waiting list. Many more people who contacted us say they would love to join us too, if only we were located somewhere in Town. Among our wonderful SHCG gardeners are nurses, educators, nutritionists, retired military, firefighters, parents, kids and consultants – from garden novices to Master Gardeners.
This year, we doubled our space from two to four 24×4' beds. Each is divided into three 8×4' plots giving us a total of 12 plots, with our gardeners doubling up on some of them. The SHCG hopes to at least double last year's food donation to the food bank, delivering more than 200 pounds of produce by the end of the growing season in Oct.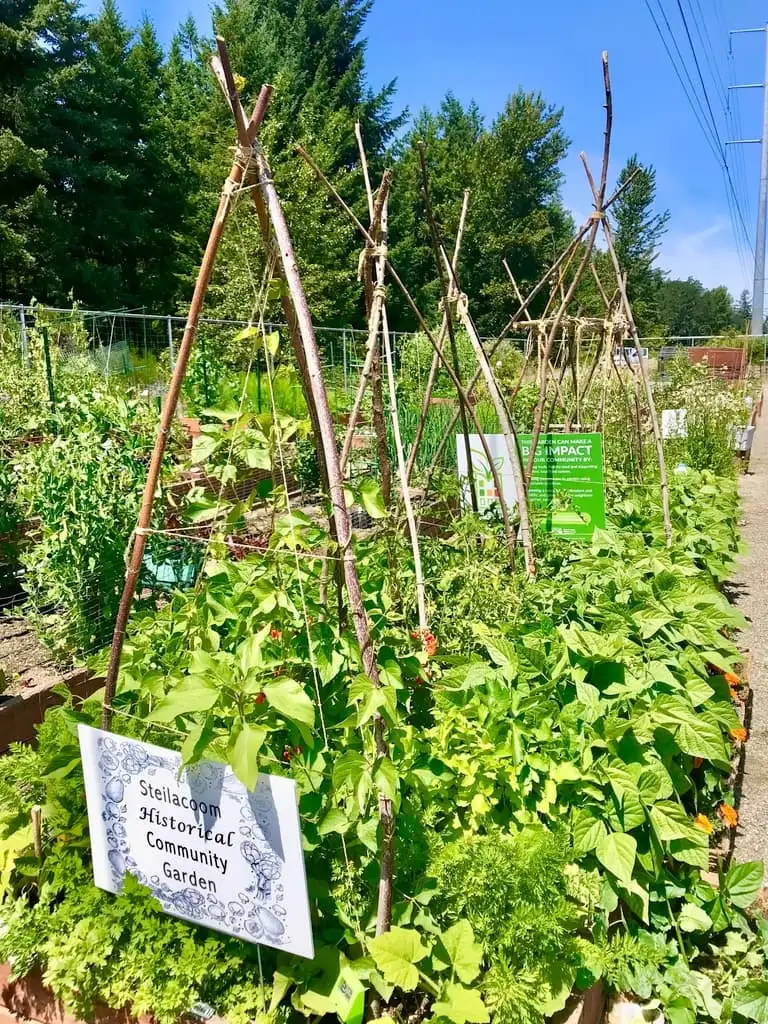 We are continuing our relationship with Steilacoom High School, providing Mr. Hauser's students with free heirloom seeds sourced through Forts Vancouver and Nisqually and from the Thomas Jefferson Center for Historic Plants at Monticello, VA. This spring, the students raised seedlings in the SHS greenhouse, which we planted at the SHCG. Kale, lettuce and other cool weather crops from those seedlings are already being harvested and donated to the Steilacoom Food Bank.
In this partnership, the students learn about plants and local history – how England's Hudson Bay Company sold seeds to settlers in the 1840s; how the company sourced seeds from all over the worldwide British Empire; and how local Pacific Northwest tribes bartered salmon for seeds as they learned European growing techniques.
One of our SHCG beds is reserved for raising only heirloom plants, using settlers' growing methods – no metal, plastic or artificial fertilizer. This bed also includes a symbolic planting of camas bulbs and the Steilacoom flower, to honor the Steilacoom Tribe, whose ancestors depended on camas as a traditional food crop and whose native word for the pink wildflower gave Steilacoom its name.
The United States Department of Agriculture recently recognized the Steilacoom Historical Community Garden as a "People's Garden," and provided us with a sign now proudly displayed in our space.
Hope springs eternal that a spot owned by the Town of Steilacoom, school, church or other nonprofit would be offered to us soon. Such a spot would not have to be large, but would need ample sun, access to water and parking, and could be fenced. By aligning with a nonprofit, the Steilacoom Historical Community Garden could apply for more grants to support its further development and educational goals so we can be an asset to our nonprofit partner as well as to everyone who understands how important it is to help each other.
For more information, please contact us at steilacoomgarden@gmail.com.