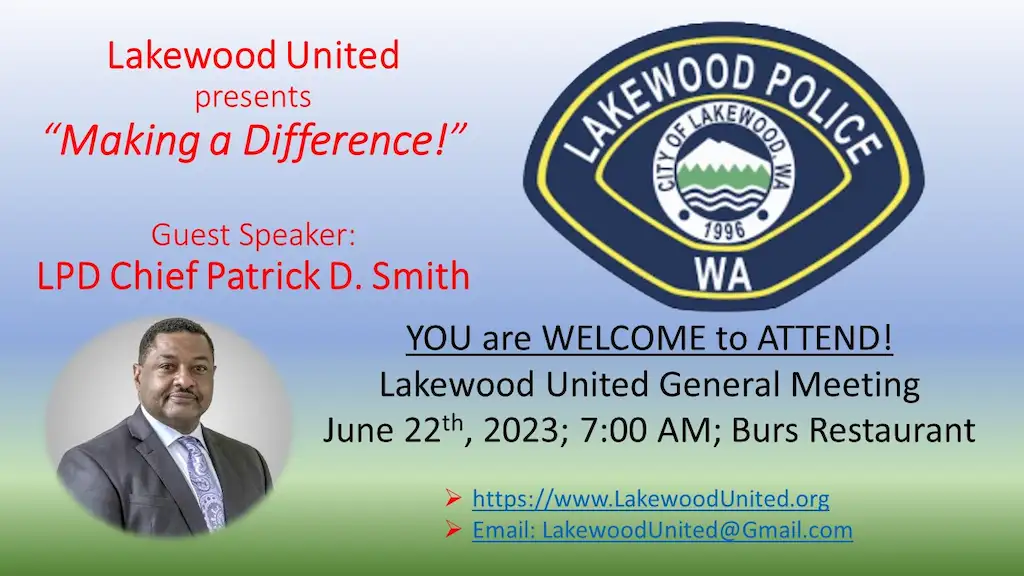 The public is invited to join us on Thursday, June 22, 2023, at 7:15 a.m. at Burs Restaurant – 6151 Steilacoom Blvd. SW.
Guest Speaker: Police Chief Patrick D. Smith, who recently became the leader of our Lakewood Police Department, will share information on current efforts being made to address safety concerns in our city. With over 32 years serving in law enforcement outside of Washington, Chief Smith brings a wealth of experience, knowledge and fresh eyes on what is needed. How can Lakewood residents support the efforts being made to address these problems? This is an opportunity for citizens to become informed, connected, and empowered to "make a difference".
Be a morning "early bird" and join the conversation!
Lakewood United News and Meeting Dates
All meeting and events will also be on Zoom. Please email your request to: LakewoodUnited@gmail.com and a link will be sent to you. Zoom will be muted to all. Use "chat box" to talk.
No meetings will be held in July, 2023
Check out our website! LakewoodUnited.org
Signing-up for a yearly Membership in Lakewood United allows us to keep providing relevant information to our community. Please go to our website to join.
Lakewood United's 2023 Board "Thanks You" for your support!