To mask or not to mask. That was the question when we reserved a group of tickets for Center Stage's final production of the season on June 11. While most of the public now feels safe going about their lives sans mask, many entertainment venues still request the wearing of masks for the protection of the performers who are working with audiences up to 8 times a week.
We lost members of our Culture Vulture group who decided against the mask request. But for those of us who joined a large audience for Tartuffe — we had a memorable and most enjoyable time. We forgot about the masks immediately because the show was directed and acted brilliantly by all involved!

Managing Director – Angela Bayler (she/her) and Artistic Director – Trista Duval (she/her) asked the audience if they were content with wearing a mask on this last showing. Only a small number said yes. We've been seeing larger audiences being entertained without masks now for months. Regular viewers usually have masks with them to use when needed.
As the last showing of the lastest production, Tartuffe was the show stopper. Kyle Sinclair as Lawrence and Ben Stahl as Oliver dulled with sock puppets and measuring tapes . . . Peg and I enjoyed an earlier staging of the play and were about to be entertained a second time around with my cousin back in town after several weeks in Hawaii and Los Angeles. The play was a little late in starting with introductions of the out-going board chair and the incoming new board chair, which meant we had to scramble for dinner back in Tacoma. Peg and I could almost taste the wonderful food at Flying Sushi in Tacoma on North Pearl in south end of the Westgate Shopping center. We called and apologized for needing to change our dinner time to five instead of the 4:30 which we had planned.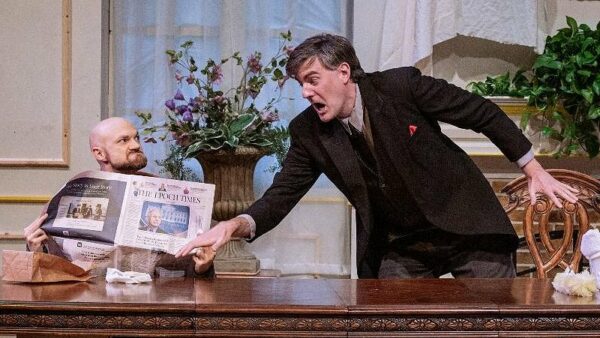 Driving from Dumas Bay back to Tacoma's North end was not boring as we appreciated the views of Puget Sound and Vashon Island. Lindy had no idea about the wonderful food yet to come, but Peg and I hate to be late and we were really, really, anxious to dine on the fantastic dinners at Flying Sushi.
The restaurant was empty when we arrived. They've only been open for a couple of weeks, but already it's one of our favorite places to dine. We are thrilled to tell anyone who asks, about the preparation, the service, and the very friendly smiles of the owners and staff. Besides the food being excellent, everyone involved in the restaurant were the kindest persons we've met. I ordered the Bento #1. Peg surprised me when she ordered the same. That order contains salmon with teriyaki, which I enjoyed, but Peg preffered no teriyaki sauce but ate it anyway. Lindy was game for whatever was served. We all three had the same order. I'm usually a member of the clean plate club, but only ate two or three pieces of the chicken teriyaki. My four pieces of California Roll somehow disappeared, as did my shrimp tempura. The gyoza and rice didn't last long either. At $22.50 each it was quite a bargain. I know I should reach out and try their other menu items as well. The last time we had dinner we ate what we were served with only slight requests from us. I know we can't lose, but my eyes and brain want to take over my ordering.
Great food and great theatre should go hand and hand. Just like ordering food, being entertained at
a live theatre and dining are a perfect combination. I could have watched the antics of Lawrence (Kyle Sinclair) and Oliver (Ben Stahl) one upping each other all night long . . . especially if I knew the food from Flying Sushi would be following.