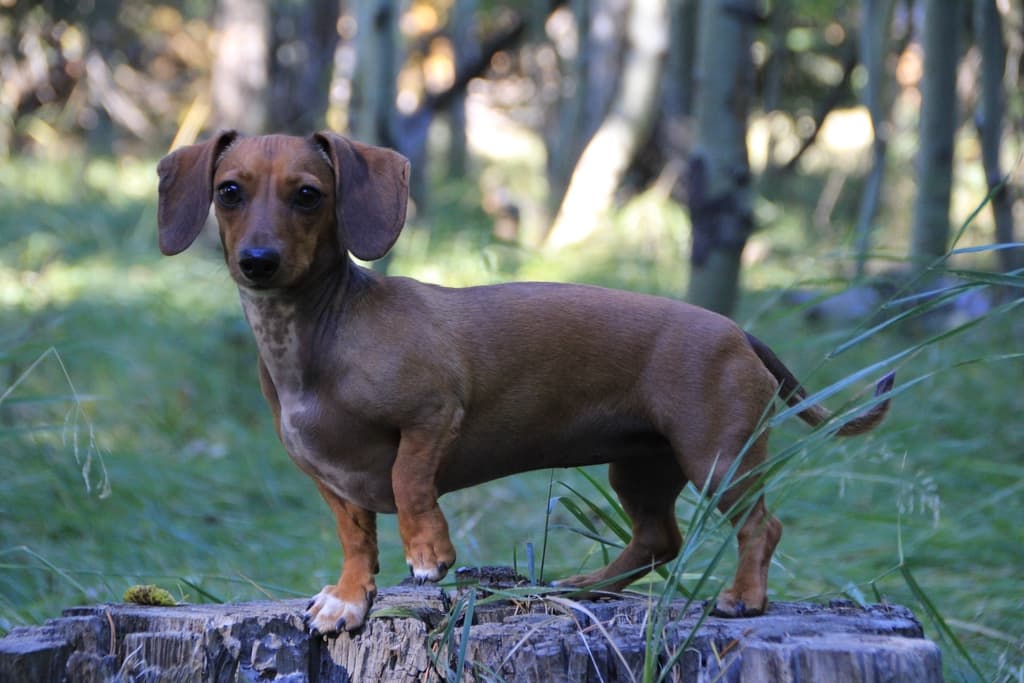 They are longer than they are high. They come smooth or wiry. They all seem to be self-confident, resilient characters, and I was surprised that most people call them Wienerdogs over here. At first, I wondered why anybody would associate the city of Wien, aka Vienna, with the dog. Then, I realized that it is kind of a joke. These little fellows are simply compared to Wiener sausages because of their length and color. The length, of course, would be helpful for hunting badgers out of their den. The misspelled version Weinerdog, which I find over here so often, would actually mean "crying dog" – just for your information …
The term "Dachshund", meaning badger dog, is not used in Germany, by the way. Most Germans use the abbreviation "Dackel" (pronounce duckle) for the breed, hunters call them "Teckel" (pronounce tackle). For whatever reason, the most popular name for dachshunds in Germany used to be Waldi (pronounce 'vul-dee); therefore, the Olympic mascot in Munich in 1972 was a dachshund called Waldi.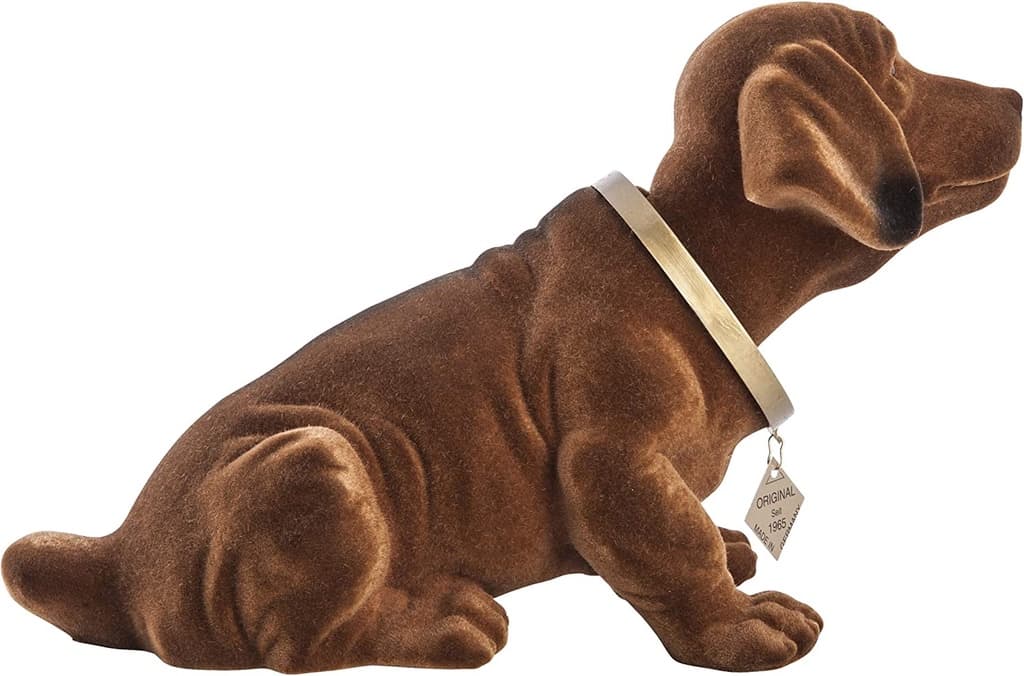 What surprised me even more was how popular the breed is in the U.S. Dachshunds seem to be everywhere. My first and only Oktoberfest in Puyallup (in no way similar to any German occasion) even featured a dachshund race! And how often, when driving past the Emerald Downs, have I seen ads for Wienerdog races?! I'm not sure how serious the races are taken. This take on Wienerlympics on Youtube certainly is pure comedy:
I remember that, in the 80s, many Germans had a so-called Wackeldackel (pronounce 'vuckle-duckle, meaning wiggly dachshund), dog-shaped bobbleheads, in their car's rear window. There is even a Dackelmuseum, i.e., a dachshund museum in Regensburg, Germany (it moved from Passau only recently): https://www.dackelmuseum.de/dachshund-museum-passau.html. And one dachshund even became world-famous for being a painter's model, Picasso's Lump (pronounce loomp, meaning rascal), also known as Lumpi (or Lumpito) – another classic German name for a small dog.
Historically, dachshunds were often taken as a symbol for Germany, probably because the last German emperor used to own some. In the U.S. the association of the breed with Germany was considered a stigma during the wars, of course – therefore, it was renamed as "liberty hounds" in those days. Reminds me of liberty cabbage instead of sauerkraut, by the way, and liberty fries instead of French fries …
Last fun fact? "Dackel" is used as a cussword in Germany – it means that somebody is behaving in a stupid way. But there is even an enhancement to this cussword that would turn any Swabian furious: "Halbdackel" (pronounce 'hulp-duckle, meaning semi dachshund) or Grasdackel (pronounce 'grass-duckle, meaning grass dachshund). Don't ask! Even though I grew up and lived there for ever so long, I never found any explanation that made sense.
It has taken me quite a while to figure out what people see in dachshunds, I have to admit. Getting to know one friends used to have certainly helped. Their facial expressions can be almost human. Their behavior is endearing and quite individual. Certainly more individual than a Wiener sausage.