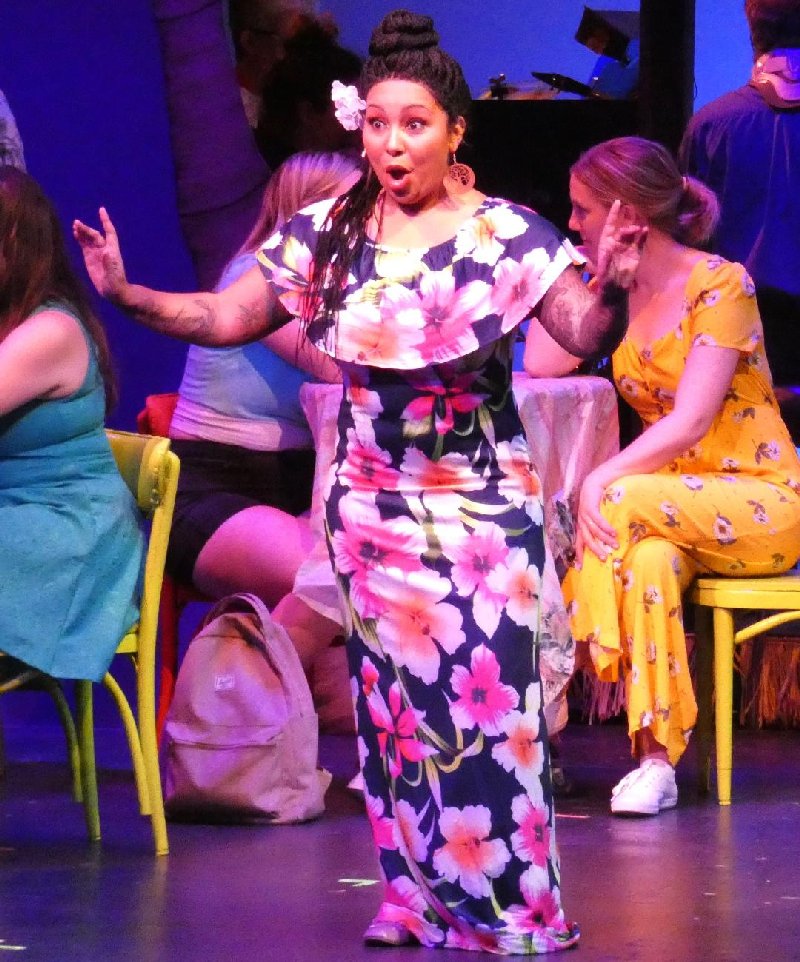 Peg and I took our kids to live theatre when they were young. I think their favorite production was School for Clowns by Friedrich Karl Waechter at Empty Space Theater in Seattle. My cousin, Lavinia Whitworth, was an actress at Empty Space during this time. The clowning in theatre forms was hilarious and the three kids loved it. She took many workshops while establishing and running her theatre, The Attic Theatre in Greektown in Detroit. When she closed the theatre, she became a professor in the drama department at Wayne State University. Now, she's retired again and has come back home to live. Unfortunately, Lavinia became ill on the way back from Hawaii, so Del our son was instantly interested in the birthday present. He loves music, as do we, so everything became perfect again.
We had great seats. The people just kept coming in. It was the biggest audience we'd seen this season. Jon Douglas Rake welcomed everyone, the crowd calmed down a bit and the magic began.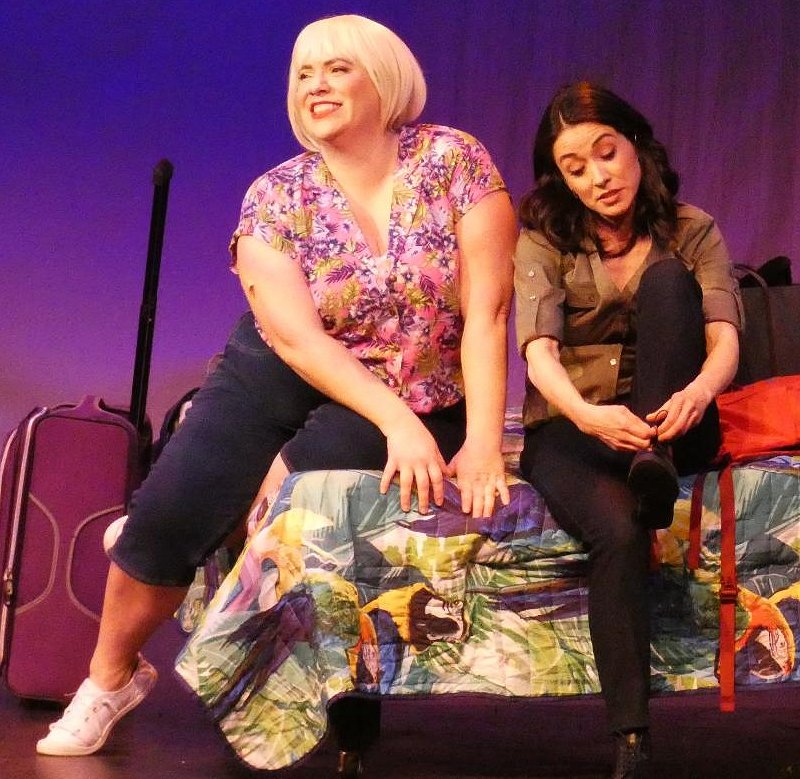 Margaritaville is a rundown hotel on an unnamed small island in the Caribbean, which is owned and operated by Marley (Chanel Finnie). Chanel does a great job and her character reminds me of Miss Kitty, the Dodge City bar owner in the old TV show Gunsmoke. Her goal is to make people forget their woes and simply enjoy themselves and have fun. Marley skips over the unavailable amenities and quickly gets the guests involved in the music and dancing.
Friends Tammy (Brynne Geiszler) and Rachel (Melissa Maanao) leave Cincinnati for a girls' vacation on the island before Tammy gets married. Booked into Margaritaville, the reality disappoints them. Brynne was fantastic as Lina Lamont in TMP's Singing in the Rain. She continues the excellence.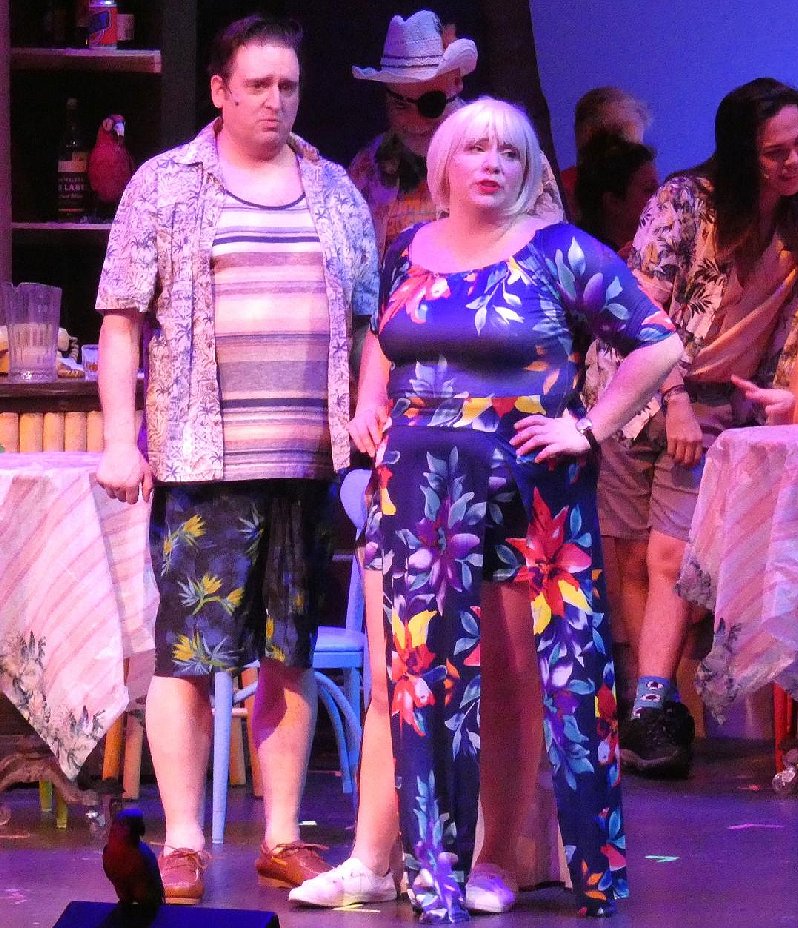 To make the new guests feel better about the condition of the hotel Brick (Peter Knickerbocker) is assigned to Tammy to make her feel better about the island experience. We saw Peter in Titanic the Musical, Kinky Boots, The Drowsy Chaperone and A Year with Frog and Toad – excellent in all of them.
Tully (Bruce Haasl) is assigned to entertain and cheer up Rachel. We saw Bruce at TMP for The Full Monty, and in several other area theater productions.
Another character and key element in the production is J.D. (Andrew Fry). Fry has performed at many local theaters. He is a big Jimmy Buffett fan and the combination of his talent and the story made an energic and fun musical.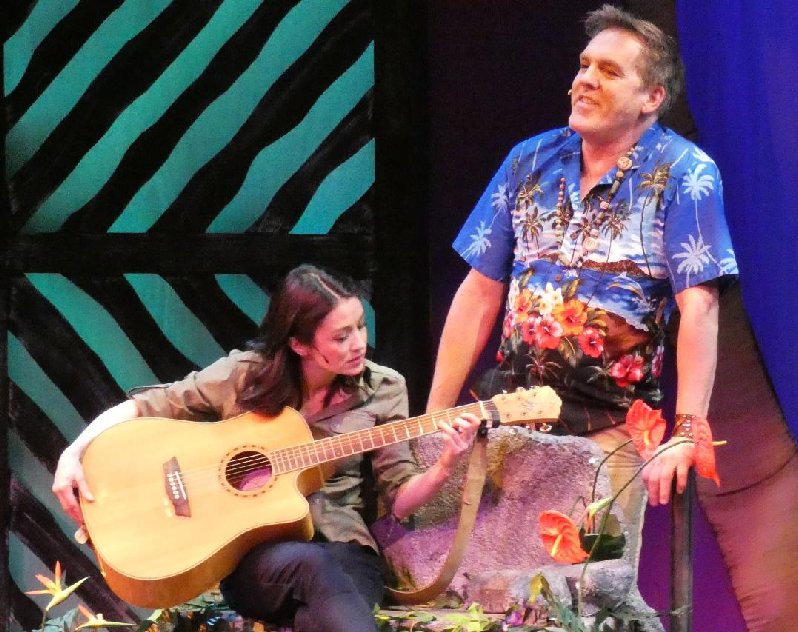 There is a big dream sequence about Cheeseburgers, hence the song, "Cheeseburger in Paradise" which was written and performed by Jimmy Buffett. "Cheeseburger in Paradise has become one of Buffett's signature songs and was selected as the first track on his greatest hits album Songs You Know by Heart." – Wikipedia
Jenna Caggiano caught our eye in the Cheeseburger scene (dark brown hair and short red dress). One look and you could see she is a professional dancer. She calls herself a Dance/Movement Therapist. She made her TMP debut in this production. We look forward to seeing her again.
You could tell from the beginning that the crowd knew the tunes and were there to appreciate the entertainment. A friend told me he and his wife were going to see it Sunday afternoon. I asked them to call me with their opinion after they had seen it. He called as soon as he got home. Donn and Debi enjoyed everything. I had already told him about the standing ovation, the pure joy on everyone's faces, and even the beach balls being batted around the audience. The entire musical was just plain fun. He agreed.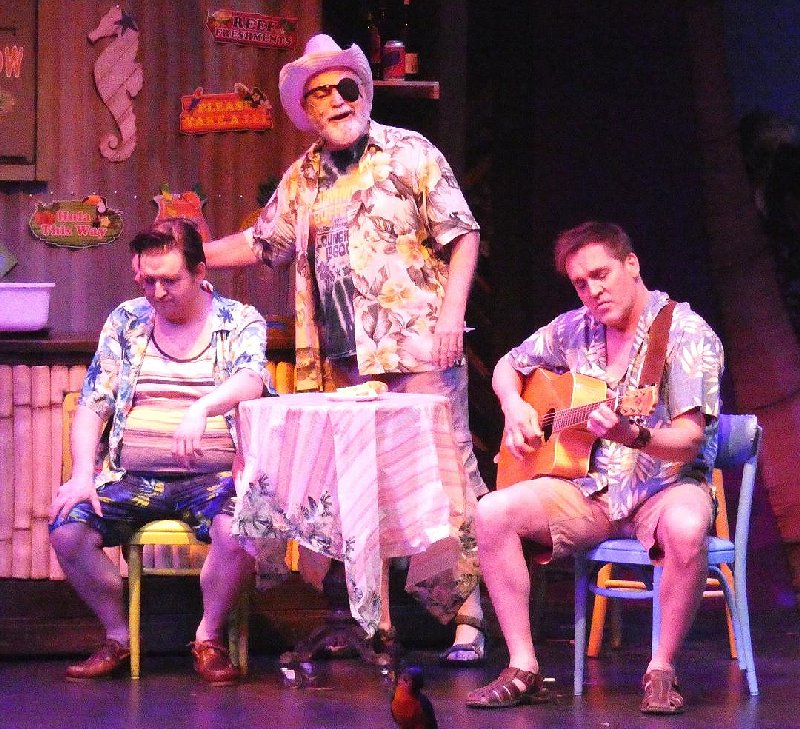 This is an energetic, musically charming production and an enjoyable experience. We'd go again if we could!
Jimmy Buffett's Escape to Margaritaville runs through June 11 at Tacoma Musical Playhouse.
Get your tickets online – https://tmp.org/index.php/showsandtickets/