Chambers Creek Foundation announcement.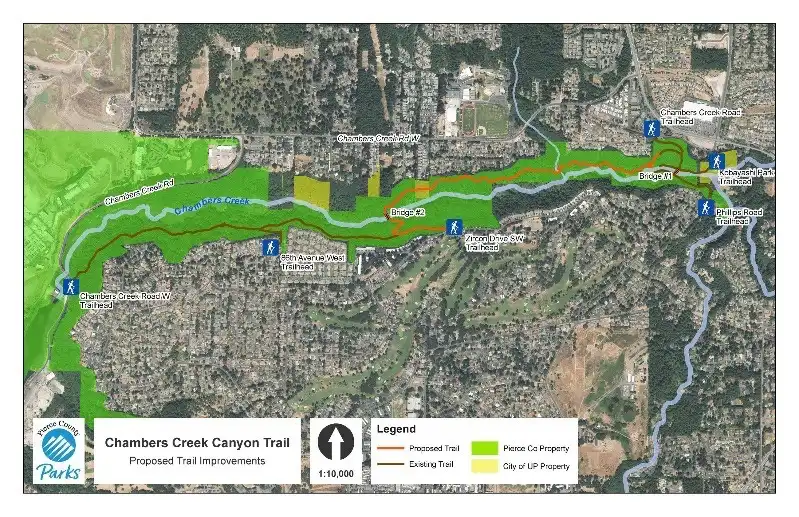 Within Chambers Creek Regional Park is a lovely area known as Chambers Creek Canyon. Exciting developments are planned for this area and some are already completed.
Bridge #1
Bridge #1 was built in 2021. It is located several hundred feet downstream of Kobayashi Park in University Place. The trailheads for Bridge #1 are Chambers Creek Road and Kobayashi Park in University Place. Lakewood's trailhead is at Phillips Road. The easiest trailhead to reach Bridge #1 is at Kobayashi Park. It has parking for about 8 cars.
Bridge #2
Bridge #2 is being designed this year. Construction is scheduled for 2024. It will be located several hundred feet downstream of Bridge #1. This phase will include 1976 linear feet of boardwalk, and a small footbridge crossing Peach Creek on the University Place side. When completed there will be a continuous trail of two and a half miles in the Canyon from Kobayashi Park to the trailhead at Chambers Creek Road West.
Trailheads for Bridge #2 are Chambers Creek Road, Kobayashi Park, and 86th Avenue in University Place. The trailheads in Lakewood are Zircon Drive and 91st Avenue. Lakewood, University Place, and Pierce County provided funding for the two bridges. In addition a grant from the Recreational Trails Program provided $300,000 for Bridge #1. Washington Wildlife Recreation Program (RCO approved), provided a grant for $1,418,9000 for Bridge #2.
Bridge #3 & Bridge #4
Future plans include Bridge #3, further downstream from Bridge #2. It will include a loop trail on the University Place side. The design and construction will not be decided until the new vehicle bridge is in place on Chambers Creek Road West. When the vehicle bridge is replaced, the dam will be removed. The sediment behind the dam has been tested and found contamination free. The sediment removal process, will be less costly and complicated due to the lack of contamination. Most of the silt will flow into Puget Sound through the estuary in Chambers Creek Bay.
Future plans could also include Bridge #4 or a lighted walkway across Chambers Creek Road West to connect to the East Slope Trail which connects to the Soundview and Grandview Trails around the golf course. This trail comes down into the Canyon from the Environmental Services Building.
Bridge #3 with a loop trail along with Bridge #4 are on the unfunded list which will need to be funded in the future. In addition to the construction of the new bridges and trail in Chambers Creek Canyon, the Puyallup Tribe of Indians has a two and a half million dollar project of remediation of Chambers Creek. It will start several hundred feet above the vehicle bridge and finish at Kobayashi Park. This project is designed to increase the fish habitat in the creek and to provide cooler water with the vegetation improvement along the creek banks. The design work has been completed.
The Tribe is in the process of seeking grants to complete this project. There is also discussion among the various tribes, municipalities, County, and State Governments and private nonprofits to provide design and funding to return Chambers Bay Estuary as it was prior to the turn of the 20th century.
Hopefully this has whet your appetite to go exploring in Chambers Creek Canyon to see the present trails and Bridge #1 which is in Kobayashi Park.
Learn more and donate by clicking here.