Submitted by Don Russell, Lakewood.
A Significant and Questionable Event
On May 4, 2023 the City of Lakewood requested proposals for professional services from qualified contractors for the purpose of an alum treatment for algae control in Waughop Lake.
The alum treatment prescribed in this RFP is for the application of aluminum sulfate (alum) and sodium aluminate. Its purpose is to inactivate the phosphorus contained in the top 45 cm of sediment and reduce P concentrations in Waughop Lake's water column.
The Concern
Alum treatments are prescribed to inactivate phosphorus in nutrient polluted lakes that have water column reactive phosphorus concentrations in excess of 0.020 mg/L. Any exceedance of this concentration generally results in the affected lake experiencing recurring harmful cyanobacteria blooms.
Water column bioavailable reactive phosphorus exists (1) when an outside the lake phosphorus source discharges into the lake (external loading) or (2) when inside the lake nutrient polluted sediment releases phosphorus into its water column (internal loading).
Determining the source of bioavailable phosphorus in a lake is a critical first step in determining the appropriate cyanobacteria bloom prevention mitigation strategy.
The total dosage of aluminum that TetraTech initially prescribed in 2019 to prevent harmful cyanobacteria blooms in Waughop was 120 mg Al/L. TetraTech asserted that this dosage was necessary to inactivate the P concentration in the top 45 cm of sediment most likely to be available for internal loading and subsequent cyanobacteria growth.  Note the assumption.
Waughop Lake has not had a significant harmful cyanobacteria bloom from two years prior to and since the 2020 application of 80 mg Al/L of aluminum in Waughop Lake. Why? Because Pierce College took action to discontinue its inadvertent external discharge (external loading) of untreated human sewage bioavailable phosphorus into Waughop Lake in 2017.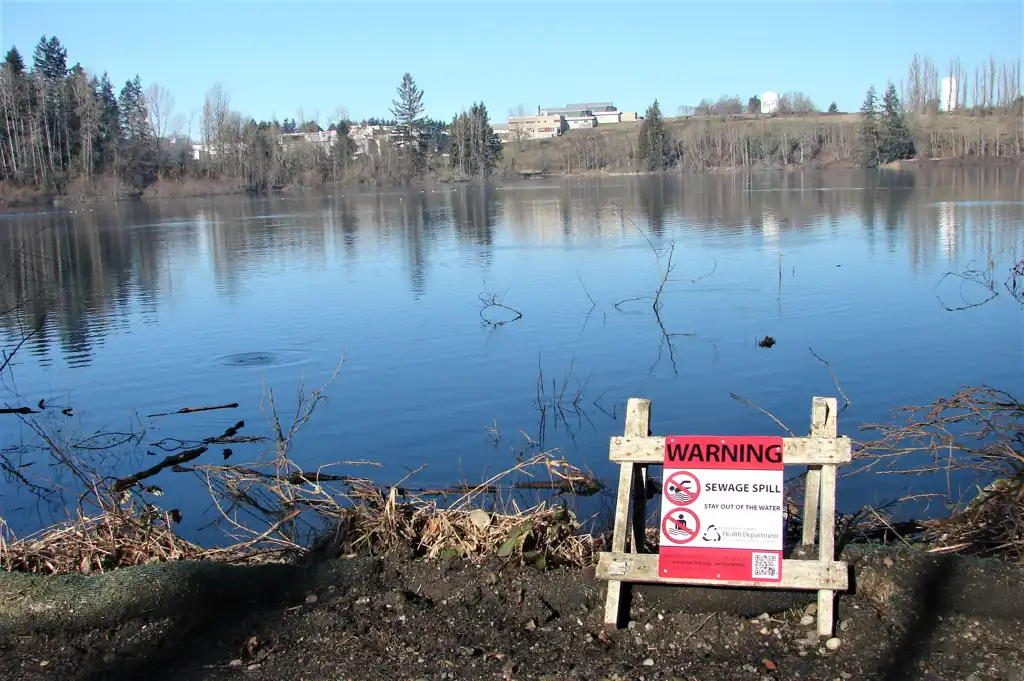 Beginning in 2017, after external phosphorus leading ceased, Waughop Lake began a natural transition from a turbid water cyanobacteria dominated stable state to a clear water aquatic plant dominated stable state. It is noteworthy that aquatic plants, when not shaded by an algae bloom, derive their nutrients from bottom sediment. The higher the sediment concentration of phosphorus, the more prolific the lake's aquatic plant growth which is what happened in 2018 and 2019 prior to any application of alum in Waughop Lake.
The Consequence of a False Diagnosis
In 2018, the City of Lakewood engaged TetraTech's consultant Harry Gibbons for his opinion of the 2017 Brown & Caldwell Waughop Lake Management Plan. That Plan was based upon 2014-2015 data that suggested that the phosphorus source fueling its recurring harmful cyanobacteria blooms was from internal release of phosphorus from its bottom sediments. The B7C Plan recommended (as had two prior studies) that the appropriate remedial action to restore Waughop Lake's beneficial use was to remove the upper layer of Western State Hospital's farming practices accumulated phosphorus polluted bottom sediment for an estimated cost of $2.7 million dollars. The B&C Plan also suggested that an interim $210,000 alum application mitigation measure would likely prevent the lake's recuring harmful cyanobacteria blooms until adequate funding for removing the layer of phosphorus polluted bottom sediment could be obtained by the City of Lakewood.
TetraTech's evaluation report was extremely critical of the remedial (dredging) and mitigation (alum) action that the 2017 B&C Plan proposed. TetraTech proposed an alternate action plan that TetraTech declared would not only prevent Waughop Lake's recurring cyanobacteria blooms, but it would also eliminate the need for costly removal of the upper layer of phosphorus polluted bottom sediment. Such a TetraTech proposed approach found favor with the City's Public Works Director and subsequently City Council members.
TetraTech was paid for its B&C Plan evaluation report plus given an additional $94,086 to draft the performance specifications for the alum treatment that it had promoted. TetraTech's cyanobacteria bloom management Plan specified that an unprecedented (10 times the average) alum dosage of 120 mg Al/L be applied to Waughop Lake. TetraTech claimed that such an application would prevent harmful cyanobacteria blooms from occurring in Waughop Lake for up to 10 years.
TetraTech's Plan was subsequently approved by Ecology. It was scheduled to be implemented in 2019.
Tom McClellan and Don Russell, two long time (since 2000) City of Lakewood volunteer water quality monitors and co-authors of a 2012 Waughop Lake Remedial Action Plan, appealed to the City's Public Works Director, City of Lakewood Council, Ecology and the State Pollution Control Board that TetraTech's proposed 120 mg Al/L alum treatment plan was unnecessary because of the natural algae to aquatic plant transition taking place after Pierce College discontinued discharging phosphorus rich human sewage into Waughop Lake in 2017.
In July 2019, our appeals having no effect, Don Russell in July 2019 wrote an open letter to Ecology and the Lakewood City Council titled: The Pending Demise of Waughop Lake Courtesy of Ecology and Lakewood City Council. A copy of this letter was published in the Suburban Times.
This Letter elicited the following Suburban Times published response by then City of Lakewood Mayor Anderson and Deputy Mayor Whalen:
"Recent articles published in the Suburban Times regarding Waughop Lake have accused City staff and the City Council of "Nonfeasance and Misfeasance" based on the City Council decision to treat Waughop Lake with alum for persistent toxic algal blooms. The authors of these articles state that City staff have withheld information from the City Council with the intention of driving the council decision. We disagree."
"…we are listening to the national experts. After extensive study, review by outside parties, and discussion, we have concluded that the reasonable and fiscally prudent course of action is to proceed with alum treatment in 2019 and likely again in 2020. The authors of the articles continue to attempt to drive us to solutions that are risky, unlikely to be funded, unlikely to receive permits, and unwarranted in nature based on the impacts to the community from the algal blooms."
"The two individuals who continue to write articles to The Suburban Times and send emails to City staff and City Councilmembers have interacted with Council and met numerous times with staff to make their case for alternative means to address the algal blooms."
"When compared with the alternatives of do nothing, dredging, application of aquatic herbicides and algaecides, or alum treatment, the choice for the City Council is clear: Alum treatment is the most viable solution."
In 2020, despite our many appeals to City Council and staff members, Ecology and State Pollution Control Hearing Board, TetraTech's prescribed $420,000 March and July 40 mg Al/L alum applications was approved by Ecology and subsequently applied by a contractor employed by the City.
The adverse environmental impacts that these two 2020 40 mg Al/L alum treatments have had on Waughop Lake's chemical and biological response have been evident to all park visitors and observers for the past three years now. These impacts were as predicted in Don Russell's 2019 Letter: The Pending Demise of Waughop Lake Courtesy of Ecology and Lakewood City Council.
Waughop Lake's Demise Assured
This year the City of Lakewood in an apparently no competitive bid follow on extension of TetraTech's original engagement contract requested TetraTech to draft performance specifications for an additional 20 mg Al/L alum application in an already seriously aluminum and sulfate/sulfide polluted Waughop Lake.
The result of this third alum application will be a short-lived clear water response as the alum settles, by flocculation, the current population of nonmotile green algal cells that populated the lake. This will give observers of this clear water phenomenon a sense of vindication that the "national experts" were right about the need for a 120 mg Al/L alum treatment.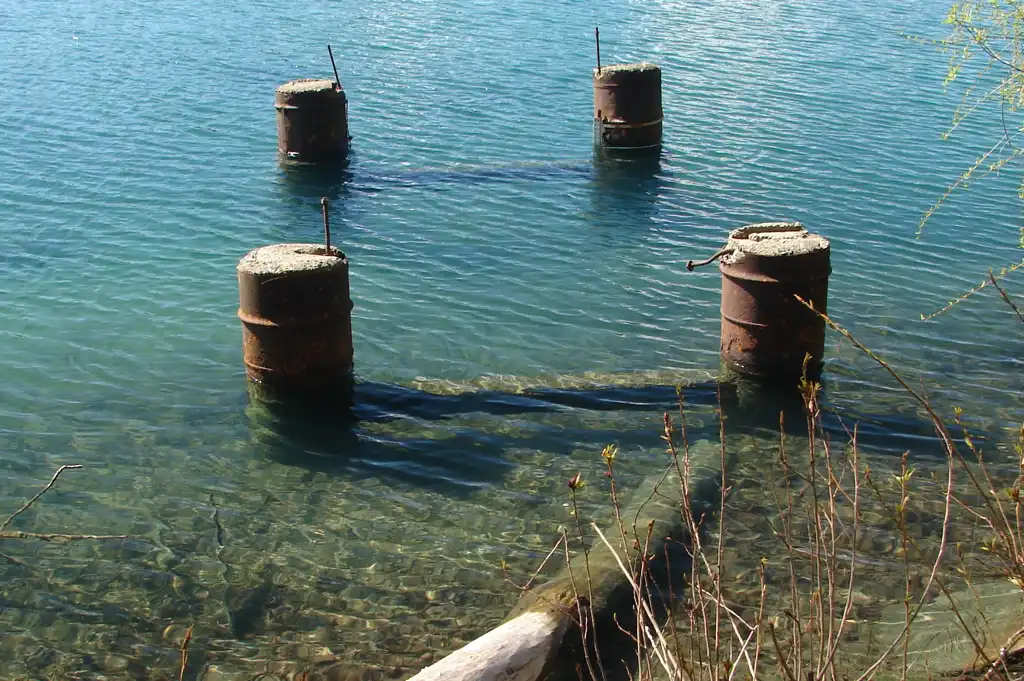 However, the aluminum and sulfate/sulfide pollution tolerant nonmotile green algae species that now populate and bloom in polluted Waughop Lake will soon repopulate the lake to reestablish its now recurring a turbid water green algae dominated stable state condition.
There will be no restoration of the lake's natural rooted aquatic plant population under a further exacerbated aluminum and sulfate/sulfide polluted lake, much less the restoration of Waughop Lake's full beneficial uses by park attendees, fishermen, over the winter migratory waterfowl and birds of prey population.
The Fundamental Problem
The City of Lakewood Council members routinely ignore input from its knowledgeable citizens who freely volunteer their time to assist the City of Lakewood staff responsibly steward water quality in its wetlands, streams, and lakes. Instead, Council members support the misinformed and misguided action agendas of City staff members.
Ecology, as demonstrated by its conduct in this Waughop Lake case, consistently fails to conduct itself in a manner that is consistent with the intent and provisions of the Federal Clean Water Act and State RCW and WAC environmental laws for the protection and enhancement of state waters.
The State Pollution Control Hearings Board is a rubber stamp for Ecology's irresponsible decisions.
The State Attorney General's Office defends Ecology against citizen claims of Ecology's failure to exercise its authority to act in accordance with the intent and spirit of existing environmental laws.
And on a final note:
Contrary to the City of Lakewood's 2023-2024 Biennial Budget statement that citizens are at the top of the City's organizational hierarchy and that the subordinate City Council members represents their interests, it is the City staff and outside consultants who determine the environmental fate of Lakewood's impaired and threatened wetlands, streams and lakes. As the Waughop Lake situation attests it is certainly not the citizens of Lakewood.