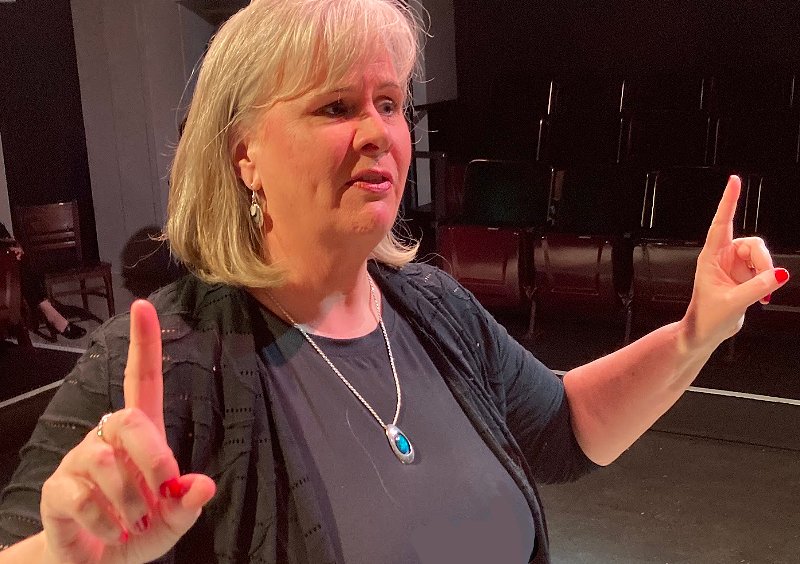 "Through tattered clothes small vices do appear; Robes and furred gowns hide all." King Lear, Act IV: Scene 6
You just can't get away from it! How we dress for "every day" or for "occasion" reveals or hides who we are to the world around us. It doesn't matter if you're walking out of a thrift store or entering Westminster Abbey for the coronation of a king – for good or bad, statements are being made and some of them may come back to haunt you!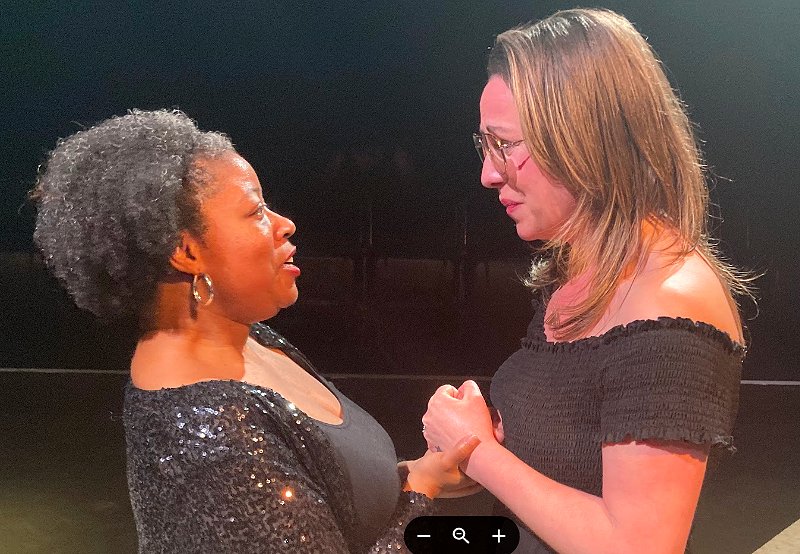 Love, Loss & What I Wore, playing now through May 28th at Lakewood Playhouse is a montage of stories by Nora Ephron and her sister Delia Ephron based on the book by Ilene Beckerman. Nora is best known for her screen plays of "When Harry Met Sally" (1989), and "Sleepless in Seattle" (1993). Delia is best known for her screen plays "You've Got Mail" and "The Sisterhood of the Traveling Pants." Combined the two sisters have put together a funny and thoughtful story.
Through a repeated motif of a clothesline, eight women hang their laundry of soul searching questions and bag of tricks for the world to see in a delightfully fresh assessment of how we shield ourselves from life's blows with a perfect Eileen Fisher coverup and flag down our hopes and dreams with pink scarves.  There are individual stories swirling off the clothes line in monologues from mothers, daughters, sisters, and grandmothers – all of whom discover a universal truth about existence through their choices of clothing.  Displaying or hiding? The names of well-known designers may be well beyond most men, but many of the women in the audience will recognize those who have shaped their figures for years.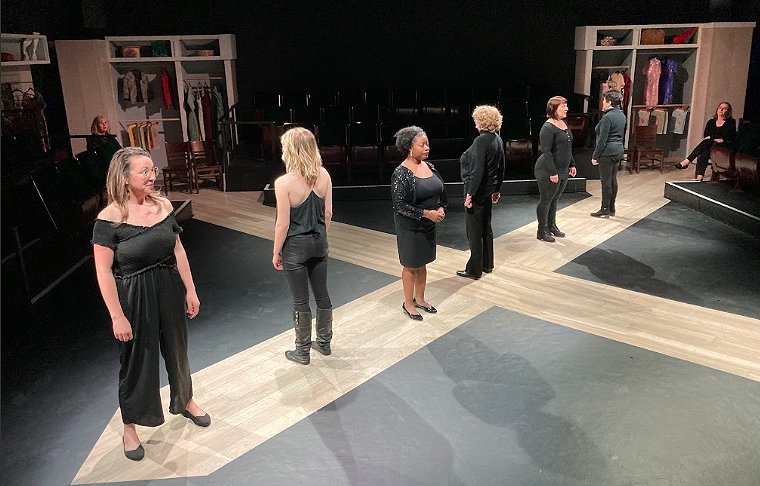 Laurie O'Brien opens the stories with Gingy and the play begins.
Director Brittany D Henderson does a snappy job in keeping the stories and tempo moving. She has a strong ensemble of players who enjoy being onstage together and who clearly support one another when they are sitting on the sidelines enjoying the stories being told. The main structural thread is embroidered by Laurie O'Brien in her first role at the Lakewood Playhouse. She introduces the play and weaves in and out several times in the course of the evening by adding detail upon detail until she fully reveals the character of "Gingy" as she has grown in a sense of self-worth.
Lavinia, says "While I enjoyed the entire evening, I especially related to Laurice Roberts' confession about enduring the pain of high heels, after experiencing the joy of wearing a pair of homely Birkenstocks; and Julia Wyman's attack on the needless fashion of purses and the hopeless battle of trying to keep the "inner" purse organized. What fun and how universal!"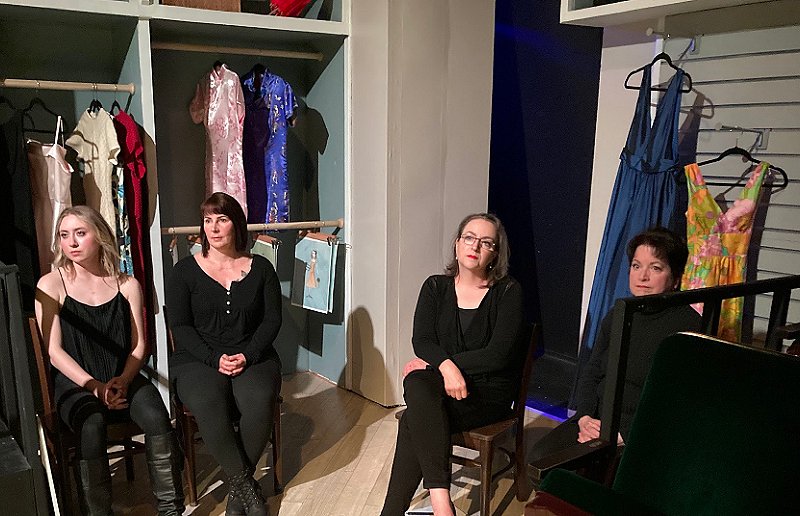 Costumer Alyssa Gries gave the actresses clothes of black and left our imaginations to deal with clothing tales that told their stories.
Scott Campbell gave us scenic designs of white shelves of clothing dreams to resemble fashions in changing rooms and times.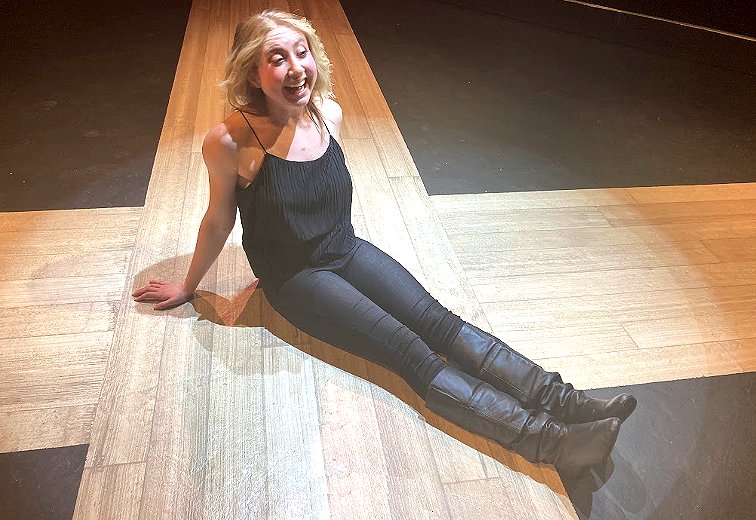 Julia Wyman, in her Lakewood Playhouse debut, told about a love of boots. The stories were mostly amusing and each was enjoyable.
If you are looking for an evocative evening in which you will undoubtedly recognize yourself in one story or another, please go see this show. It's entertainment at its best when you can laugh at your own foibles when an actor on stage tells the truth.
Play Dates:
Friday, May 12th @ 7:30 pm
Saturday, May 13th @ 7:30 pm
Sunday, May 14th @ 2:00 pm
Friday, May 19th @ 7:30 pm
Saturday, May 20th @ 7:30 pm
Sunday, May 21st @ 2:00 pm
Friday, May 26th @ 7:30 pm
Saturday, May 27th @ 7:30 pm
Sunday, May 28th @ 2:00 pm