Lakewood Baseball Club announcement.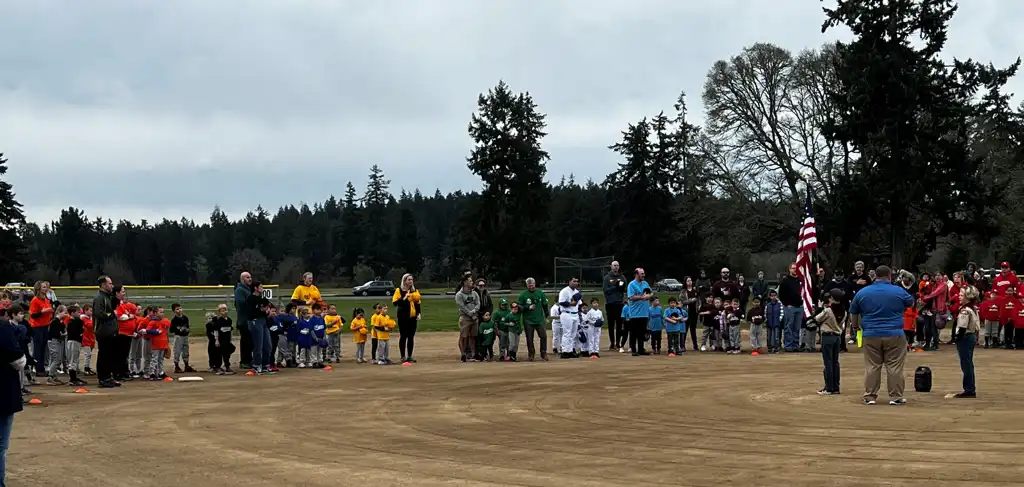 April 15, 2023: it was cold, windy with a little bit of rain—a typical opening day for baseball season in Lakewood. At 9:15 a.m., 19 teams lined up at Field #1 at Ft. Steilacoom Park for the opening ceremonies. Last year, Lakewood Baseball Club (LBC) had 10 teams. LBC is back!!
A full slate of games came after the ceremony, which was presided over by President Flynn Elario. Thanks to numerous sponsors, the fee for sign up was substantially lower. Those generous sponsors include:
Lakewood Rotary
Clover Park Rotary
Clover Park Kiwanis
Lakewood Community Foundation Fund
Revive Yoga
McClain Soil
Studio Fitness
Tinsley Remax
Michael Lewis and State Farm
Scott Buser and Ameriprise
John Korsmo and Korsmo Construction
Tacoma Trophy
Way to go, Lakewood! DuPont was putting us to shame with their many sponsors of the baseball program. We showed them this year! (And if you'd like to sponsor a team, it's not too late!) Thanks also for the generous support from the Clover Park School District and the City of Lakewood.
And now that baseball has returned to Lakewood, how about attending a game or two?
https://www.lakewoodbaseballclub.org/home
Game schedules are at the link above. Be prepared to smile uncontrollably, especially if you attend a 6U T-ball game. Too much fun!!
"Love is the most important thing in the world, but baseball is pretty good, too." (Yogi Berra)