A Clover Park School District story.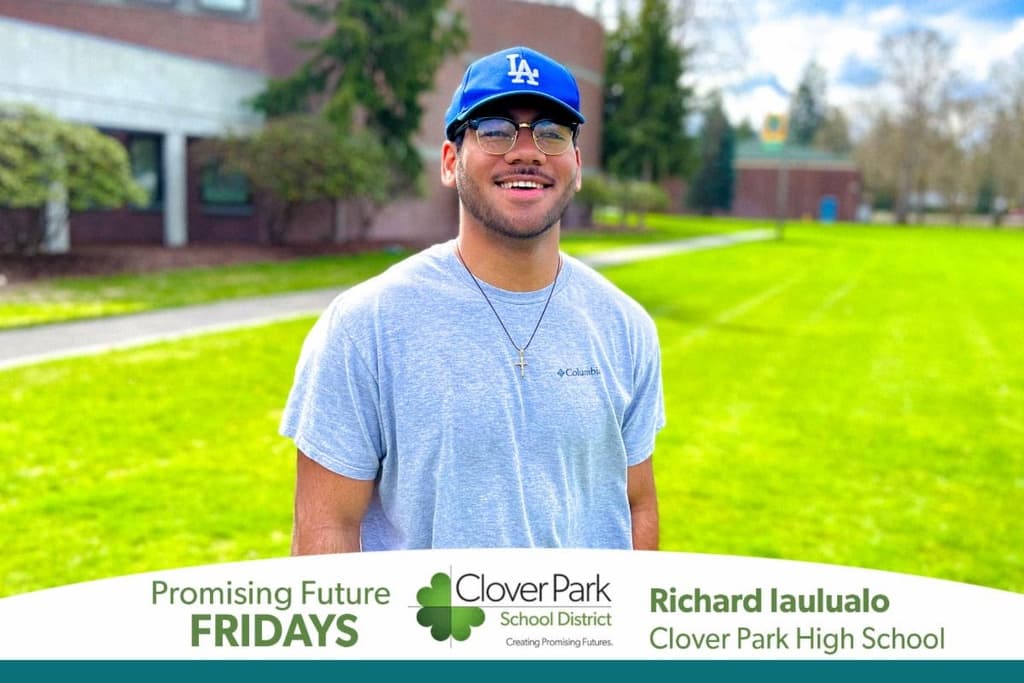 Our Clover Park School District Promising Futures featured student this week is Clover Park High School (CPHS) senior Richard Iaulualo. 
In his senior year, Richard decided to increase his community engagement and leadership by serving as ASB President. "When I started high school, I wasn't as confident," he said. "Now, I'm much more comfortable speaking in front of people, getting out of my comfort zone, leading, having pressure on me and seeing the bigger perspective," he said.
As he looks back at his time at CPHS, Richard views Advancement Via Individual Determination (AVID) as his most beneficial class. In AVID, students work on college applications, fill out the FAFSA, practice note taking and learn time management skills. "I absorbed everything in AVID because you're like a family for all four years, and you get tools to be successful when you leave," he said.
As ASB President, Richard worked with district partner Communities in Schools to organize leadership events such as the Be R.E.A.L. (Respect, Equality, Acceptance and Love) workshop held for freshmen earlier this year. He is passionate about fostering an engaged school community and models this by participating in other extracurricular activities such as Young Life and football.
Though Richard used to believe his athletic skills would determine his future trajectory, he has now realized that his love of community engagement and passion for music will open new doors as he continues his education. He has been accepted to many four-year universities, including Gonzaga and Eastern Washington University. He plans to study music at one of these schools next year or after attending a two-year community college and earning his associate degree.
"This year, I've grown so much as a person, student, son, brother and friend," he said. "I feel more confident about who I am and what I want to do in the future."