A Clover Park School District story.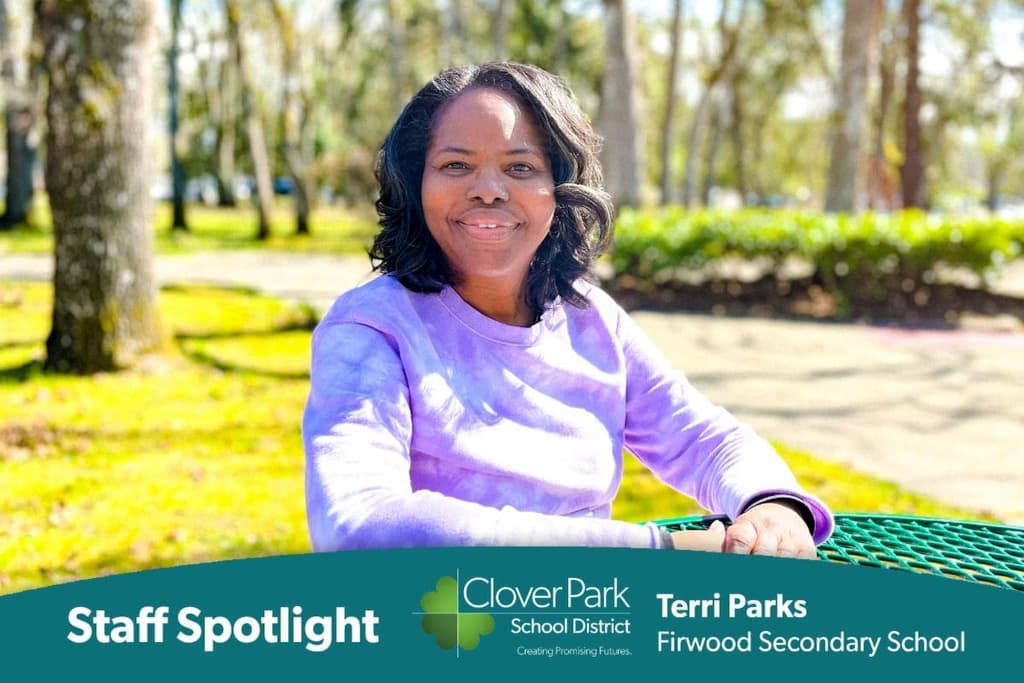 Our Clover Park School District Staff Spotlight this week features Firwood Secondary School special education (SPED) teacher Terri Parks.
Terri joined the district as a substitute before joining the Oakgrove team full time nine years ago. She now works with middle and high students through intervention, teaching some classes and supporting teachers at Firwood. "I wear many hats, but my favorite part is still relationship building and interacting with students," she said.
Terri helps to coordinate the Transitional Day Student program that supports students who are not residents of Western State Hospital but are transported to and from their home for school. "I have a wonderful team of peers, and we support 11 students at the moment," she said. "These students are in transition, and we support them as they continue to become successful members of their community."
Terri's adaptability makes her successful at her job and is a quality she works to instill in Firwood students. "If you are rigid in life, things can be difficult," she said. "I hope my students leave here with confidence in their ability to question, take on a problem and be a little bit flexible with who they are and the different voices, situations, people and things they will face in the world."

Terri loves to cook and enjoys a good meal. One of the ways she shows her appreciation for students and colleagues is by preparing a meal for others and showing them respect by paying attention to the fine details. "Building relationships with these students is my shining glory and my passion," she said. "The smile I wear is an easy smile for me because I chose to lead my day with joy."