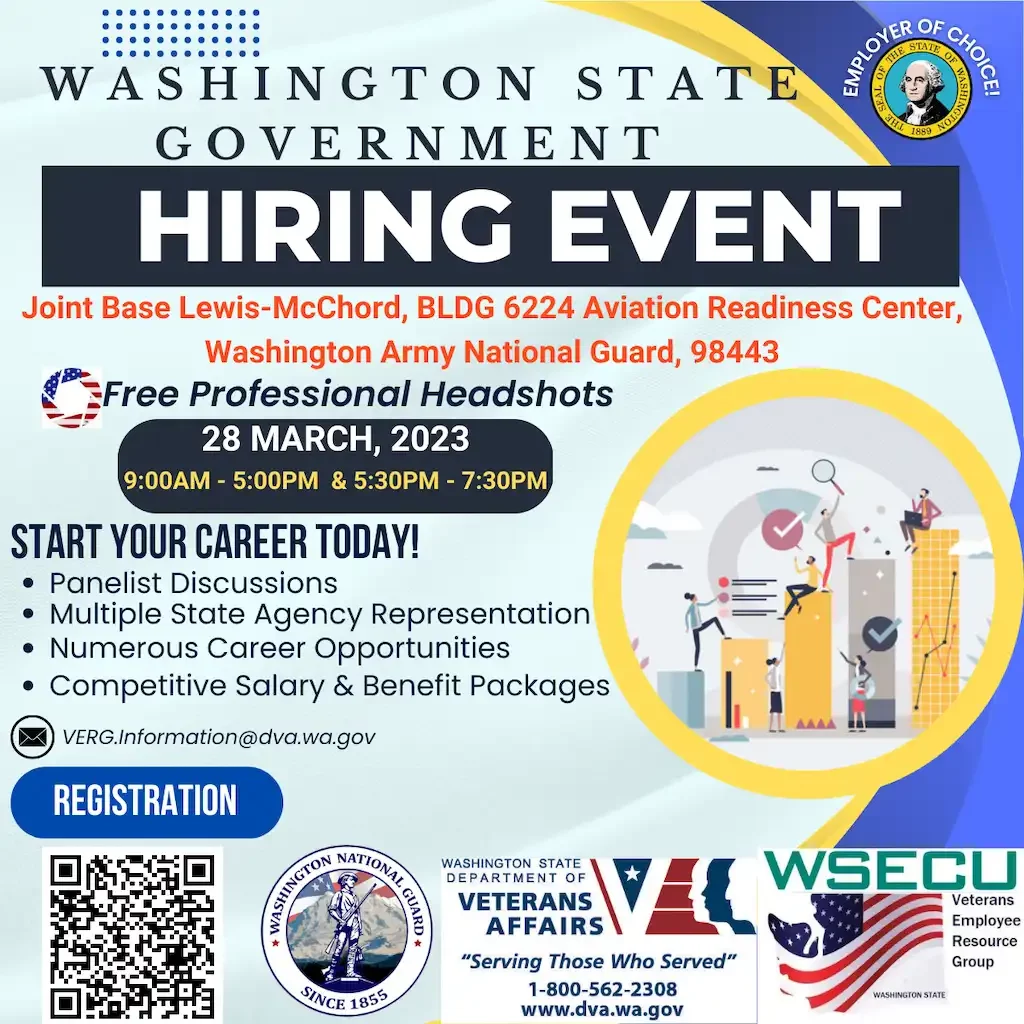 Stop looking from job to job and find your career!
Join the Washington State Veterans Employee Resource Group (VERG) for the Washington State Government Hiring Event being held on March 28, 2023, from 9:00am to 5:00pm and 5:30pm to 7:30pm, at the Washington National Guard Aviation Readiness Center on Joint Base Lewis McChord.
The VERG exists to help integrate veterans, service members, and spouses in state employment. As a community, the VERG provides advice and assistance to state agencies on veteran recruitment, retention, and development strategies.
In addition, the VERG assists state agencies in support of existing state employees who have served as members and spouses of members of the armed forces through recognition, resource identification, and mentorship.
The VERG embodies diversity, equity, access and inclusion, and assists to foster innovative staff who positively transform our communities.
Veterans, spouses and their family members are all invited to this event.
Careers in Washington State Government offer:
Competitive Wages
Flexible Work Schedule
Telework Options
Vacation Leave
Sick Leave
12 Pail Holidays Off
Family Medical, Dental, & Basic Life Insurance
Retirement
Deferred Compensation
Social Security
Long-Term Career
Career Fields Available at Hiring Event:
Business Administration
Education
Engineering
Environmental Services
Health Services
Health Care Support
Information Technology
Law Enforcement
Legal
Maintenance
Public Services
Science
Social Services
Training
And many more
We invite you to join us for the Washington State Government Hiring Event to network and further explore how state agencies support career development within the military community.