A Clover Park School District story.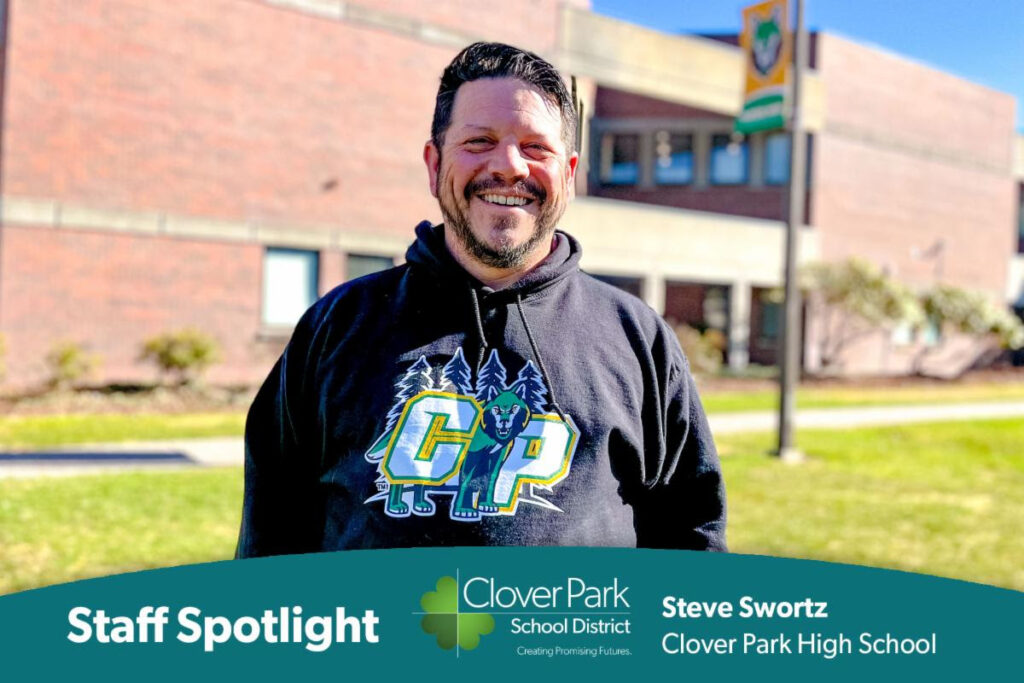 Our Cover Park Staff District Staff Spotlight this week Clover Park High School (CPHS) special education teacher Steve Swortz.
Steve has spent the last 12 years in the district and taught nearly every grade level before moving into his current position. "I like teaching high school students because they're at the age level where I think I can impact their lives a lot," he said. "I love this job, and I depend on my amazing team, including my mental health counselor and paraeducators, to help these kids succeed."
Steve teaches the Success Program for special education students. In his class, they learn about life skills they will need as they progress and enter the job force. "Me and my team help students learn how to fill out job applications, how to navigate a job interview, how to rent an apartment, the basics of banking and other skills that will be necessary after high school.," he said. "I try to build positive relationships with them, and I want them to go from surviving to thriving."
Steve partners with Caring for Kids to go above and beyond for his students and provides them with food and snacks. "I ask if they ate, got enough sleep, feel safe here and how they are doing emotionally, because if those needs aren't met, they are not going to be successful in their other classes," he said.
After school, Steve is a dedicated tennis coach for the CPHS boys team and the Lakes High School boys team in addition to serving as the assistant coach for the CPHS girls team. He also runs the scoreboard at basketball, soccer and volleyball games and enjoys being involved with student sports and activities as much as he can.