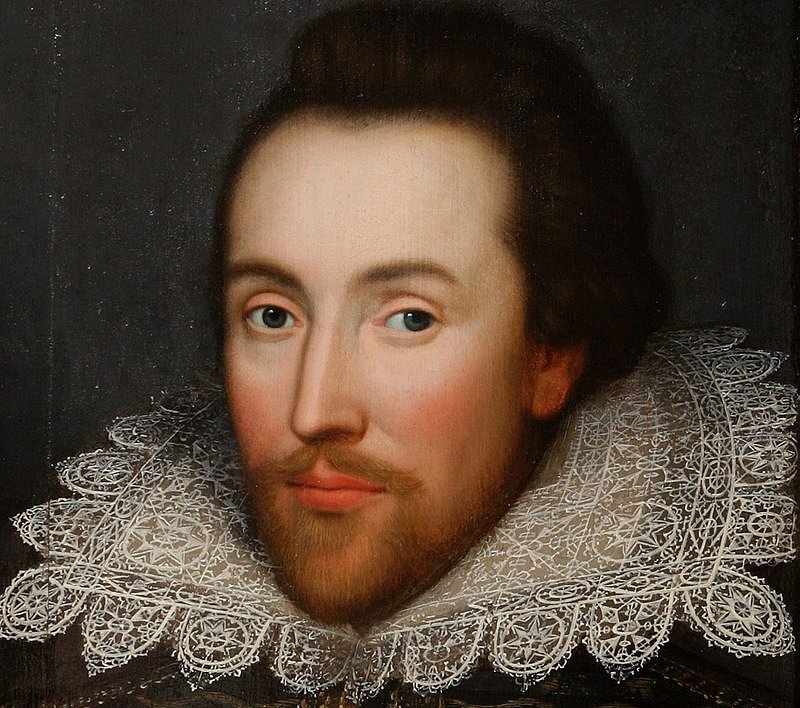 Shakespeare's Much Ado About Nothing is a comedy about love and misunderstanding.
Love and deception is key. Benedick, Claudio and Don Pedro arrive at Leonato's house in Messina. Beatrice and Benedick bicker with each other and Claudio, a soldier, falls in love with Leonato's daughter, Hero.
Much Ado About Nothing is read and studied all over the world, but so what? It's written to be acted out on stage, and can only be fully appreciated and understood through performance. Each production offers a chance to try something different . . . kind of like life.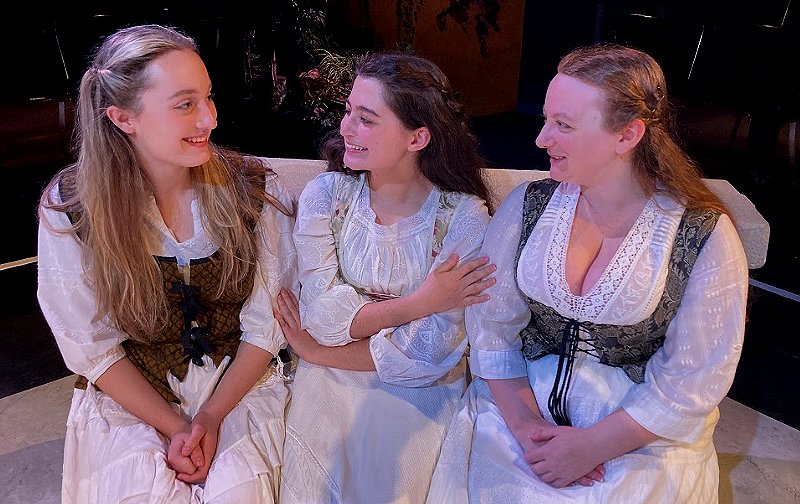 Peg and I along with my cousin Lindy saw Much Ado in May last year at Seattle Shakespeare. We were riveted, laughed and enjoyed the entire production. We just saw the same play at Lakewood Playhouse where we were riveted, laughed and enjoyed the entire show. Actually, "the same play" is a misnomer. The words of Shakespeare weren't really changed, but the staging, the directing and the interpretations delivered the same results: comedy and something to think about.
The "theater in the round" change over at Lakewood Playhouse seems to be working really well. We enjoyed the in the round staging of Jacob Marley's Christmas Carol and now with Much Ado About Nothing we're thrilled with the results.
The entire production relies on the humor and squabbles between characters and their actions . . . hence, Much Ado About Nothing.
Olivia Nymeyer as Margaret, Marisa Peredo as Hero, Stephanie Huber as Ursula sit and trade view points and information. Olivia is a senior at Olympia High School and has appeared in a number of local productions. She is planning on a BFA in acting programs. This is also Marisa's first production in Lakewood. They have a degree in Japanese from Macalester College, but performing was a constant hobby. Stephanie has performed in two Lakewood productions: Something Wicked this Way Comes, and Treasure Island.
Some folks may find attending a Shakespeare play worrisome – thinking perhaps the language will sound foreign, or high-brow, or a stilted (too well-spoken). It may take a minute or two to adjust to receiving the story line by the greatest playwright in the history of western civilization but after the first minute of entrances and revelry in Lakewood Playhouse's production of Much Ado About Nothing, you find yourself comfortably onboard for the ride. The intimacy of the theatre's "in-the-round" seating configuration puts you only a few rows away from the cast. Scott Campbell's lively direction, and a terrific ensemble of actors come together to dispel any worries one may have had about accessibility.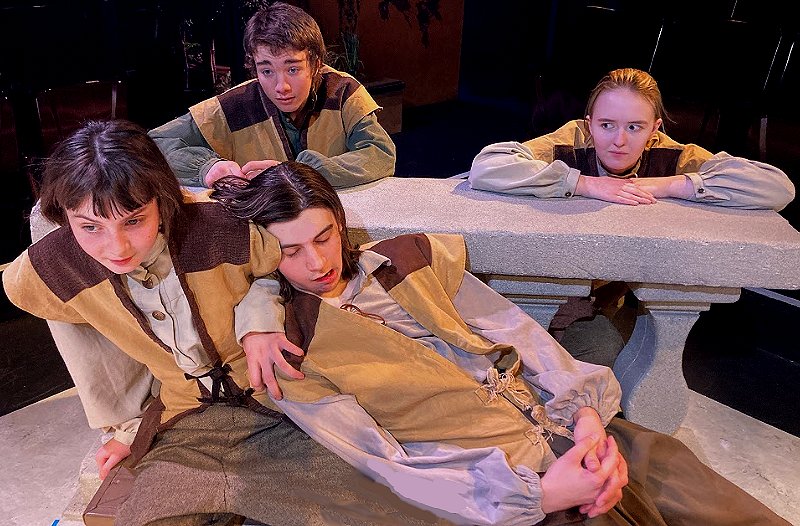 The entire cast from seasoned professionals to the young apprentices convey full understanding of every word and phrase they speak on stage as they stand, watch, and deliver in a setting that supplies them with 2 benches, 2 railings and a bush. The simplicity of production values allows us to listen fully and receive the full force of each dilemma and discovery. The effect is downright enjoyable!
We've seen Simone on the Lakewood stage before. She was in Pippi Longstocking and did a fantastic performance as Anne in The Diary of Anne Frank. We've seen Nigel twice. Once as Scut Farkas in Tacoma Little Theatre's A Christmas Story and as a Nazi in The Diary of Anne Frank. Jackson was also in The Diary of Anne Frank at Peter Van Daan. He's performed in Scotland and Alaska.
Our little threesome sat in the right wing of the stage and while everyone was hooting with laughter at the expense of the character Benedick as the conversation in the middle of the stage talked about him and laughable pairing of him and Beatrice, I could easily turn my head to the right hand corner of the floor where Benedick was hiding and trying to hear and make sense of the comments about him and Beatrice. It was basic Three Stooges timing and reactions . . . and hilarious. Just a bit later we saw Beatrice having the same issues with the same hilarity in the same area.
Amanda Kemp as Beatrice, Ryan Martin Holmberg as Benedick, and Jamie Pederson as Don Pedro.
From Seattle to Los Angeles with commercial work and live theatre Jamie Pederson has been active as an actor and writer while calling Tacoma home.
Amanda Kemp's favorite Shakespeare character is Beatrice. She has played the part twice before. She has acted at Harlequin in Olympia and has appeared in a couple of short films. Ryan Martin Holmberg has performed the part of Benedick in six different productions. Both Amanda and Ryan did a wonderful job as the young couple who battle each other as they fall in love.
Shakespeare is Shakespeare because he writes about universal truths that we recognize in our own lives 300 years later. A skilled cast and skilled director won't remind us that we're listening to a great writer of verse and prose.
Scott Campbell is the Director/Artistic Director. The Assistant Director is Brittany Henderson, Thomas Robinson is the Stage Manager with Tech/Production being handled by Janna Webber and the Charge Artist is Jen York.
Much Ado runs through March 26th.
Tickets are available on-line: lakewoodplayhouse.csstix.com/