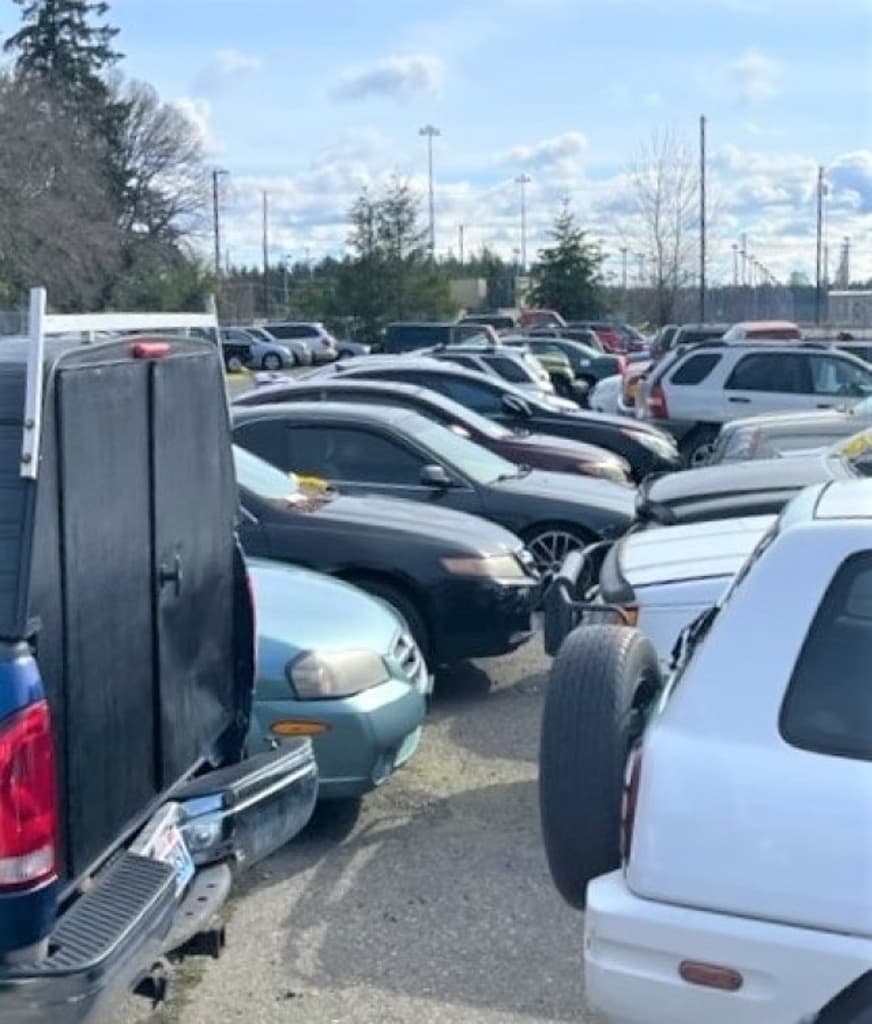 By Pamela Sleezer, Joint Base Lewis-McChord Public Affairs.
JOINT BASE LEWIS-McCHORD, Wash. – Vehicles identified as abandoned across Joint Base Lewis-McChord created a multitude of concerns for installation leaders seeking to remove them. JBLM leaders have worked together for almost a year to find the best outcome for all those involved including vehicle owners if they're located.
Since August 2022, JBLM's Morale, Welfare and Recreation organization has executed a towing agreement with local towing companies and the 404th Army Field Support Battalion, 404th Army Field Support Brigade, in response to the growing number of abandoned vehicles on the installation at the request of garrison leadership.
According to Command Sgt. Maj. Waylon Petty, JBLM command sergeant major, the concern regarding the high number of abandoned vehicles was raised through feedback reported by units across the base.
"Abandoned vehicles on a military installation downgrades the aesthetic professionalism that a military installation is expected to maintain," Petty said. "It is important for the entire community to be good stewards to combat anything that goes against that."
Two days a week, and even three on some weeks, a tow truck sweeps across the base to collect vehicles that have been reported and flagged by officials as unclaimed or abandoned.
Steve Monchak, an automotive worker with MWR who oversees the towing operations, said since Aug. 19, 2022, more than 140 abandoned vehicles have been collected and towed to the tow yard on Lewis North. So far, about 30 have of those vehicles have been returned to their owners.
While some vehicles have been found during basewide cleanup efforts, Monchak said most of the cars have come from unit parking lots on the installation.
"These are vehicles that have been sitting for weeks, or even months, and people begin to question why that vehicle has not moved," Monchak said. "By the time we are called in, the vehicle is in some variance of disrepair; the tires are flat or even on blocks and, most telling, the registration tags are expired."
Maj. Molly Broderick, provost marshal at JBLM, said she believes outdated registration is one of the main issues leading to the high number of abandoned vehicles over the past year.
"When we conduct a search to identify the owner, the registration leads us to civilians off (base)," Broderick said. "That happens with a majority of these cars, and while that might seem like there are a lot of civilians coming onto post and abandoning their vehicles, that's not actually the case. It's really that (service members) are buying the cars from civilians off (base), but then they realize the expenses of transferring the registration and they find themselves in a tough situation. The registration expires and they can no longer legally drive the vehicle, so they park it and leave it there."
Throughout the procedure of identifying an owner and communicating with them, Broderick said officials will also check with units to determine if a service member is deployed or away on temporary duty with their unit. In those circumstances, Broderick said efforts are made to assist the service member with finding a suitable place to store their vehicle until their return.
The process of towing a vehicle, and then ultimately auctioning it is a lengthy one.
Anyone can report an abandoned vehicle. MWR has posted several flyers across base with QR codes to streamline the reporting process, or anyone may call 253-966-6970 to make a report.
Once a report is received, either through the public QR code system or by officials reporting the vehicle, Broderick said Military Police tag the vehicle and give three days notice to the owner to move the vehicle.
"Often times, the vehicle will sit there even longer than three days until we have the ability to get a tow truck to that vehicle," Broderick said. "But that is the minimum time they have to move the vehicle."
Once a vehicle is towed, Monchak said he files a DD Form 2507 to provide an official impound notice.
"This way, if someone calls our dispatch to say 'Hey, my car is gone,' dispatch can see that it was towed and provide that information to them," Monchak said.
Regaining possession of the vehicle will require further work and documentation.
"That's usually when we see that the registration has not been updated from previous owners," Monchak said. "Sometimes, it hasn't been updated since three owners ago and that is something we are working with units here on JBLM to try and educate their service members about. It's all about helping service members find a solution. We want to help them as much as we can."
Monchak is a veteran himself, and he said he understands the financial burden that having a vehicle towed can put on a service member and their family. The fee for having a vehicle towed on JBLM is $250, with an additional $10 for each day that the vehicle is stored in the tow yard. While that cost is lower than off-base towing prices, it is still substantial.
"We go through great lengths to identify the owner of the vehicle as quickly as possible, though outdated registration makes that quite a process," Broderick said. "But we do our due diligence to contact that owner and make them aware of the situation, and we do our best to work with them about the fees as well."
In that desire to help service members, Monchak said he is now working with his leaders to offer service members the option to sign a waiver and surrender their vehicle to JBLM MWR to avoid the fees.
"If they surrender the car to us, then we will not hold them responsible for the towing or storage fees," Monchak said. "It's not a perfect solution, but it's better than what they would receive off (base), because they don't forgive the fees if you surrender your vehicle off (base)."
MWR is now preparing for its second phase of the towing operation, which will be a large online auction of the vehicles in May. Tentatively set to begin May 1, the auction will be completely virtual and will last three weeks. Anyone with base access may participate in the auction.
Mark Juliano, chief of MWR's Community Recreation Division, said that plans are underway to allow potential bidders the chance to view the cars in person May 5-6 from 10 a.m. to 3 p.m.
The vehicles will be sold in "as-is" condition, and in most cases the vehicles will not come with keys. Monchak said the new owner will need to contact a locksmith to have a new key made once they have taken ownership of the vehicle.
"The cost (of new keys) can range from $30 to a few hundred, but that is not something that we handle," Monchak said.
Juliano said a percentage of the funds will be paid to the auctioneer who is handling the entire auction process, and the remaining funds will go to MWR.
"Our portion of the proceeds from the auction will be put toward quality-of-life programs provided by MWR to JBLM families and community," Juliano said.