Rotary Club of Lakewood announcement.
If you enjoy trying new Washington wines and beers, or just getting together with wonderful folks in Lakewood, you are going to love a brand-new event hosted by Lakewood Rotary:
~The Lakewood Rotary Wine & Beer Festival~
This will be an evening of great food, drink, and fun.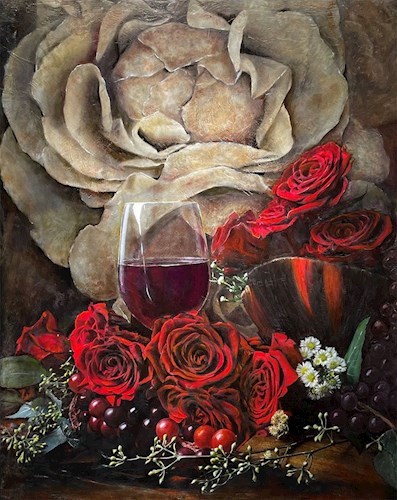 In addition to five tastings of area wines and beers, with each purchased ticket you will enjoy a rustic Italian Buffet Dinner catered by Gallucci's. The menu includes boneless Chicken Piccata in a lemon butter sauce, gluten-free Rotini Bolognese, sautéed green beans w/bacon, a classic Caesar salad, and rustic Italian bread.
To top off your dinner, the Partners of Lakewood Rotary are offering their ever-popular "Dessert Dash," which will include cakes, pies, and all kinds of tasty dessert treats.
The evening will also include a lively oral auction of a few select items, including an African safari trip, dinners at El Gaucho restaurant here in Tacoma, a diamond & gold tennis bracelet provided by Lakewood's own Diamond Designs, original art created especially for this event by Lakewood's own Susan Russell Hall (see image above), a tour of her art studio on Lake Steilacoom, a weekend trip for six at a lovely vacation home in Seabrook, WA, wine tasting trips, and a surprise or two.  You won't want to miss the opportunity to bid on these items!
This event to remember is happening on Friday, March 24, 2023 at the McGavick Conference Center on the Clover Park Technical College campus. Doors open at 6:00 with the dinner buffet beginning at 7:00.
All are invited. Gather some friends and get your tickets at https://fundraiser.bid/LakewoodRotaryWineandBeerFestival
Dinner and the five tastings are included in the ticket price of $100.
All proceeds from this event support the many worthy charitable causes and projects that Lakewood Rotary supports.
Lakewood Rotary since 1956 has fundraised to bring baseball fields, emergency equipment, dialysis center, playgrounds, community gathering centers and educational support to Lakewood and the surrounding communities. Lakewood Rotary meets Fridays at Noon at the Tacoma Country and Golf Club. We invite all who wants to work for a better community to join us. Check us out at Rotary Club of Lakewood | Discover Rotary (lakewoodrotary.com).