By Edzel Butac, Joint Base Lewis-McChord Public Affairs.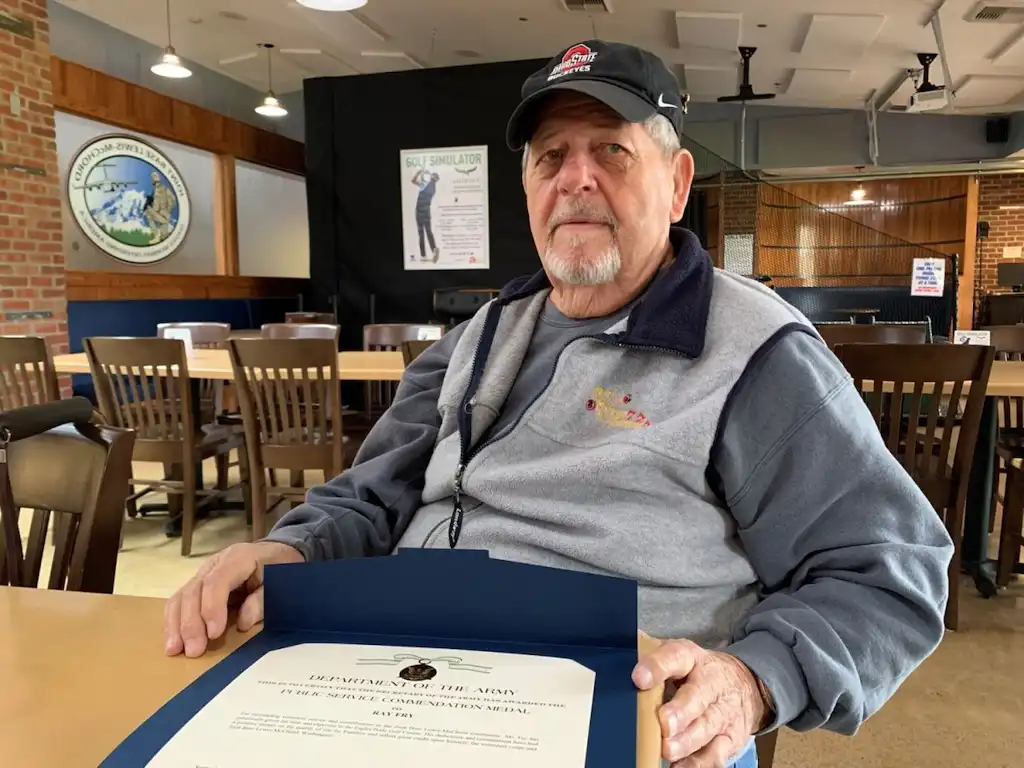 JOINT BASE LEWIS-McCHORD, Wash. – Volunteering is about giving time, energy and skills — freely. For Raymond Fry, he has been giving his time, energy and skills for 44 years – and counting, at Eagle's Pride Golf Course in DuPont.
"I started volunteering in 1979," Fry said. "They asked me to help on some golf tournaments, and that led into years of coming out to tournaments and putting markers out, helping people find their way to their tees, and so forth. Then in 1982, I started marshaling, and I marshaled until 1990."
A golf marshal is responsible for patrolling the golf course and keeping a steady pace of play for members and guests, not driving golf carts on the green, not replacing their divots and other golf etiquettes.
In 1990, Fry was asked to run the volunteer program at Eagle's Pride Golf Course, which consisted of about 35 people, and ran it successfully until 2015.
"Ray is a very dedicated volunteer," said Lori Parker, Joint Base Lewis-McChord's Volunteer Corps program manager. "He has always been dependable and will go the extra mile to ensure the daily tee times or a tournament runs smoothly. Ray has made a tremendous positive impact at the golf course."
Now 83, the 22-year Army veteran and Ohio native Fry had to cut down his volunteering workload over the last few years due to health reasons. Volunteer hours were not tracked on JBLM until 1990, but Fry probably has close to 25,000 volunteer hours over the years, according to Parker.
"I started backing away from the job in 2015," Fry said. "But I trained my replacement for a couple of years until he took over in 2018. He is running the volunteer program now, but I'm his assistant. I just fill in when he can't do it."
As with any volunteer work, there are bound to be perks with the job. And as hard as Fry worked, he also had fun with his own golf game.
"I used to be a six handicapper, but now I'm a 20," Fry said. "I don't play that much anymore. I've lost a lot of distance and I only hit it about 180 yards now."
Dale Rees, a friend, and fellow volunteer at Eagle's Pride Golf Course, can attest to Fry's excellent golf game.
"Ray's step-thru swing works very well for him," Rees said. "I believe it was four years ago that he had a hole in one at hole number two."
Fry wants it to be known that Eagle's Pride Golf Course is one of the better golf courses in the Pacific Northwest. Fry said he strives to improve this golf course to the best of his abilities and has advice to those who might be thinking about volunteering.
"It's an opportunity, but we don't want you to volunteer just for free golf," Fry said. "We want you to volunteer because you enjoy the game, and you want to help.
"I try to instill to all the people that I train that even though the customers might be doing something wrong, it's how you approach and address it. You want the customers to come back so you approach them in a professional manner."
Interested volunteers should register an account with the Volunteer Management Information System. The VMIS website is vims.armyfamilywebportal.com. This Army-wide website will allow potential volunteers to browse for opportunities, submit applications and record hours for JBLM contributions.