I've been to McNeil Island a number of times when it was a penitentiary (as a guest). Peg and I have been to the Hawaiian Islands to videotape the first hockey game ever there, and then with friends on Maui for fun and games. We've been to Fox Island occasionally, but the island we see almost every single day for the last forty plus years is Vashon Island. We decided to make a weekend trip out of a visit to Vashon starting with the ferry from Pt. Defiance to Vashon.
Just like the five minute mysteries we write, Peg and I start each day at our breakfast table looking out across Puget Sound . . . and if the fog isn't too thick, we can see the waterway into Vashon and around the inlets. We stopped and looked back at the mainland. Our house is the one painted gray with blue trim.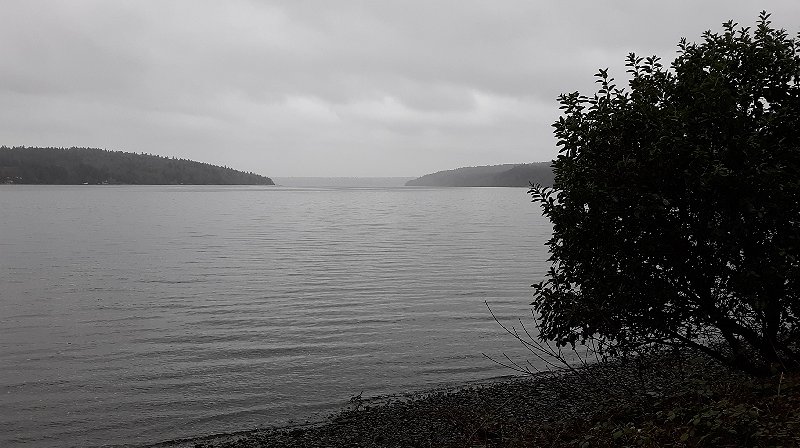 A few years ago we piled into a six person van and drove in and around Vashon. Every where you look there is something to marvel at or enjoy.
This time it was just Peggy and me . . . We booked our own lodge for two nights. It was a simple, modern, cozy abode ideal as a home base and allowing us to explore where ever we wanted to go. We didn't even need a key, you just entered a code on the front door to enter. I would like to tell you how much fun I had in the gym, which was just twenty or thirty yards away. (Don didn't go to the gym! – Peg Doman). We stopped in at a friendly and interesting used furniture, boots and shoes, painting, and old books store. We shopped a bit and then asked for directions to The Lodges. The owner simply pointed across the street. It wasn't too difficult to find. Booking a lodge: lodgesonvashon.com/the-lodges
Once we unloaded our luggage and food stuffs, we drove and walked around Vashon. While Peg visited a book store, I walked towards the end of the block to a place called Giraffe. There was indeed, a giraffe standing guard beside the building. Inside with soothing music playing, there were unusual pieces of art and iconic fabrics and constructions. Peg and I went back to visit a number of times.
On one corner of the street there were a number of posters. I stopped and looked them over. One was for Sweeney Todd, the Demon Barber of Fleet Street. I just smiled and nodded my head. We had tickets waiting for us from the director, Charlotte Tiencken. Charlotte had been associated with Book-It Theatre before COVID hit, so we knew her a bit. We had also seen a production at CenterStage Theatre last fall featuring a very funny young lady, Meghan Ames, who performed in the CenterStage Panto Cinderella. A Panto is a wildly funny production aimed at children and adults. Meghan has done many children's productions on Vashon. We knew people, but didn't know what to expect with Sweeney Todd, but we knew it was going to be good.
For lunch, Peg wanted something really, really good. We chose The Hardware Store. We had dined there with our group of friends on our first trip around Vashon. The food was excellent. In our effort to get out of town and enjoy ourselves, we had neglected to bring along most of the items we had planned on, so we paid for it. It was certainly worth it. Great service and great food is a wonderful combination.
Saturday evening we went to the Vashon Center for the Arts. We arrived early so we could enjoy the art work. The pieces of art were excellent. The colorful works were nicely laid out. They were so nice, you had to fight your natural reaction to feel and pat the art work (a major no-no). The patterns and stories involved held hands with my eyes.
Sweeney Todd was on his own . . . and he did a good business. Sunday we drove back to the ferry landing arriving just a few minutes too late. We had to wait for the return of the ferry. We were number one in line, but in the mean time, we enjoyed the views, the wildlife and even the Port of Tacoma peeping through the fog and blue gray horizon.
When we drove off the ferry we were hungry and tired . . . or was it tired and hungry, we both needed to go to bed, but no, we had breakfast with my cousin and laughed our way through breakfast. We had a great time, but are looking for a longer trip next time.
Don Doman/Peg Doman: Professional writers and published authors of self-help books for video production, entrepreneurship, and market research. Websites, online videos, and social media marketing.