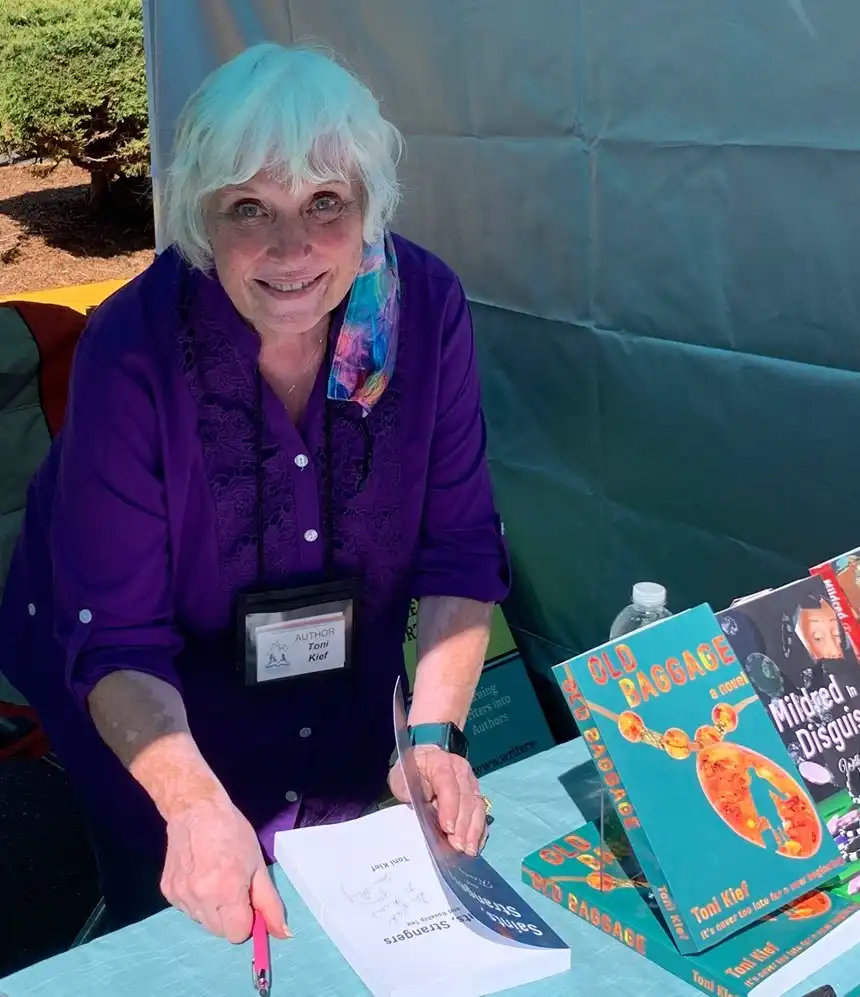 Author Toni Kief from Marysville, Washington, spent 43 years as an independent insurance investigator and is now retired. Near her 60th birthday, she was dared to write and started with short bios and Flash fiction. Her novel "Mildred in Disguise with Diamonds" from the Mildred Unchained the unexpected series received the 2019 Apple Book Award and an IHIBRP Recommended read award. In 2022 "Saints, Strangers and Rosehip Tea" was awarded with the Highly Recommended Award from the Historical Fiction Co. Toni is a founding member of the Writers Cooperative of the Pacific Northwest. At this point writing is her life, career, and hobby.
Which genres do you cover?
Toni Kief: I've made up my own genre of OA (old adult) which covers the majority of my books. I also have one historical fiction, and one anthology of women in history bios, and no idea what will inspire me tomorrow.
Which is the latest book you had published, and what is about?
Toni Kief: My most recent is "*more than a footnote – Women Neglected by History", a series of 102 biographies. It was the most difficult book to stop writing. There are so many more.
At which book events can readers find you?
Toni Kief: I do frequent local events under the umbrella of the Writers Cooperative of the PNW. We meet every other Sunday at the Snohomish Library meeting room.
Which book event connecting you with readers is your favorite and why?
Toni Kief: I enjoy the Women's Expo in the Opera House in the city of Marysville. I also like the different bazaars at the local senior centers.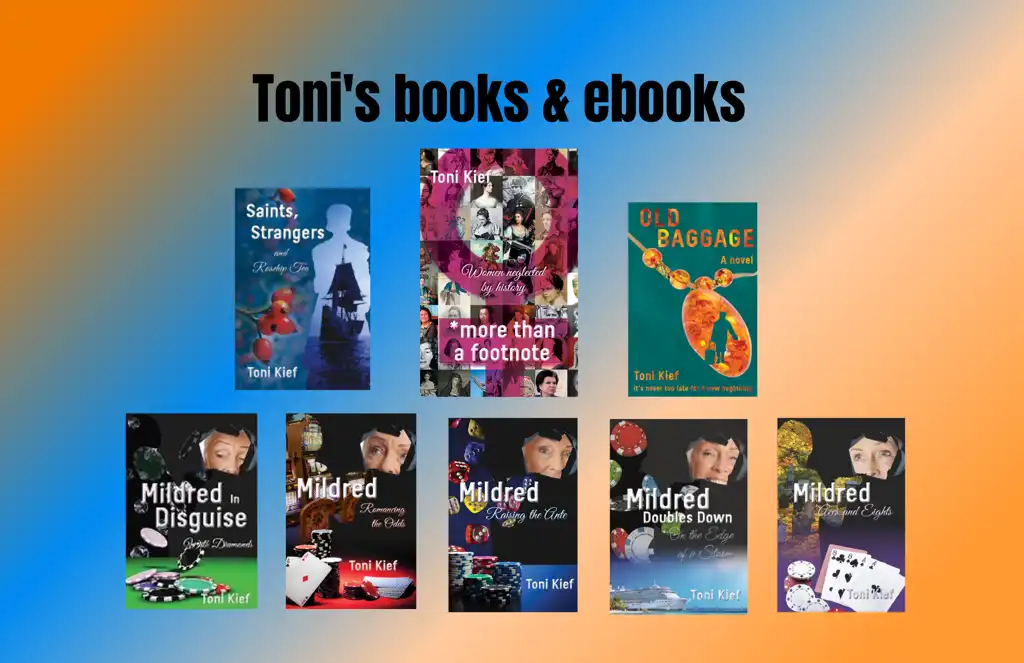 Do you have any specific messages to your readers and, if so, which are they?
Toni Kief: My favorite quote is from Garrison Keillor, "There are no bad days for authors, they are all research". I work hard to be positive as much as possible. I realized that the only person that can really make me happy is me.
Which writer(s) keep(s) inspiring you and why?
Toni Kief: I read mostly indie authors over the past five years, so it is all over the place. But I love Dan Brown, Janet Evanovich, and Elizabeth Gilbert (all for different reasons).
Do you have specific writing habits?
Toni Kief: I try to do ten minutes a day. So, if I'm busy, ten is no big deal and it can fit in. If I'm not busy, it builds into much more, once I get the file open.
What are you currently working on?
Toni Kief: I'm working on a sixth Mildred Unchained book dealing with online dating and the elderly. No title yet. I've only named one of my books so far.
Which book are you currently reading simply for entertainment?
Toni Kief: I read every night at this time it is "Twelve" by Susan Brown. I don't usually reread, but this one is great no matter how many times you read it.
What advice would you give any aspiring author?
Toni Kief: Just do it. Get it down on paper or a computer and worry about fixing later. The world needs your genius.
You can find Toni Kief's books on her website http://tonikief.com/ and at Amazon, at KU and Kindle, and – her own words – "also the trunk of my car and dining room table".