A Clover Park School District story.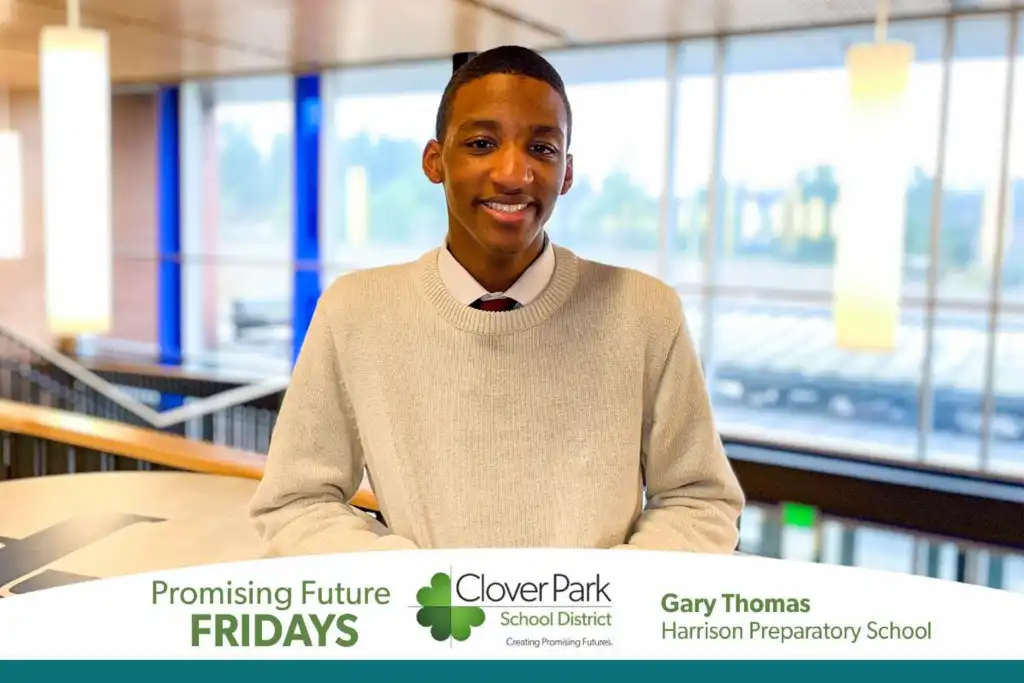 Our Clover Park School District Promising Futures Friday featured student this week is Harrison Preparatory School senior Gary Thomas.
Gary is nervous and excited about finishing up his senior year. Above all, he will miss his favorite class, choir. "I really love singing and have a passion for music," he said.
Gary challenged himself this year by signing up for a class about film and media production. "I feel like I'm a pretty open-minded person, and I always like to try something new," he said. "I didn't think I was going to like film at first because I didn't watch movies or anything, but I've learned that film has more layers to it than I thought, like scoring, cinematography and writing."
After school, Gary focuses on his love of music by recording songs with beats produced by other Harrison Prep students. He recently released an album he worked on over winter break called, "Will You Be Back," and was happy to see students and staff at the school celebrate his work. "After growing up in church choir, being in choir at school and seeing the success of amazing new Black artists like Giveon and Brent Faiyaz, I feel so motivated," he said.
After graduating, Gary plans on pursuing his passion by studying music composition at Central Washington University, which has accepted his application, or Northwest University where he applied to study music production. "I really want to learn to produce music for myself, and schools like Northwest have a high job rate after graduation," he said. "I'm driven and excited to see what comes next after graduation."