Tacoma-Pierce County Health Department announcement.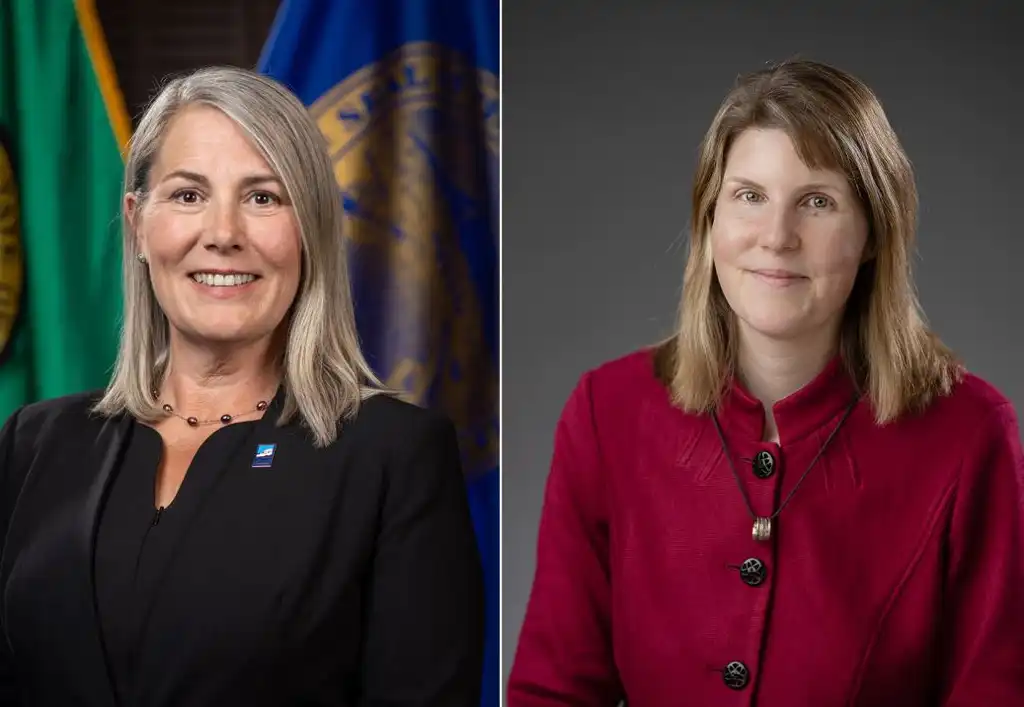 Tacoma-Pierce County Health Department's Board of Health members voted Wednesday for Catherine Ushka as Board Chair and Jani Hitchen as Vice Chair.
This is the first time women will fill both Board leadership positions simultaneously.
"Catherine and Jani share a passion for public health that is inspiring," Director of Health Dr. Anthony L-T Chen said. "They both embrace our mission wholeheartedly, to protect and improve the health of all people and places in Pierce County."
Chair Ushka is a leading voice for public health at the national level. She returns to the position of Board Chair after serving in that role from 2019-20. She is a Tacoma City Councilmember and has been on the Board since 2018. She has long been an ardent advocate for equity and health even before she was elected to City Council. She served 8 years on Tacoma Public School's Board of Directors, including 3 as president.
She is the president of the National Association of Local Boards of Health. She is serving her second appointment to the Association of Washington Cities Legislative Committee and is the City Council's representative to the National League of Cities. She is a U.S. Navy veteran deeply committed to public health and public service.
Vice Chair Hitchen joined the Board as an alternate in 2021 and returned as a regular member this year. She is a Pierce County Councilmember and longtime Parkland resident. Last year, she was appointed to the Washington State Public Health Advisory Board and the Missing & Murdered Indigenous Women and People Task Force. Prior to elected office, she worked for more than 2 decades as a teacher in the Clover Park and Bethel school districts.
Tacoma-Pierce County Health Department is an independent government agency with an appointed policymaking body. The Board of Health meets every month on the first and third Wednesday.
Pierce County Councilmembers Paul Herrera and Robyn Denson join the Board this year for the first time. Herrera previously served for more than 20 years as a police sergeant for the Puyallup Tribe. He will serve as a regular member of the Board. Denson will serve an alternate. She served previously as a Gig Harbor Councilmember and on the Gig Harbor City Parks Commission.
Other members returning to the Board:
City of Auburn Councilmember Bob Baggett.
Pierce County Councilmember Marty Campbell.
Pierce County Executive Bruce Dammeier.
Tacoma City Councilmember Kiara Daniels.
Pierce County Medical Society member Dr. Nicholas Rajacich.
Returning alternates:
Tacoma City Councilmember Joe Bushnell.
Pierce County Medical Society member Dr. Stephen Cook.
Pierce County Executive Senior Counsel Steve O'Ban.
Fife City Councilmember Bryan Yambe.
Pierce County Council appoints 3 regular members. Tacoma City Council appoints 1 regular member. Both the Pierce County Executive and the Tacoma Mayor serve on the Board of Health and may delegate the position if desired. Board members serve two-year terms. Pierce County Cities and Towns Association appoints a regular member and Pierce County Medical Society appoints a regular member.