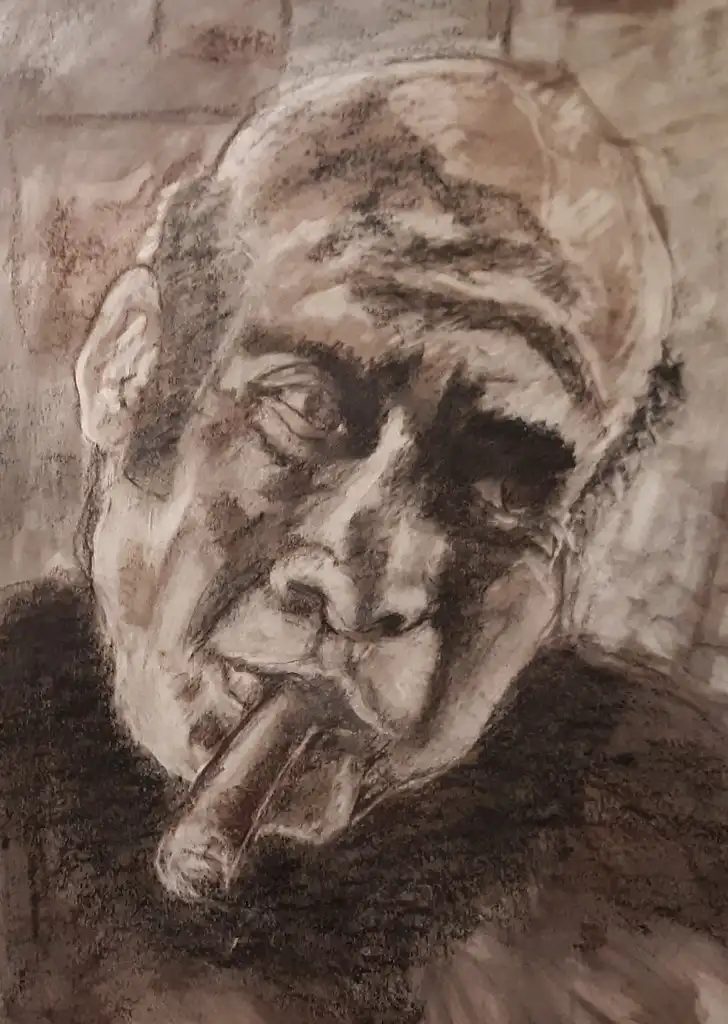 Rose and I had a feeling that Jack would be stopping by soon, but we were surprised when he quietly walked into our kitchen without wrenching a couple rings on our mechanical doorbell. Both Rose and I did a head turning double take.
Rose asked, "Are you okay?" Jack responded with a shrug of his shoulders. He sat down at our kitchen table slowly pulled out the containers of fresh coffee and the apple and blueberry fritters that sometimes feel like the only thing that keeps us interested in life, but only lingered for a second or two once we breathe in the aroma of the coffee and the fresh baked treasures.
Jack said nothing more, but sat and watched the fog lift and expose Quartermaster Harbor and Vashon Island. Finally, he spoke, "I think I'd like to have a little cabin over there and just sit and enjoy the view of the harbor and this neighborhood. You know, turn the tables on the two of you. We could send signals back and forth to each other in morse code or something." This was not the Jack that we knew and had been working with for some time.
"Do you know morse code?" asked Rose. "No," said Jack, "but I could learn or perhaps we could use hand gestures and expressive actions to communicate via our messages. I bet I could try different movements of my hands, fingers and facial expressions. I could get lost in the wilds of Vashon Island."
I kept turning my head from Rose to Jack and back again. I didn't want to interrupt. Finally, Rose spoke, "Uh, Jack . . . there are ten thousand people living on Vashon Island, so there aren't too many chances of getting lost in the wilds there." Jack said nothing and then just shrugged his shoulders.
After an hour or so we were a little closer to understanding, but dragging information out of Jack and piecing together what might be confused with communication was a little off kilter; however, we kinda had an inkling of what Jack was going through. Apparently, a one-time associate had fallen on hard times, and was threatening Jack, who now was all aflutter.
Jack had bankrolled the start of business, but never wanted anything to do with the operation. We understood who the associate was; Jack called him Mean Bill. The name Mean Bill, meant nothing to either of us. The wives of Mean Bill and Jack are good friends with Rose. We knew next to nothing about Jack's private life. Although Jack had funded the initial start-up, he had never seen any income from it. If Jack had to tip-toe around about the business, what did that mean for us? I was worried Rose would be all aflutter too, but at the same time she was more worried about me. We finally realized that we needed to see Mean Bill and how he operated and what he did.
We had the location mapped out. We soothed Jack's agitated concern and promised to have a set of ideas to make Bill happy and Jack thrilled. We were lying of course. We had no idea still what Mean Bill did or what he expected from Jack. Monday we were at Mean Bill's Billiard Parlor. We arrived at noon and there was no standing in line. The place stunk like cheap cigars, cheap booze, and an expensive fall into bankruptcy; actually, it wasn't a fall, it was more like a leap. From the photos on the walls and old newspaper clippings, Mean Bill's had done a good business at one time and now had virtually nothing to show for it. We had no idea how far Jack is involved in this.
The building was in decent condition and had lots of room, especially with near zero usage. It had a huge parking lot as well as a large area of asphalt nearly filled with old tables and junk. There was a large kitchen almost all filled with obsolete equipment.
Rose and I drove slowly home. Once home we each promised to come up with three ideas to help Jack. I was up early and checked out the problems of billiard halls in today's world. There was almost no good news. I looked for ways to encourage more traffic – ways to improve the look of the building and prayed for some way to make money.
Nursing a cup of instant coffee and reading the Seattle Times I waited for the sad appearance of Rose. It never came. Rose waltzed into the kitchen and nearly danced up to the fridge singing another happy tune. I looked at her and she just smiled, and said, "We've got to get ready for a party. It's spring." It wasn't quite spring, but the weather was pleasant.
Rose took a container of yogurt out of the refrigerator and took a bite, smiled and gave me a kiss. Next, she gave me an order. "Have our friend Ed come over with his guitar and amp on Saturday afternoon." She then sang a tune from The Music Man between bites of her yoghurt, "There was love all around, But I never heard it singing, No, I never heard it at all, Till there was you." I saluted and Rose added, "Invite Jack and the mean guy, too. Saturday afternoon at four. It won't dare rain."
Rose gave me virtually no clues about the gathering. I had limited things to do, which was probably a very good thing. Saturday was wonderful. Rose let me be in charge of the food and the drinks (both alcoholic and non). Soon we had a full deck of happy people. Mean Bill's wife was there and so Mean Bill was exceedingly nice. Jack's wife was there also, leaving him with an open mouth with nothing to say, plus my friend Ed, of course.
Rose did some introductions and then talked about the New and Improved Billiard Hall. Mean Bill had kept quiet about the loses as the customers got fewer and fewer. He turned even meaner than he had been before. Rose went to the source and had private tours with her friends. There were divisions of the rooms for numerous table top games, not just billiards. She revealed a potential outside billiard playing area with each table having lock down wheels. She had a brochure that made the gaming establishment seem like heaven. Smoking was allowed in only one of the rooms, and there would be powerful air cleaners helping out as well. It really looked like fun, and not just for men.
I introduced my friend Ed Taylor, who gave us all a kind of benediction. With three wives involved, the three husbands could only smile. I found out later that Rose used some of the money we had gotten from Jack that we kept in our freezer as part of our contribution. Ed played the first song, and reminded everyone that the Beatles had recorded their own version of "Till There Was You", and Ed sang it so nicely to each of the three wives, it was a love fest.
Rose shared her thought pattern later to me. She said, "Don't you recall in The Music Man film? The plot concerns con man Harold Hill, who organizes a boys' band to counter effects of billiards . . . "Ya got trouble, my friend, right here, I say, trouble right here in River City." He goes on talking about the effects of the table game . . . "The difference between a gentleman and a bum, With a capital B, And that rhymes with P and that stands for pool!"
Rose explained afterward, "I knew Ed recorded that song at Engine House #9 . . . where we fell in love. So, I thought it would work for everyone, especially with the Beatles as part of it." Also, she explained "We have tickets for three couples for The Music Man" at Tacoma Musical Playhouse. I think the wives will enjoy it." I nodded and thought "I don't think we really have a choice."
With a huge smile on my face, I lifted my glass to Jack and to Mean Bill. They both had tears in their eyes. I wasn't sure if it was from relief, or from letting the women take over and run their own business.
source: https://www.lyricsondemand.com/soundtracks/m/themusicmanlyrics/yagottroublelyrics.html
c. 2023 Don and Peg Doman