Downtown On the Go announcement.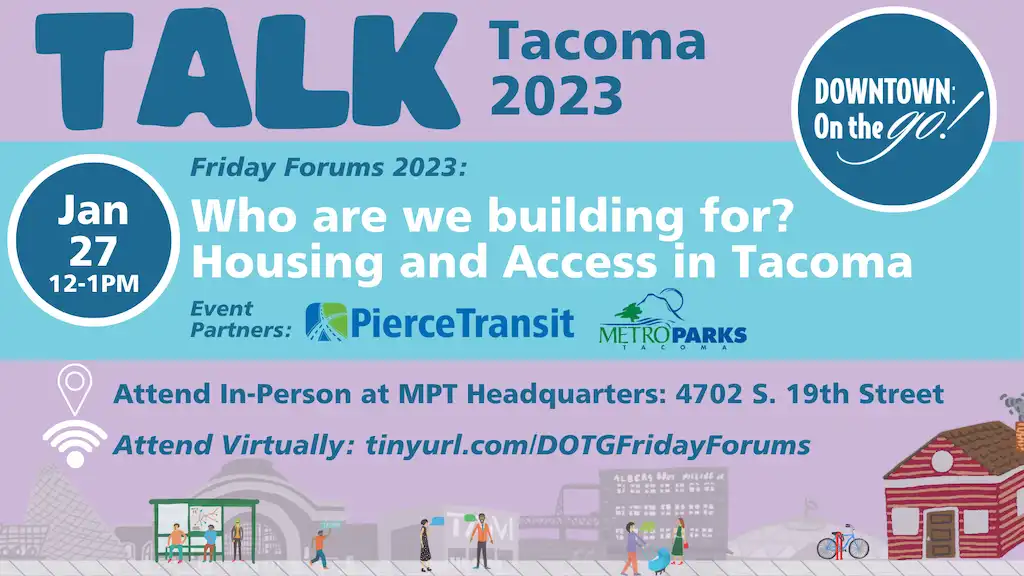 Tacoma, Wash. – As Tacoma grows and changes, what would you like to see in the City of Destiny? Housing and transportation are deeply interconnected and our policies on both influence who can access opportunities and services. Join us for a panel exploring how Tacomans' needs and wants both match up and differ as we dive into what a future Tacoma could look like. This free Friday Forum panel event from Downtown On the Go will be held on January 27th from 12 p.m. to 1 p.m. in person at Metro Parks Tacoma HQ (4702 S 19th St. Tacoma, WA 98405) and virtually over Zoom. It will feature panelists Jason Gauthier (South Sound Housing Affordability Partners), Brendan Nelson (Empowering People in Communities), and Tyler Garretson (Mayor's Youth Commission of Tacoma). Moderated by Tanisha Jumper (Tacoma Public Schools).
Register in advance for either in person or virtual at DowntownOnTheGo.org. Q&A will be available for both in person and virtual attendees at the end of the forum. After registering, you will receive a confirmation email containing information about attending the forum. A recording of the panel will be available on DOTG's Facebook and YouTube accounts.
Downtown On the Go's annual Friday Forum series is a space to discuss transportation issues and opportunities in Tacoma, to recognize real challenges facing downtown commuters and residents, and to learn about new ideas in the transportation world. The 2023 forums invite Tacomans to imagine what the future of Tacoma could be, as we dive into the rising community concerns of housing, traffic violence, and climate resilience.
Thank you to our partners Metro Parks Tacoma and Pierce Transit for supporting the 2023 Friday Forum series by making a hybrid format possible.