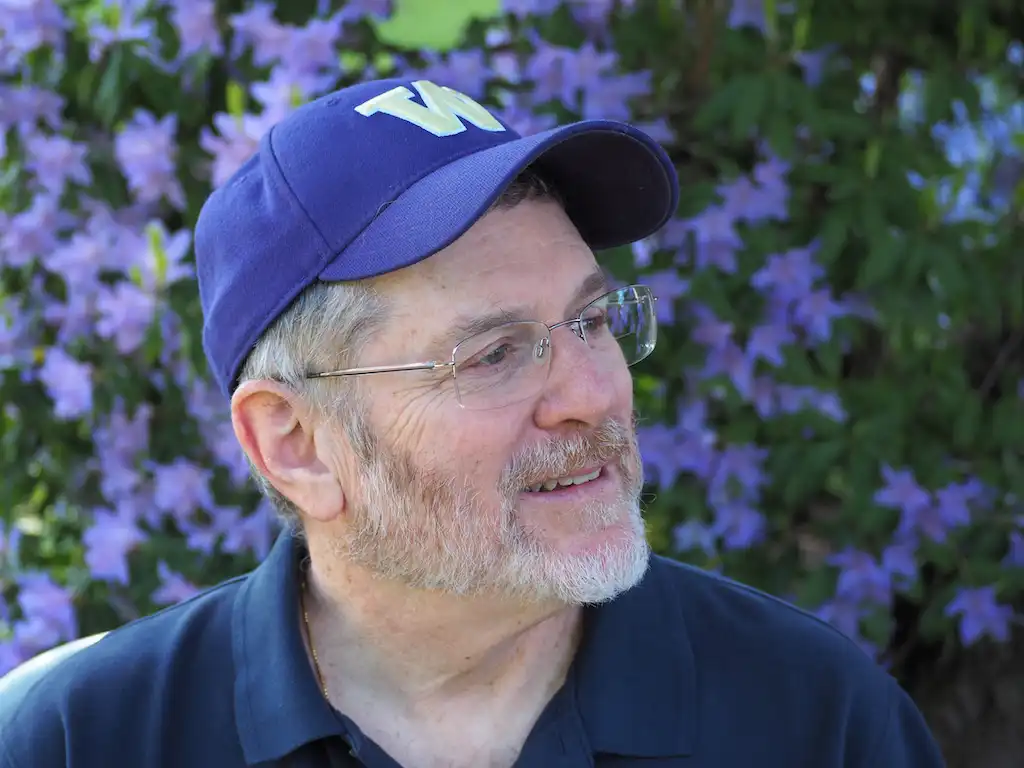 Author Andy Becker lives in Gig Harbor, Washington, with his wife and their two dogs, Nova and Splash. The fulltime writer and "part-time, mostly retired, lawyer" published his first book, "The Spiritual Gardener: Insights from the Jewish Tradition to Help Your Garden Grow" in the spring of 2019. This title won the New York City Big Book Award in the category of home and garden in 2021. Andy Becker's first novel, "The Kissing Rabbi: Lust, Betrayal, and a Community Turned Inside Out", won a First Place Mark Twain CIBA Award in 2022 for Satire and Humor. Andy belongs to the Author's Guild and two local author groups, The Greater Gig Harbor Literary Society and its counterpart in Kitsap County, KLAW. When Andy Becker is not writing, he and his wife enjoy visiting their grandchildren. He also taught a writing class this past fall. In the spring and summer, Andy enjoys gardening, hiking, boating, kayaking, and socializing, which includes a big Fourth of July party every year.
Which genres do you cover?
Andy Becker: In the field of non-fiction, I write about gardening, trees and spirituality. My memoir is all humor, and my novel is satirical.
Which is the latest book you had published, and what is about?
Andy Becker: "The Spiritual Forest" was published in September of 2022. It is an illustrated gift book about trees that promotes planting trees and environmentalism from a spiritual perspective.
At which book events can readers find you?
Andy Becker: I regularly appear at local art fairs and festivals in the community, including The Gig Harbor Art Festival, Bremerton's Blackberry Festival, the Olalla Music Festival, Peninsula High School's Winterfest, and many others. I have also given spiels to groups as diverse as the Horsehead Bay Garden Club, Port Orchard Rotary Club, and the Jewish Community Center of Chicago.
Which book event connecting you with readers is your favorite and why?
Andy Becker: I have enjoyed book launch events at synagogues, nurseries, and King's Book Store, an independent bookstore in Tacoma, WA. These events have been attended by friends and family whose support I heartily enjoy and appreciate.
Do you have any specific messages to your readers and, if so, which are they?
Andy Becker: All of my books have a different message. "The Spiritual Gardener" and "The Spiritual Forest" both promote connecting to nature. "The Kissing Rabbi" is a cautionary tale about #Me Too and narcissism. "Cracking an Egg" is a memoir about growing up in the 1960s, with themes about universal childhood experiences, but more than anything else, it is a love letter to Mom.
Which writer(s) keep(s) inspiring you and why?
Andy Becker: The writers that have inspired me are too numerous to list but include Gabriel Garcia Marquez and Richard Brautigan.
Do you have specific writing habits?
Andy Becker: I prefer writing as soon as I've finished that first cup of coffee in the morning.
What are you currently working on?
Andy Becker: It's a secret.
Which book are you currently reading simply for entertainment?
Andy Becker: I am reading "Nature's Best Hope" by Douglas W. Tallamy.
What advice would you give any aspiring author?
Andy Becker: Read Henry Miller's "11 Commandments of Writing".
You can find Andy Becker's books for sale on his author website, http://andybecker.life/ or on his Amazon author page, https://www.amazon.com/Andy-Becker/e/B07ZJP83N3 .