Tacoma Business Council announcement.
Crime continues to increase across Tacoma. Homicides are at 22 for the year (11 at this time last year). Property crime is up significantly as well; burglaries are up 60.2%, motor vehicle theft is up 88.2% and robbery is up 117.5%. See the Citywide data below.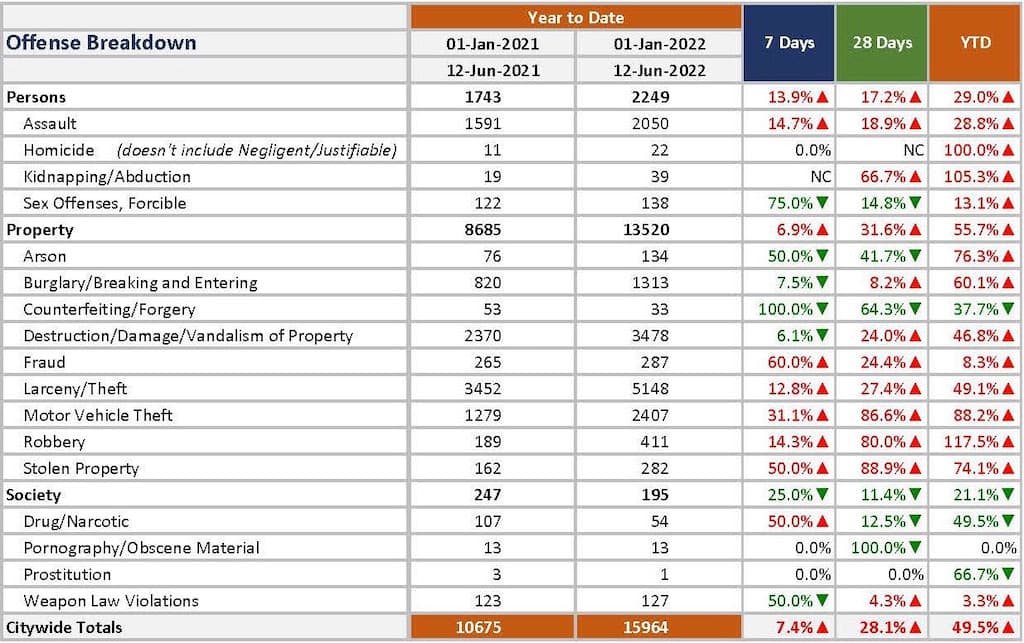 The full crime report here: June 16, 2022 Weekly Crime Report
Items For Your Calendars
TBC Solutions Committee Meeting
Date: Wednesday, June 22, 2022
Time: 5:30PM – 6:30PM
If interested in joining the Solutions Committee, please email us!
Waterfront Town Hall on Crime
Date: Monday, June 27, 2022
Time: 5:30PM
Location: Flagship Maritime Academy
Economic Development Committee
Presentation on Window Replacement Program
Date: Tuesday, June 28, 2022
Time: 10:00AM
Location: 747 Market Street and Zoom
Webinar Link: www.zoom.us/j/86824127684Passcode: 614650
City Council Study Session
Presentation on Therapeutic Courts
Date: Tuesday, June 28, 2022
Time: 12:00PM
Location: 747 Market Street and Zoom
Webinar Link: www.zoom.us/j/89496171192
Passcode: 896569
TBC's July General Meeting
Date: Monday, July 11, 2022
Time: 5:30PM – 6:30PM
Location: Court House Square
Chief Moore's Crime Reduction Plan
City Council Study Session
Date: Tuesday, July 12, 2022
Time: 12:00PM
Location: 747 Market Street and Zoom
Webinar Link: www.zoom.us/j/89496171192
Passcode: 896569