Submitted by Beth Elliott for DuPont City Council Position 3.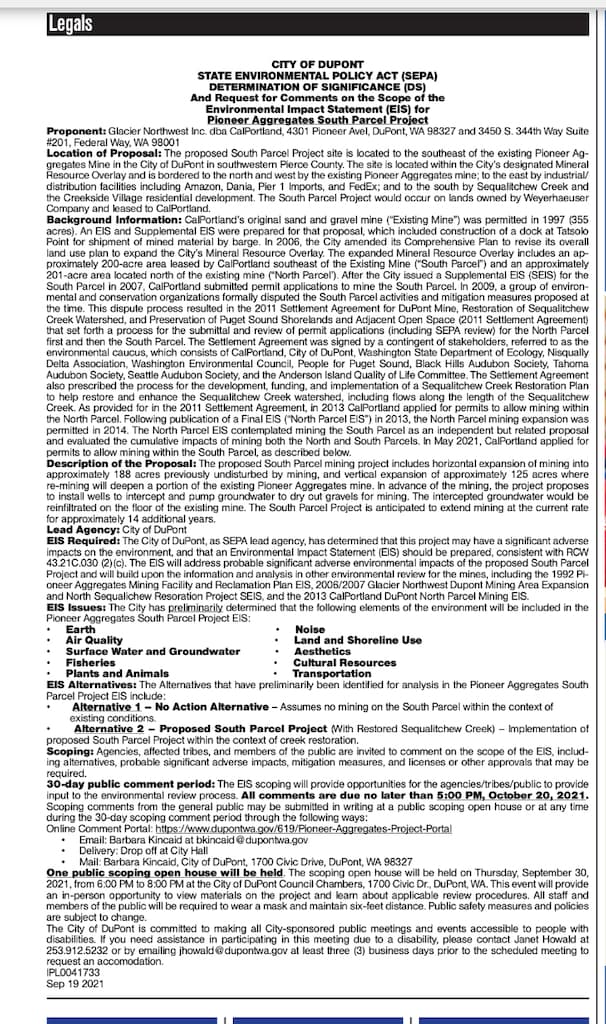 Good morning, DuPont! As I was reading our local newspaper, The Tacoma News Tribune, I came across this legal notice about the South Parcel mine expansion Environment Impact Statement (EIS.) This legal notice is the city's official request for public comments on the Scope of the EIS.
If you have already submitted comments, thank you. If not, here is an opportunity to provide your comments through another means (you may still email Barb Kincaid at bkincaid@dupontwa.gov.)
Check out the new City of DuPont Pioneer Aggregates Project Portal: https://www.dupontwa.gov/619/Pioneer-Aggregates-Project-Portal?fbclid=IwAR3-VVKrV2Hm1YuGvtnT2FRWCwRlPoYmCQA3FdBda6ndqejnIkXBboscnsU
You can submit your comments directly online at the portal.
In addition, the City of DuPont is hosting an in person scoping open house on Thursday, September 30, 2021 from 6pm-8pm at City Hall.
Please read the complete announcement for more details.