The City of Lakewood, on Sept. 16, 2021, received an amended application to rename Ft. Steilacoom Park to Dr. Claudia B. Thomas Park. The original announcement (click here to read) has garnered a number of comments.
Following is the results of an anonymous poll to learn how the community feels beyond those willing to comment.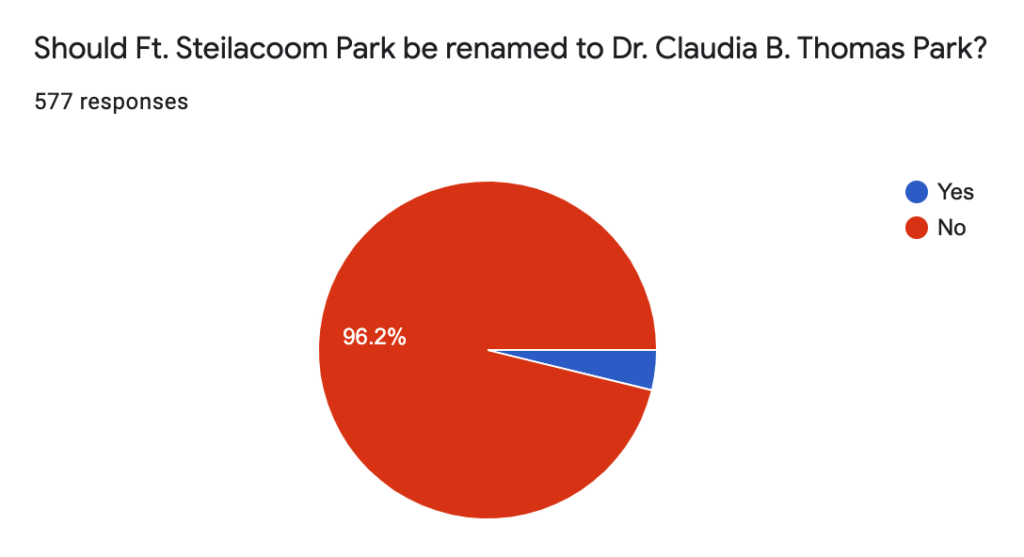 Background: The current application (click here to read) is an amendment to a prior application to name a geographical site in recognition of Dr. Claudia B. Thomas.
David N. Boyd (not Dr. Thomas's son-in-law according to the application) originally requested the City of Lakewood consider changing the name of the recently renovated Motor Ave (in front of the old Lakewood Theater) to Claudia B. Thomas Promenade.
City of Lakewood Resolution No. 2016-18, signed Oct. 3, 2016 by Mayor Don Anderson (click here to read) created a policy and procedure "for naming/renaming City parks and facilities."
Public Testimony will be accepted by mail, email or by live virtual comment. Send comments by mail or email to Nikki York, Office Assistant 6000 Main Street SW Lakewood, WA 98499 or nyork@cityoflakewood.us.
If you would like to provide live testimony during the virtual meeting, you will need to join the Zoom meeting as an attendee by calling by telephone Dial +1(253) 215- 8782 and enter meeting ID: 920 3804 6123 Passcode: 077102 or visiting us06web.zoom.us/j/92038046123?pwd=UFdDbEFtMGljdkxiUzRNWFR1aUFOZz09
For those participating, the Chair will call on you during the Public Hearings portions of the agenda. When you are unmuted please provide your name and city of residence. Each speaker will be allowed (3) three minutes to speak during the Public Hearing.
If you have further questions regarding this public hearing please contact Nikki York at 253-983-7835. To view the full Parks and Recreation Advisory Board meeting agenda of September 28, 2021 click here.