I first heard of Jim Meck, The Piano Man, while having coffee with this wife, Kimberly at The Spar Tavern Coffee Shop in "Old Town" (Tacoma, Washington). We were discussing video production for the Alliance of People with disAbilities, but I was equally interested in her Piano Man, Jim.
My mother took me screaming and kicking to my first piano lesson. I was in the first grade. When my teacher later died, I thought I was free, but no-o-o-o, my mother found a different teacher for me. When we moved from Tacoma to Lakewood, again I thought I was cut loose, but, again, no again. In Lakewood I had a different teacher and gave my first recital (playing Choo Choo Boogie) while in the fifth grade. I rode my bike to lessons in the Lakewood Colonial Center. The lessons finally stopped when we moved to Ponders Corner. In the fifth grade I was also signed up, against my will, for band and took up the alto Saxophone. In the ninth grade I switched to the baritone Saxophone and continued in band and orchestra through my senior year at Clover Park, making the All Puget Sound Orchestra. I never played Saxophone again once I left Clover Park, but in my married life, my wife and I have almost always had a piano in our home. I play for my own amusement and dedicate almost every song I play to my wife, Peggy.
I never learned to play by ear, I need to see the music and can sight read the songs I want to play. I have books featuring songs from Broadway, Country Western tunes, jazz, rock, torch, folk, gospel and more. But, oh, how I wish I could just sit down and play the songs I love. That is reserved for Jim Meck and I am jealous, but not jealous enough to actually do anything about it, but jealous nonetheless.
Jim began playing piano a couple of years earlier than me. While I grew up playing in Tacoma, Washington Jim grew up playing in Lower Longswamp, Pennsylvania. Doesn't that just scream Country-Western? While I had a nearby playground pool, Jim probably enjoyed wading in Toad Creek. Doesn't that ooze an essence of poetical and musical learning? At the age of thirteen, Jim was diagnosed with Retinitis Pigmentosa, which lead to total blindness. Jim continued to play piano and organ. When he turned eighteen, he began playing gigs and kept up his schooling earning a Bachelor's Degree in Music Education. Like a good musician, he played whatever jobs he could find: solos, duos, and occasionally his entire band, The Guide Dogs.
Jim Meck and The Guide Dogs "New York State of Mind"
In 2016 Jim moved to Tacoma. He and his family live in Tacoma's North end. When COVID-19 hit, the venues for live music dried up immediately, but that didn't stop Jim and Kimberly. They created "Pedestrian Serenades." Neighbors come and take part in the fun as Jim plays his keyboard on his front porch. In addition to the front porch concerts, Jim has been playing live shows on Facebook most Saturday nights. While Jim plays, Kimberly tunes into the live Facebook messages. After each number Kimberly passes on the comments from viewers to Jim. It's very low key, and very enjoyable. There are lots of laughs and stories. Jim plays his own creations as well as his favorite songs from other entertainers and sometimes does a whole evening dedicated to various artists. I need to watch his Billy Joel night from August 2020, I believe.
We've all heard of garage bands, I like this fun garage band video of Jim's song "Designated Drinker" from October of 2020.
Now that people have been getting vaccinated, Jim has been playing at various gigs in the Pacific Northwest from Shaken in Eatonville to El Gaucho in Tacoma. I don't know that the original Guide Dogs followed Jim to Tacoma from Lower Longswamp, but check Jim out on his website for complete information on upcoming gigs – jimmeck.com
I also would just like to mention that you can give Jim a tip from his website . . . but only if you have a really good time.
Speaking of really good times, this reminded me a visit to Ocean Shores which always occasioned a visit to the Galway Bay Restaurant and Bar. Most of the time, this little old man, dressed in a very green almost lime sweater would come in without a word or introduction from anyone and sit down at the piano and play. He knew numerous Irish and Scottish tunes. He wasn't hired to do this; he did it because he loved to, only for tips. One time we were in there during an Ocean Shores trip. We really enjoyed his selections and wry humor. I gave a $10 bill to Peg and told her to put it in the tip jar. She did. He played some more and then came over to our table and said, "Nobody tips $10 in Ocean Shores!" He sat down with us and we chatted.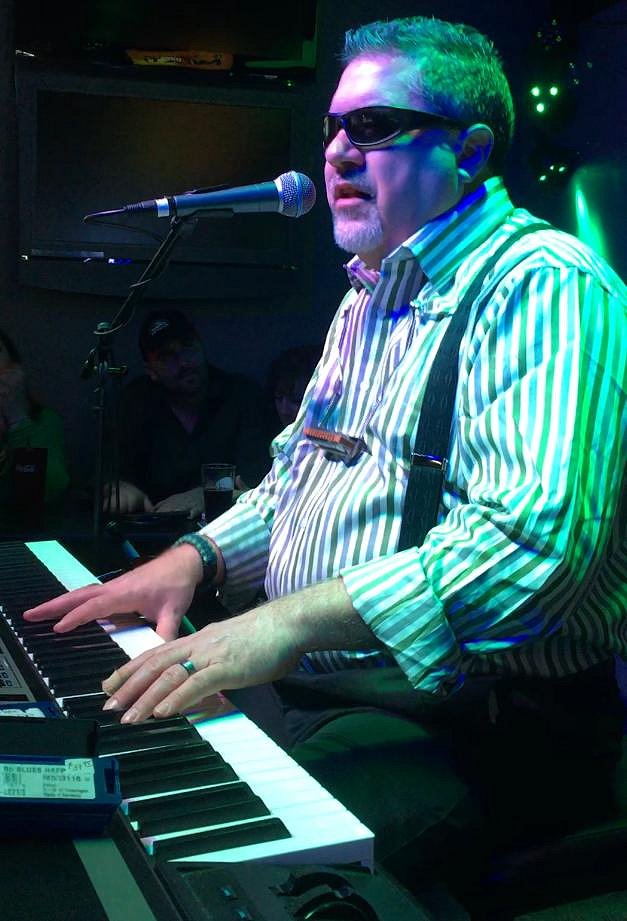 We don't go down every year to Ocean Shores. The next time we went to the Galway Bay hoping to see the same charming man, a waitress recognized us and came over to our table. She told us he had died the previous winter. We were really sad to hear of his death; he gave us so much pleasure. Another performer gone.
When you hear someone performing something you like, be it on the street or at a venue, tip liberally. It makes everyone happy. We appreciate people who play and sing because we love it, too.