Written by Dr. Bob Allen.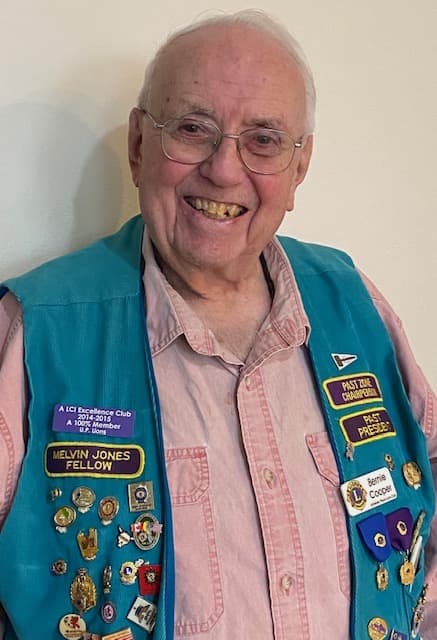 This story of a dedicated Lions club member shows how the "We serve" spirit can inspire a person to join others for decades to improve their community while becoming a better person themselves.
Bernard "Bernie" Cooper joined the Willapa Harbor Lions Club in Raymond, WA, after being personally invited by a college friend in 1957. That friend spent time with Bernie telling him about the various levels of Lionism, from the local club to the global influence of LCI. He also told Bernie about how great the Willapa Harbor club and people were, serving the community and bonding into a strong group at their Wednesday breakfasts.
Bernie was elected as club president from 1962 to 1963, while earning a 100% Presidential rating. During this year, Willapa Harbor Lions retired the MD19 club visitations trophy (under 50 members) because of their three annual wins.
In 1964, Bernie transferred to the University Place (UP) Lions Club due to a change in his Weyerhaeuser work site. His talent and dedication really shone during his record 55 years with the UP Lions. He was elected club president twice (1974-1975 and 1993-1994), again earning 100% President marks. Bernie was also the Zone C-1 Chairman following his first term as President.
His service in other positions filled many other years with UP Lions, such as Bulletin Editor, Club Secretary and Santa Claus at the Club's "Santa Breakfast." Over the years, Bernie was awarded many President's Awards, Outstanding Lion Awards and Certificate of Appreciation Awards. UP Lions also awarded him the Melvin Jones Award.
Of the many citations that came with the awards, Bernie liked this one especially: "You have contributed greatly to our club with your knowledge and guidance as "the go to Lion" for what being a Lion means."
After the UP Lions Club disbanded, Bernie soon transferred to neighboring Lakewood First Lions (LFL) Club in 2020. He has been an active new member, despite the restrictions imposed by the ongoing COVID-19 pandemic. Bernie has already won the 2021 LFL Seahawks raffle and plans on winning more in the future.
Bernie expressed his feelings about being a Lion in these words:
"Being a Lion has been a major resource for personal growth over 64 years of my life. I am proud to be a Lion, a member of the world's largest service club with a record of the most financial aid and individual hours spent supporting the less fortunate all over the world. As a member of three clubs over the years, I had the opportunity to improve my public speaking skills, my leadership skills and to appreciate the fellowship of involvement with many others with a common goal. Lions has kept me active over the years, with an appreciation from many others and LCI for my efforts.
Over my 64 years I have observed LCI changing with the times, improving, yet sticking with Lions' fundamentals that support "We Serve". In my opinion, the single biggest change that enabled LCI to be the "biggest and the best" was inviting women to become members….".
If you want to know more about Lakewood First Lions and becoming a member, check out our website.