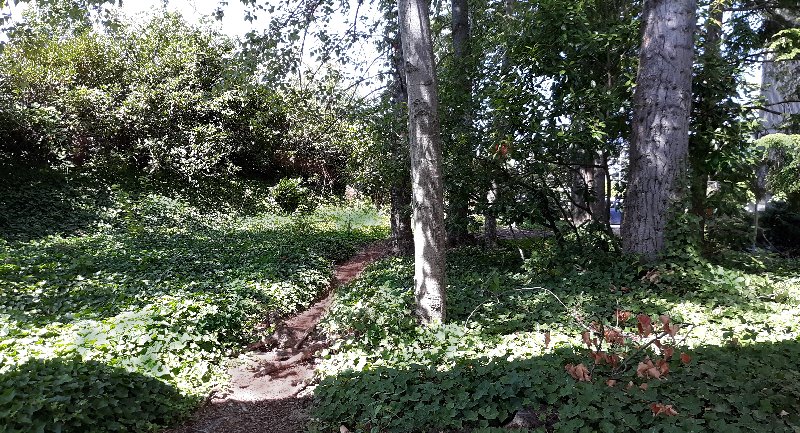 Periodically I drop off Peg for allergy shots at Building B at Allenmore Hospital in Tacoma. Parking is a problem and so is waiting. If there are no parking places for Building B, I check out Building C's parking or simply go shopping. During the summer even if I can find a parking space, I need to run the engine and use the air conditioner.
This week I dropped Peg off and found a nearby parking space in the shade. I had the latest Smithsonian, so I was prepared to wait and read, but I noticed that the front of Building B (north side) was all in the shade. I've been trying to walk more en lieu of more elaborate exercises. I lowered the car windows an inch, locked the doors and walked over to the Building B sidewalk.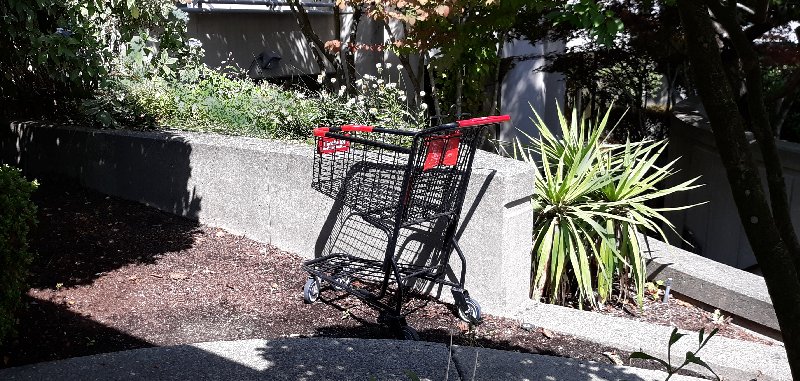 As I walked the pavement I looked down and figured out that the lower floor (basement) must be mostly for storage and maintenance. I approached the end of the shaded area and took a left turn on another sidewalk. Connecting off the sidewalk was an ersatz creek bed. The rounded stones were nestled in pine needles and connected with a pathway through a floor of greenery.
I walked out south of the shade of the sidewalk, went past several parked cars and then took the greenery path back to the front of the building. I walked back to my first steps on my sidewalk journey and went down the stairs to the basement level. Once on the lower level it was all like John Denver's song from 1974, "Cool and Green and Shady."
Saturdays, holidays, easy afternoon
Lazy days, summer days, nothing much to do
Rainy days are better days, for hanging out inside
Rainy days and city ways make me want to hide
Someplace cool and green and shady.

By Joe Henry & John Denver
Close your eyes and enjoy "Cool and Green and Shady"
I walked to the end of the enclosure noting two foot stools and a device for stubbing out and collecting smoked down cigarettes. I turned and walked back to the stairs and then retraced my steps along the sidewalk to the creek bed and lapped my route. As I walked down the sidewalk again I heard talking below and saw two workers come out a basement level door and sit down on the stools. It must have been break time. I smiled and wished them well and did not disturb them.
As I took a third lap I decided to look over the gardens on the south side of Building B. It was nearly as interesting with bushes, landscaping, and a shopping cart. I pictured someone shopping at Walmart (a few hundred yards further south) and then walking to Building B for an appointment. Too bad they had to actually carry their purchases into their doctor's waiting room . . . or perhaps they were just visiting a bathroom.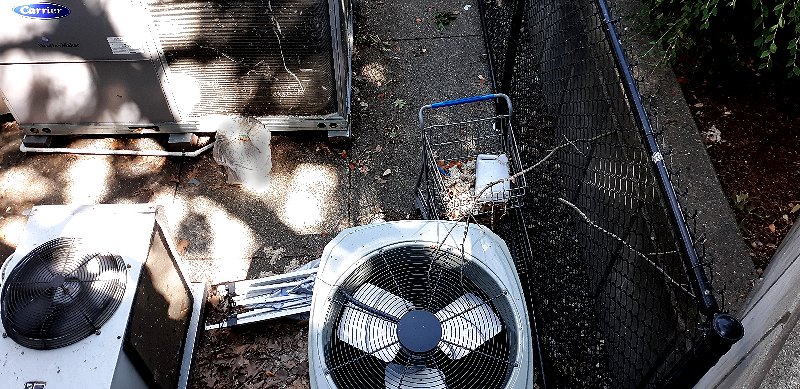 As I returned along the new path, I chose to go down the stairs to the basement level on the south side again looking for something different. On that side of the building were the heating and air conditioning blowers behind a gate and fence. I turned around, walked back up the stairs and headed to the greenery path. I stopped short, however and looked down on the A/C units and saw a large garbage bag and another shopping cart. This one looked like it had been there for a while. I just had to laugh. There's nothing more useless and ugly than an abandoned shopping cart collecting trash and dirt and becoming part of the landscape at the doctors' offices.
Short walks around a building or even a parking lot can be revealing. You find sights you didn't even know existed. I returned to my car and my copy of the Smithsonian and waited for Peg. It was a glorious, relaxing day. I can hardly wait to walk around Building B, again.