Not since Butch Cassidy and the Sundance Kid have I seen a buddy film western pull me into the story as much as Big Kill does. Big Kill does this with humor and the opportunity to voice the next line of dialog before it's said in the film. This doesn't happen continually, but enough that you laugh and are intrigued enough to continue happily watching.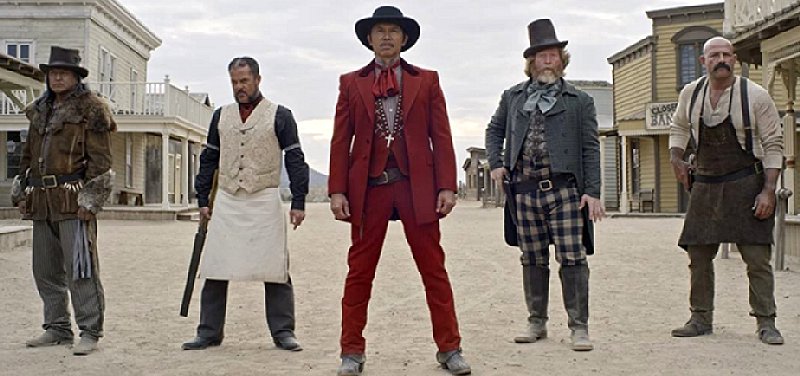 The big shoot-off in Big Kill reminds me, tongue in cheek, of Open Range, when Charlie Waite (Keven Costner) and Boss Spearman (Robert Duvall) face off against a known gunman and a bunch of wannabe killers. In Big Kill we have a Native American hunter, a barroom waiter with a shotgun, the professional gunman, a tall whiskey drinking leprechaun, and a well muscled blacksmith.
Did you know that Cowboys and Indians Magazine listed Big Kill as one of the best westerns of the 21st Century? Did you even know there was a Cowboys and Indians Magazine? I didn't, but I verified it.
Storyline:
"A tenderfoot from Philadelphia, two misfit gamblers on the run, and a deadly preacher have a date with destiny in a boom town gone bust called Big Kill."
At the beginning of the film we see a Mexican General (played by Danny Trejo) chasing Jake and Travis out of Mexico and across the river into the great Southwest.
Gunslinger Johnny Kane (played by Lou Diamond Phillips) comments to Jake: "I hear you're real fast" to which Jake answers: "I'm just a sporting man." This is a piece of dialog homage from the western film Tombstone.
Tenderfoot Jim Andrews from Philadelphia travels to New Mexico at the behest of his older brother who promises big rewards in the growing city of Big Kill. No matter who he mentions Big Kill to, no one has ever heard of it. Jim is taken under the wing of Jake (played by Scott Martin who also wrote and directed the film) and Travis (played by Clint Hummel), two good bad guys or two bad good guys, we're not sure whom is what at the front end of the film. We see them being warned away everywhere they turn . . . and yet they seem quite likable.
Official trailer – imdb.com/video/vi3463428633
Jim Andrews: I don't want to stay here any longer than we have to. We don't seem very welcome.
Jake Logan: We're used to that.
The film has an "R" rating and possibly a "C" rating for Cliché, but in reality they either make fun of the cliché or make it seem real . . . real funny.
The movie was shot in New Mexico and one last praise . . . I detected Scott Joplin tinkling on the piano in the Big Kill Saloon.
I found the film on Prime.